Total Nerd
Strange Comic Book Characters Even The Marvel Cinematic Universe Couldn't Sell To Audiences

4.7k votes
907 voters
37.8k views
16 items
List Rules Vote up the weird Marvel characters that you can't believe exist.
Avengers: Infinity War and Avengers: Endgame deliver a metric ton of Marvel characters, and the merger between Disney and Fox promises to dredge up even more of them. With so many new additions, it's hard to believe that there are still a litany of Marvel characters that will never get movies.
Some of the weirdest Marvel characters like Groot, Batroc the Leaper, and Howard the Duck have already graced the Marvel Cinematic Universe, but that still leaves a long list of lesser-known Marvel characters waiting for their chance at the big time.
There's no shortage of weird comic book characters out there, but Marvel Comics seems to have a special affinity for creating them. Perhaps it's because the modern generation of Marvel writers can't seem to stop referencing the company's bizarre history, grafting on cameos for characters like Hellcow and Doctor Bong, just for the fun of it.
back to page 1
Sometimes a character's name is enough to brand them ridiculous; Doctor Bong is —intentionally — one such character. Doctor Bong, real name Lester Verde, comes from the pages of classic Howard the Duck comics, which were highly satirical.
Doctor Bong is a grown man who wears a gigantic bell on his head. His left hand has been replaced with a big metal ball, and he combines the two to create "sonic vibrations" that can affect his opponents in a variety of ways.
In recent years, Doctor Bong has gained a doctorate in psychology, and has attempted to psycho-analyze heroes like Deadpool, with limited success. The MCU would definitely take a hit by including Doctor B.
Is this character too weird?
see more on Doctor Bong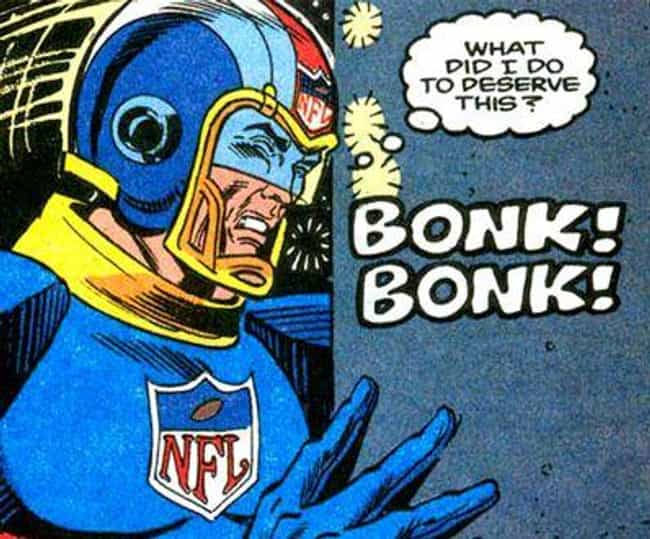 Not every promotional initiative pays off. The NFL and Marvel Comics may seem like odd business partners, but the two companies teamed up to concoct NFL Superpro, a football-themed superhero who was inserted into actual Marvel continuity.
Phil Grayfield was an NFL star who sustained a career-ending injury while saving a child from peril. In his post-NFL life, Grayfield was doused in chemicals, rendering him completely invulnerable, and inspiring him to fight crime as NFL Superpro. He takes on villains with names like The Calculator, Girth, and The Almighty Dollar.
Yeah, because the almighty dollar is totally opposed to this fumbled cash grab.
Is this character too weird?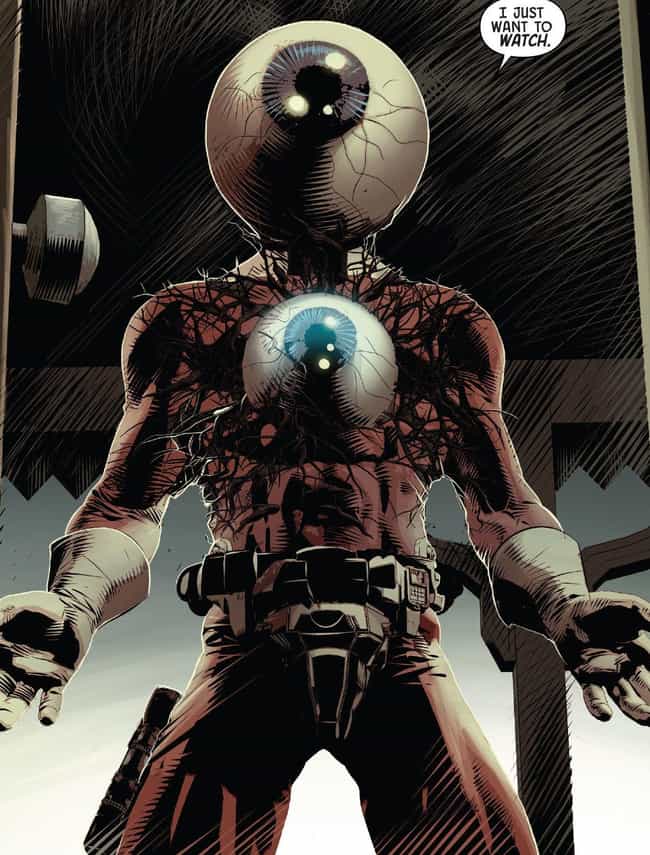 The Orb is exactly what he looks like: a guy with a giant eyeball for a head. Beyond that, there's not much to this mercenary; he has no known real name and no superpowers beyond the obvious "enhanced sight."
However, The Orb is a personal favorite character of writer Jason Aaron, so he tends to show up in whatever title Aaron happens to be writing. In a major crossover titled Original Sin, The Orb ended up in possession of one of The Watcher's eyes, which he grafted to his chest. Now that he has two eyes, he's got to be less creepy, right?

Is this character too weird?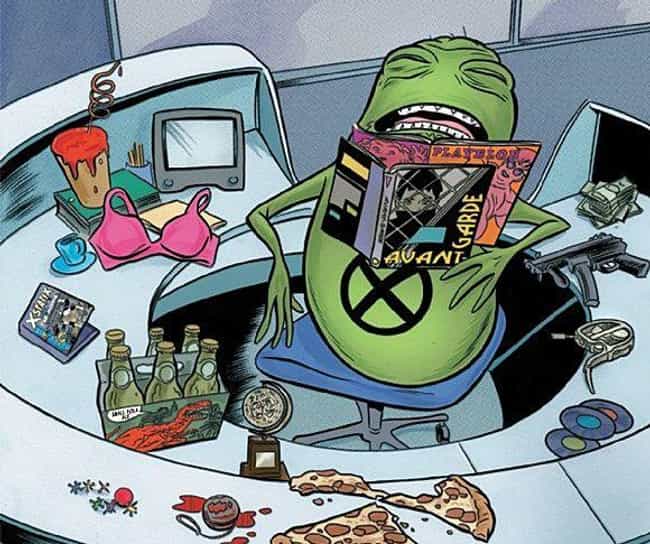 Doop may look like a rip-off of Slimer from Ghostbusters, but he's actually a cherished member of the X-Men mythos, beloved by fans and in-universe characters alike. Doop's origins are more than a little murky, although it's been said he was created by the US government during the Cold War.
Doop possesses seemingly limitless power, as he's able to conjure up whatever ability he needs for a given situation. He's also a magnificent lover, as evidenced by his successful affairs with creatures of all sexes and species. Doop first showed up as a cameraman in X-Statix, and he's been loosely affiliated with the X-People ever since. However, he probably won't be following them to the MCU.

Is this character too weird?
see more on Doop