Holidays
The Weirdest Things That Drop To Ring In The New Year

Updated December 26, 2017
292 votes
82 voters
4.2k views
12 items
List Rules Vote up the craziest New Year's Eve "ball-drop" traditions.
The legendary Times Square ball drop isn't the only thing falling from the sky on New Year's Eve. Many cities have bizarre NYE traditions that involve dropping a random thing from a great height as part of the countdown into the new year. Some cities choose an item that is symbolic of their state or region, but others choose some of the weirdest New Year's Eve drops you can imagine. A peach for Georgia makes a certain amount of sense, but an oversized marshmallow Peep in Pennsylvania? That's got to be among the strangest things that drop to ring in the new year.
The dropped-ball tradition extends back much further than the 20th-century New Year's custom in NYC's Times Square. In 1829, the first "time balls" were built in England, and they were created to help ships tell what time it was. The time balls were flashy and bright, so, of course, people loved them, and they became a major attraction. One has to wonder what those first mariners would have made of the present-day tradition to drop the weirdest things on NYE. Here are a few of the wackiest New Year's Eve drops, decide for yourself if you'd get enthused to watch them fall.
Possums Are Dropped In Tallapoosa, GA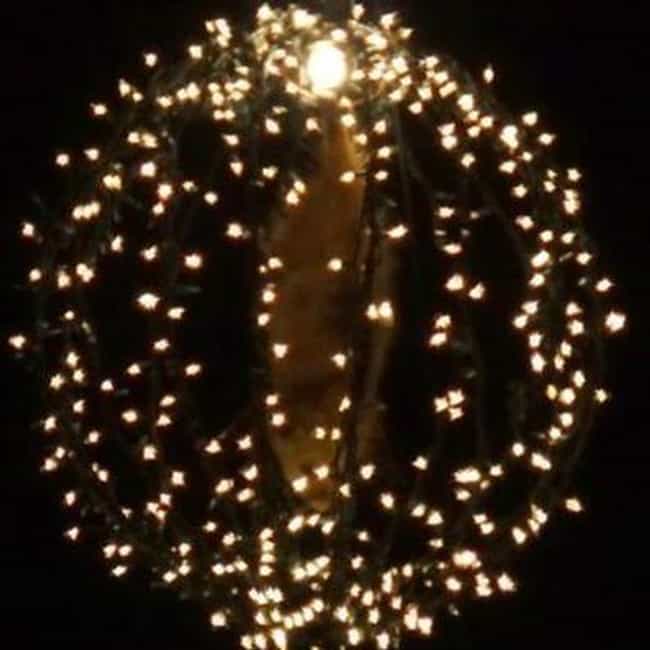 Spencer is a giant stuffed possum lowered from the sky every year in Tallapoosa, Georgia. The event is the centerpiece of a night full of celebrations in the small West Georgia community. Tallapoosa was once called Possum Snout, which is likely where the marsupial reference comes in. Another small southern town, Brasstown, North Carolina, also does a NYE possum drop but in a more frightening manner - they use a live possum in a plexiglass case.
Bologna Is Dropped In Lebanon, PA
Since New Year's 1996, the city of Lebanon, Pennsylvania, has dropped a 200-lb slab of bologna at the stroke of midnight. "Lebanon is the home of the Lebanon bologna," Cheryl Batdorf, President of the Community of Lebanon Association explained. But fear not, the delicious lunch meat does not go to waste. After the drop each year, the bologna is given to a charity.
A Drag Queen Is Dropped In A Giant High Heel Shoe In Key West, FL
In Key West, Florida, the annual tradition is to drop a drag queen named Sushi from a huge, glittering high heel shoe. Sushi's given name, Gary Marion, has been performing the drag queen drop since 1996. He told CNN: "They said, 'We have an idea: Let's do a shoe drop…We made this shoe for you. You've got to sit in it for New Year's Eve,' and I said 'OK,' and that is how it started." In 2015, Marion married his longtime partner just before the high heel dropped to ring in the new year.
A Crab Is Dropped In Easton, MD
The town of Easton, Maryland, ushers in every new year by dropping an oversized crab replica from 25 feet in the air. The crab measures about six-feet wide and has been an Easton tradition since 2004. The island of Bermuda inspired those who started this unusual ritual; there a giant onion is dropped on New York's Eve. Easton's crab drops twice on the big day, once at 9:00 p.m. for early risers, and again at midnight for night owls.