Weird
The Weirdest Monuments In The United States That You Can Visit

Updated November 2, 2018
8.5k votes
1.4k voters
82.7k views
18 items
List Rules Vote up the most bizarre attractions.
America can be a very strange place. There seems to be no end to what we'll memorialize, whether it's our beautiful national monuments or some of the strangest statues in the country. We give our cities and towns some wild names, and we sometimes place importance or attempt to immortalize something that really only holds significance to a small group of people.
As it turns out, there are quite a few bizarre monuments in the US, representing all kinds of animals, plants, theories, or anything else that strikes a local fancy. Some of the weirdest American monuments even show our penchant for satire and humor. Whatever the reason for their construction, these odd monuments can really liven up a cross-country road trip.
Sh*t Fountain, Chicago, IL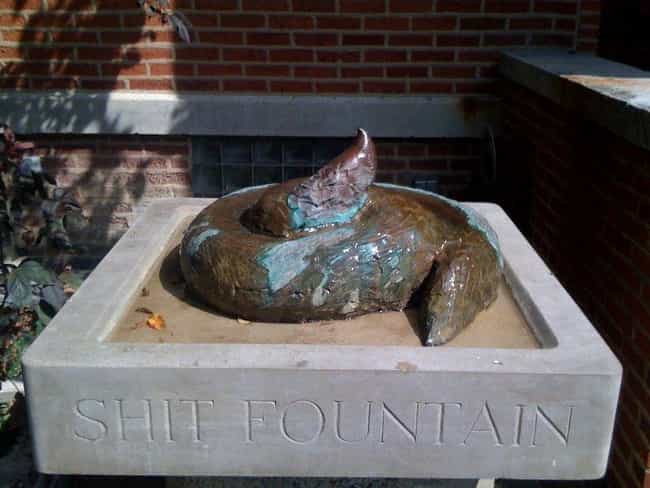 Jerzy S. Kenar got a little tired of dogs defecating in his Chicago, IL, neighborhood, so he decided to create a reminder. Not one to post a sign, Kenar, an artist, decided that a large pile of bronze poop would do the trick. For the record, the statue sits on Kenar's property, so the city isn't responsible for cleaning up his poop.
Kenar is well known for his religious and political art, so this slightly shocking statue came as no surprise to his fans.
Field Of Corn, Dublin, OH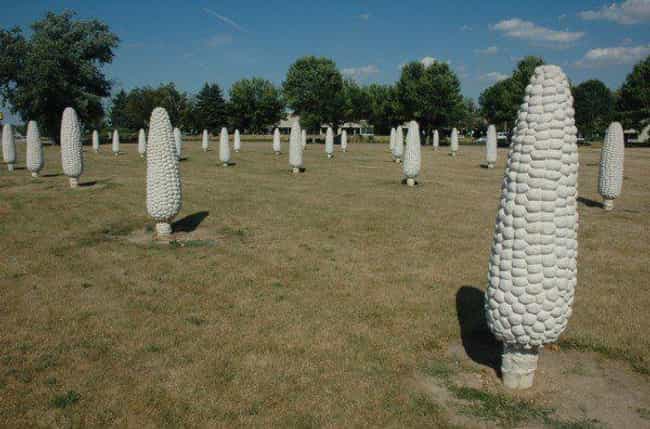 The official title of this work of art is Field of Corn (with Osage Oranges), and it features 109 six-foot-tall corncobs. It was created by artist Malcolm Cochran as a tribute to the town's agrarian legacy.
Many visitors, however, refer to it by a different name: Cornhenge.
A true mystery, no one seems to know who placed these monolithic landmarks in rural Georgia. The stones are emblazoned with a 10-part message about the future of mankind in 12 languages.
Some conspiracy theorists believe the monument was constructed by members of the New World Order.
Captain James T. Kirk's Future Birthplace, Riverside, IA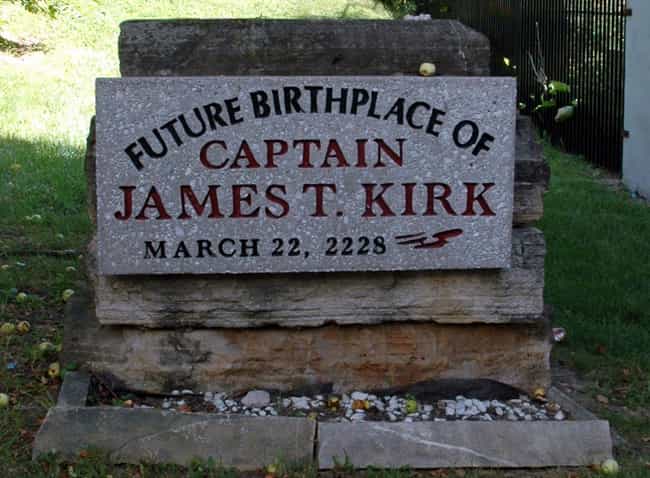 Gene Roddenberry's 1968 book Making of Star Trek declared that James T. Kirk would be born in a small Iowa town on March 22, 2228. The town wasn't named in the book, but city councilman Steve Miller decided it should (and could) be Riverside.
After erecting a monument claiming Riverside as the future birthplace of the famous character in the mid-'80s, the town changed its slogan from "Where the best begins" to "Where the Trek begins."