Spellbook
We Went To Desert Daze 2018 And Learned Magick From Damien Echols Of The West Memphis Three

On May 5, 1993, three eight-year-old boys - Steve Branch, Michael Moore, and Christopher Byers - went missing in West Memphis, AR. Citizens and authorities alike formed search teams to find the boys, and on May 6, searchers found their bodies near a canal in Robin Hood Hills. Their killers mutilated their bodies, and the investigation led to three alleged murderers: teenagers Jessie Misskelley Jr. (17), Jason Baldwin (16), and Damien Echols (18).
The teenagers became known as the West Memphis Three, and the Arkansas Supreme Court found them guilty of the heinous crime. Misskelley Jr. and Baldwin were sentenced to life, but Echols, a self-proclaimed Wiccan, was sentenced to death; the prosecution suggested that the boys' mutilation was in the name of occult ritual.
On August 19, 2011, criminal investigators and activists alike lobbied for the Arkansas Supreme Court to revisit the case. New DNA evidence didn't exonerate the West Memphis Three, but it did have people raising questions about the validity of their initial convictions. After spending nearly two decades in prison during critical periods of their lives, the men were released. The three entered an Alford Plea, which, according to Echols, was agreed upon "so the state can't be held responsible for what it's done." The state never fully admitted their innocence, but they were finally free.
Echols spent 19 years on death row, 10 of which were in solitary confinement. For most, solitary confinement is worse than a death sentence. Total isolation for days, weeks, and in Echols's case, years, can wreak havoc on people with the strongest of wills. But Echols persevered. He credits meditation and magick as his saving graces.
Over the weekend of October 12-14, 2018, a hodgepodge of aging rock fans, new age hippies, and self-proclaimed free spirits made the pilgrimage to Lake Perris, CA, for the Desert Daze Music Festival. Acts like Tame Impala, King Gizzard & The Lizard Wizard, and My Bloody Valentine filled the idyllic space. It was like an adult summer camp: some swam in the man-made lake, hamming it up for those lazily watching from the shore. Vendors peddled repurposed sweaters, vintage leather, and services like "intention haircuts." In the midst of this rainy weekend, Echols sat with festival-goers to talk about his experience.
Echols spent most of his time in a large, carpeted tent called the Mystic Bazaar, where he lectured aspiring magicians on energy work, visualization, and how magick doesn't have anything to do with witchcraft, evil, or the Devil. He said he was "put on Earth to do this," and after participating in a High Magick session he led, it's easy to believe he was.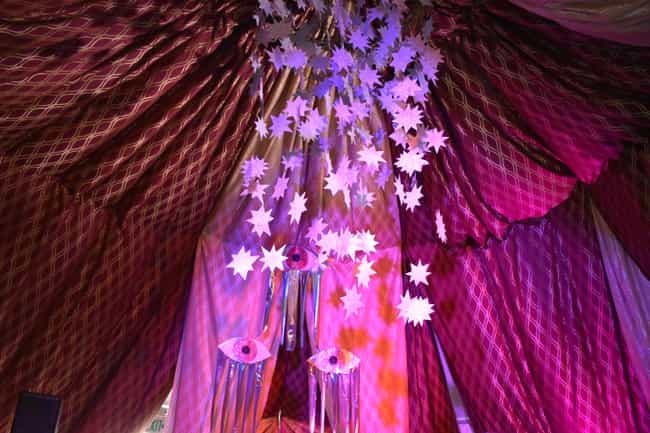 We're sitting in the Mystic Bazaar, a carpeted, bohemian-styled tent, on Saturday afternoon. There are no substances or cell phones allowed. Adorned with sparkling stars, floating eyes, and a lingering electric charge from Friday night's storm, the space boasts activities such as tea ceremonies, modular sound baths, and Buti yoga. The goal of the space, according to the festival's website, is to "pick you up and transport you to another dimension, allow you to traverse the astral plane, rest, recover, rejuvenate and grow." Right now, Damien Echols has the floor.
Sitting toward the back, it was easy to take in the crowd. Participants gently took off their shoes before entering the space. Some sat restlessly wringing their fingers, seemingly waiting for a solution to a source of anxiety. Others, saucer-eyed and slack-jawed, clearly ignored the no substance request and sat cross-legged as they waited for a trippy, out-of-body, magical experience.
The energy in the tent was palpable and familiar. People who find themselves in introductory occult lectures aren't usually there by happenstance. Like any spiritual or religious path, those who seek out the occult are often seeking out a form of control. A catalyst - be it a nasty breakup, health ailments, or a disillusionment with the political climate - sends a person out to seek answers when traditional, mundane solutions aren't an option.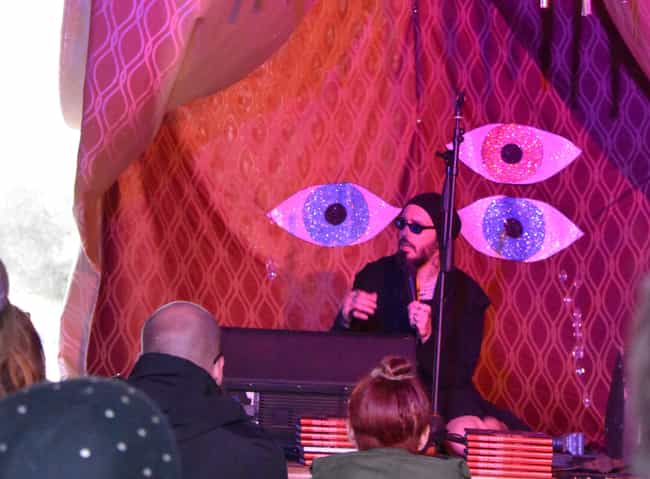 This is where Damien Echols found himself. Even though he had an interest in the occult before he was in a maximum security prison, he credits his magick practice as his answer to his confinement. He spent hours learning about the Hermetic Order of the Golden Dawn, a form of High Magick that involves intricate rituals and intense concentration. He studied Dharma, Hinduism, and Buddhism. He meditated, sometimes for days at a time.
"By the last two years, it was all I did. I slept very little. I would just eat and work out and do magick," Echols told The New York Times.
To the mundane, the idea of magick may seem delusional and grandiose. Magick practitioners talk about manipulating reality and energy. "When we hear the word magic in the West, we tend to have our ideas and concepts shaped by really cheesy horror movies and really inaccurate information, so I wanted people to understand that this is a tradition and a spiritual practice that is as rich as anything you would find in the East," Echols said. "Ceremonial Magick to the West is sort of like the Western version of tai chi or yoga."