Celebrities
What The Heck Ever Happened To Daniel Tosh?

Updated July 19, 2019
262.5k views
15 items
Daniel Tosh has performed all over the country and appeared on TV screens across the world. Despite his popularity, there are likely many things you didn't know about Daniel Tosh. Daniel Tosh's humor isn't for everyone—he enjoys being provocative and abrasive, seeming to take as much delight in turning people off of his comedy as he does in getting people to laugh. He's also told some incredibly offensive jokes that have received public backlash.
How did Daniel Tosh form his specific brand of comedy? Is he rebelling against his Presbyterian upbringing? It's hard to say, but it does explain how he can coexist on a list of the funniest comedians and simultaneously be considered one the most annoying hosts. But whether you're a huge fan, or not at all into his comedy, these Daniel Tosh facts are sure to give insight into this controversial performer.
He Made A Rape Joke In 2012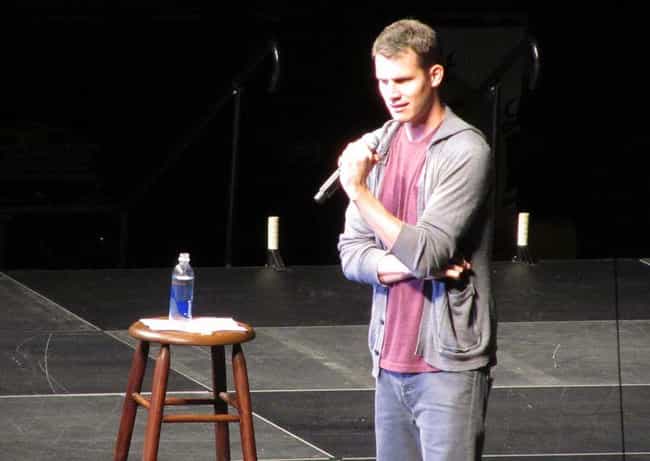 At a show in 2012, Tosh responded to a female heckler by saying, "'Wouldn't it be funny if that girl got raped by, like, five guys right now?" After the woman posted about the incident online, Tosh was heavily criticized for thinking that there was something humorous about a woman being sexually assaulted. Meanwhile, many comics, including Louis C.K., defended Tosh, citing his right to free speech.
Patton Oswalt initially defended him, stating that since Tosh was performing at an open mic show, he should have the ability to test out material that might fail. However, Oswalt later came around and agreed with Tosh's critics saying, "Every viewpoint I've read on this, especially from feminists, is simply asking to kick upward, to think twice about who is the target of the punchline, and make sure it isn't the victim."
He Admitted He Thinks Misogynistic Jokes Are Funny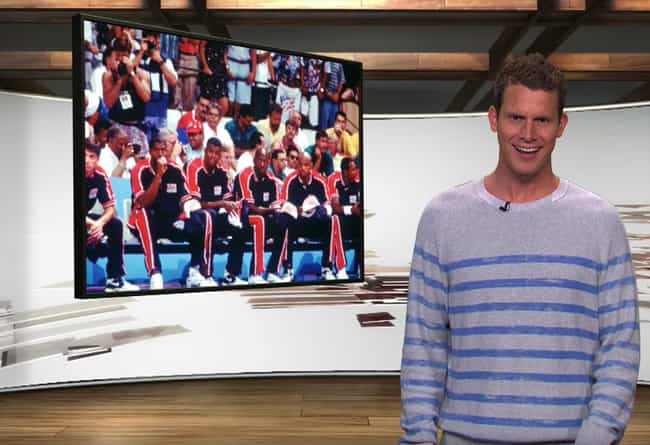 Daniel Tosh's humor has often been criticized for being derogatory towards women and minorities. However, he insists that's not who he is in real life: "I'm not a misogynistic and racist person," he said at a 2011 press tour. "But I do find those jokes funny, so I say them."
On Tosh.0, he has often battled with the Comedy Central censors as to what he can get away with. "They don't like making fun of children, handicaps, and women getting hit," he said. "Other things fly by."
His Website Used To Have A Clock Counting Down To His Own Suicide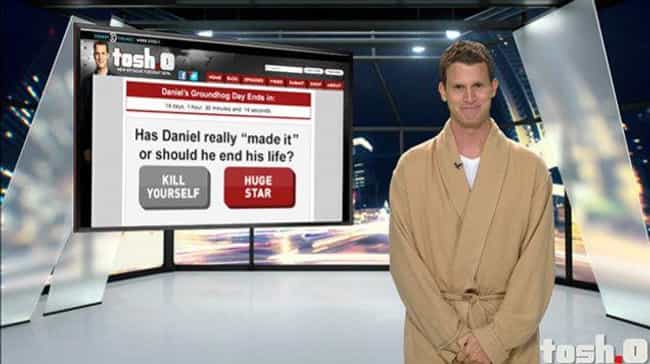 When Tosh was 28, he made a promise that he would either make it as a comedian by his 38th birthday, or he would kill himself. He posted a countdown on his website to the event. On an episode of Tosh.0, he explained the clock further, saying he was mocking the idea of making career goals like a young Jim Carrey supposedly did when he wrote himself a check for a million dollars, with the idea that he would be able to cash it after he got famous.
Also in the episode, Tosh started a poll asking viewers if he was a big enough star or if he should end his life.
'Tosh.0' Is Still Going Strong After 9 Seasons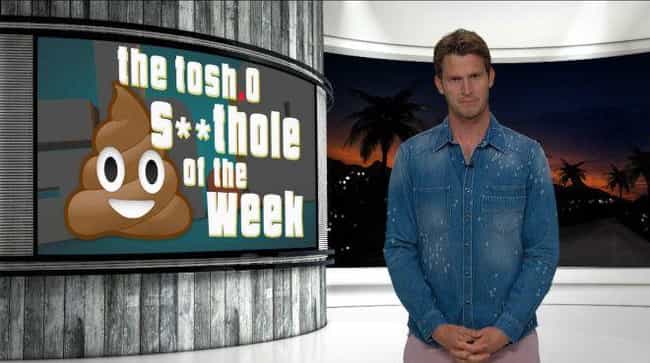 After years of touring clubs and performing in stand-up slots on late night shows, Daniel Tosh got his own show on June 4, 2009. Tosh.0 had a familiar format, especially for the early-2000s when shows like The Soup were popular - he takes funny clips from the internet then gives his take.
Although it's been around for a while, the Tosh formula appears to be working just fine. On November 21, 2017, Tosh.0 wrapped up its ninth season, and it doesn't appear that the show will end its run anytime soon.