Child Stars
What Happened To Drake From Drake And Josh?

Updated October 31, 2018
34k views
9 items
You might have caught wind of Drake Bell's feud with former Drake & Josh co-star Josh Peck back in June of this year. And the content of said feud might have had you wondering, "what happened to Drake Bell?" Well, if you've ever been concerned about the whereabouts of the former child star who found his fame in the early 2000s, then you've come to the right place.
Drake Bell after Drake & Josh is not the care-free boob he once was. He's now an embittered feud starter who is obsessed with his once best friend's wedding – much like the Julia Roberts's movie My Best Friend's Wedding. Catch up with Drake Bell now and see how his mind - and body - have changed.
He Was Transphobic Toward Caitlyn Jenner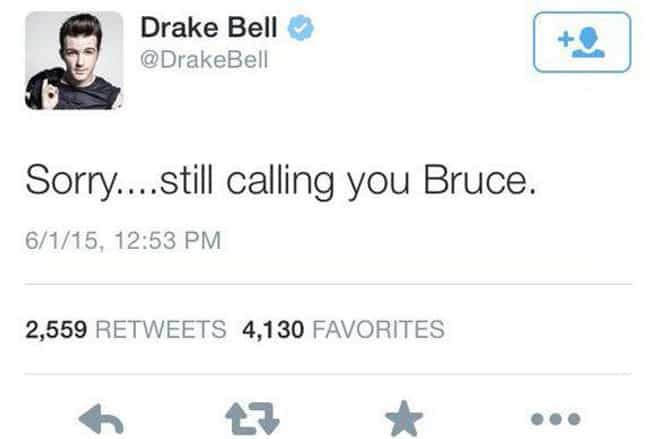 Back in 2016, Drake Bell deemed it appropriate to show off just how ignorant and transphobic he is (was? Ah! Who cares if he's changed?!) via social media. Following former Olympian Caitlyn Jenner's Vanity Fair cover debut, Bell tweeted (and has since deleted) "Sorry... still calling you Bruce" and was met with the Internet's ire.
He Was Pissed That He Wasn't Invited To Josh Peck's Wedding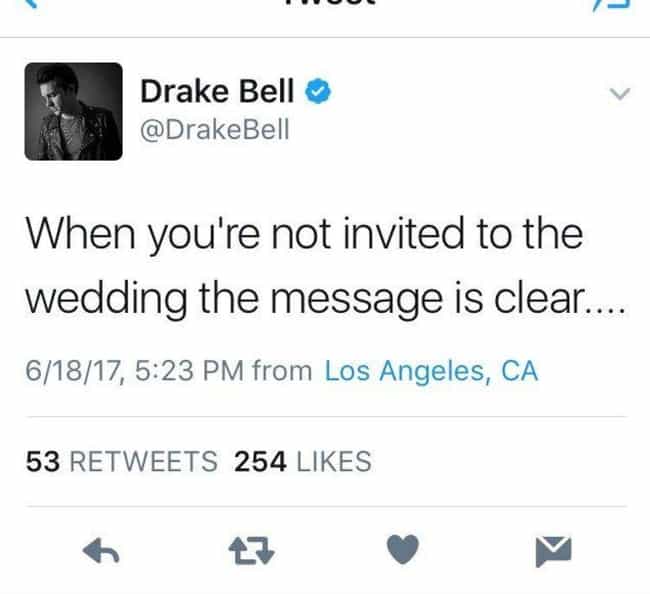 Here's the event that sparked the public's renewed interest in Drake Bell's life. Back in July of this year, Josh Peck married his longtime girlfriend, Paige O'Brien, and invited his grandfathered co-stars John Stamos and Nicole Golfieri. But you know which sitcom co-star he didn't invite? Drake Bell, of course!
Bell caught wind of this and promptly tweeted: "When you're not invited to the wedding the message is clear…. […] Loyalty is key… ALWAYS remember where you came from." The tweets have since been deleted, but the pettiness of his remarks found a life of their own on the Internet.
And thus the hottest feud of 2017 was born.
He Threw Balls At High Schoolers
On October 15th, 2017, Drake Bell and his band performed at the Northwest School of the Arts in Charlotte, NC, but were soon pelted with balls by the students. Bell tried to adopt a show-must-go-on attitude, but then picked up one of the balls and hurled it right back at the crowd of high schoolers before demanding the music be stopped.
He started admonishing the crowd by saying, "Who the hell is throwing these things on stage, man? Stop it! It doesn't make you cool, man! Jeez!"
Maybe the kids weren't into his brand new, not-yet-a-classic track. If he had just opened with the Drake & Josh theme tune then the crowd probably would have been far more placated.
He Showed Off His Body For Flaunt Magazine
Not long after news of the Drake & Josh feud sent the Internet into a tizzy, Bell posed for Flaunt Magazine and showed off what some would say are unexpectedly defined abdominals. Bell stripped down and bared his torso against a backdrop of some mountains and rocks and things. So, perhaps the answer to "just what has Drake been up to" is that he's been at the gym just working on his fitness – Drake-a-licious.