Entertainment
Everything You Never Knew About Elvira, Mistress Of The Dark And Where She Is Now

Updated February 13, 2020
154.6k views
13 items
Cassandra Peterson, known to most of the world as Elvira, Mistress of the Dark, is retiring from her gig at Knott's Berry Farm. Elvira has put on a Halloween show, combining spooky with comedy, for twenty-one years at Knott's.
Peterson started working with costumes as a child at her family's costume business, Peterson's Partyland. She decided that she wasn't cut out for "normal" jobs, so she looked to show business. Her career as Elvira took form in 1981 when a local television station in Southern California chose her to host a Halloween Macabre show. She only received $300 for the show but it soon led to other on-screen appearances eventually culminating in her own B movie, Elvira Mistress of The Dark, which is a cult classic among other spooky and paranormal movies.
So where is Elvira now? Well she certainly isn't fading into a quiet retirement despite her Knotts show ceasing. The Queen of Halloween says she is interested in writing an autobiography as well as getting into television. She is interested in an animated series in particular. Check out the list below to get a glance at Elvira's career and learn about some other things you didn't know about Elvira.
Elvira Was Birthed From Campy Local Access TV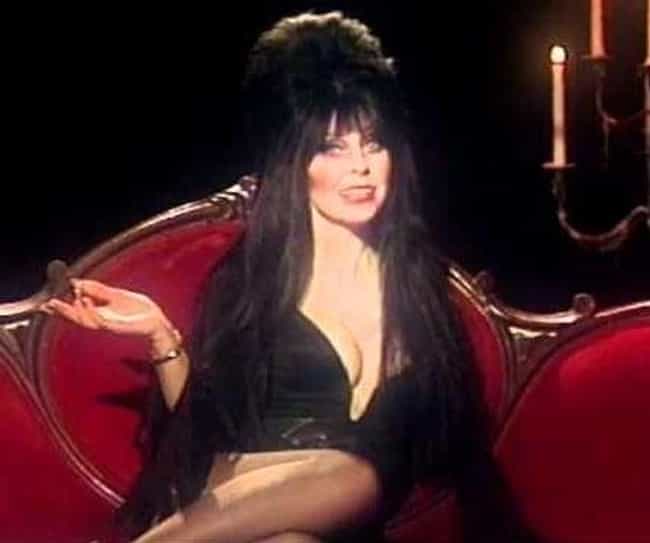 For fans of bad B horror films, Cassandra Peterson, better known as her character Elvira, was the host with the most to horror flick fans. During her run as the host for Movie Macabre, she wore her trademark seductive-but-dark dresses and kept up a barrage of witty commentary. In 1981, Elvira's Movie Macabre aired on local television. The character of Elvira was wholly Peterson's invention, as producers let her create the look and persona of Elvira.
Peterson has stated she was shocked the station allowed her to dress the way she did, but she believed that they knew it would drive ratings. Peterson said she made only $300 before taxes for the show but was thrilled to be on television. Elvira's Movie Macabre started a new wave of vampy pin-up girl style that has become a staple of Halloween costumes, not to mention inspiring for women who have always loved the genre and finally had a horror fashion icon to emulate.
'Elvira, Mistress Of The Dark' Showcased The Creepy Camp Of The Character
While Elvira's Movie Macabre no doubt helped launch her career, Peterson's biggest Elvira success may be her 1988 movie Elvira, Mistress of the Dark. The movie was written just for Peterson around her character and featured her trademark comedy-infused horror.
While the film earned a PG-13 rating, the sexual jokes that ran through the movie turned off some critics in the '80s. The plot was about Elvira trying to claim her rightful inheritance so that she could have the money to take her show on the road after quitting her job as a host. Today, almost 30-years after it's debut, Peterson's first film is still a cult favorite.
You Can Buy Her Elvira Line Of Jewelry, 'Objects Of Desire'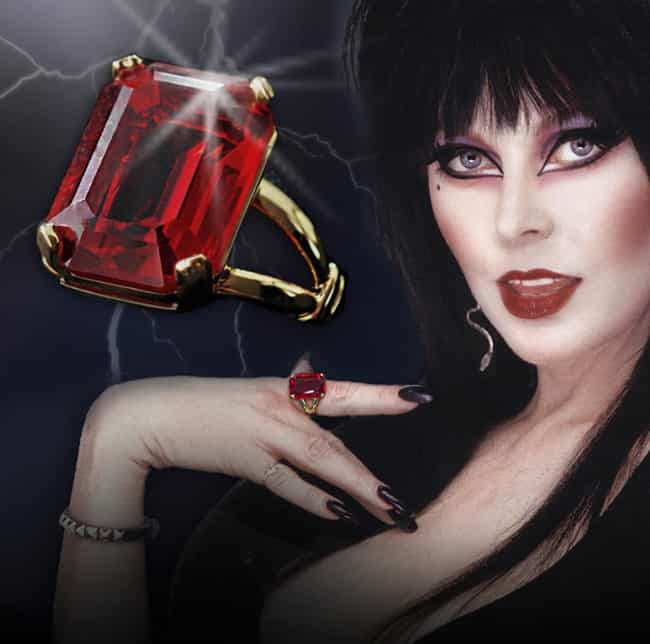 For those who love fancy vampy and completely blinged out jewelry, Elvira has just what you want. Her line of jewelry through Sweet Romance Jewelry is perfect for anyone looking for "costume" jewelry gone legit. Famously, Elvira would give away one of her ruby rings to a lucky audience member in every one of her Knott's Scary Farm shows.
Elvira Is Queen Of The Double Entendre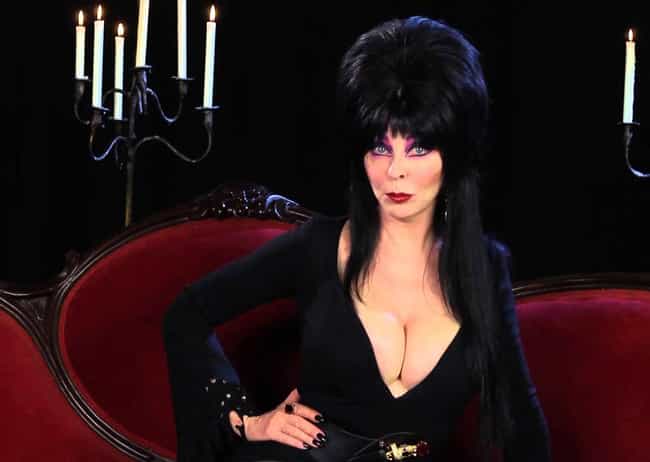 Elvira's revealing outfit isn't all that appealed to her fans. It was also her wit. Elvira intentionally embodied the persona and voice of a "valley girl," which was in contrast with her pin-up vampire vibe. Her specific comedy pairs valley girl deadpan with clever sarcasm and racy innuendo. She often referred to her own cleavage and revealing outfits, always owning her look unapologetically and in complete earnestness.
Fans have always been drawn to Elvira's mixture of smart, funny, spooky, attractive, and edgy qualities, especially in how they align with the horror and B movie movies she was alligned with.