Celebrity Trivia
Whatever Happened To Joel And Benji Madden, The Twin Brothers Of Good Charlotte?

In the early 2000s, Joel and Benji Madden defined a generation with their spiky-haired brand of TRL-topping pop punk. The brothers fronted the beloved band Good Charlotte, whose angst-ridden songs skewered melodramatic celebrity complaints (hello, "Lifestyles of the Rich and the Famous"). After three platinum albums and numerous stadium tours, the duo took a break from the band they formed in high school, but what happened to the Madden brothers after that?
While there are probably still some things you didn't know about the Madden siblings, the truth is that the Joel and Benji Madden today aren't too far removed from their pop punk roots. The band regularly helps write and produce records from some of the genre's more recent artists, including 5 Seconds of Summer, Tonight Alive, and Waterparks. They've launched a management empire, and snagged a few well-known TV spots and ad campaigns. Basically, the brothers are absolutely killing it.
The Brothers Got Fed Up With The Greedy Music Industry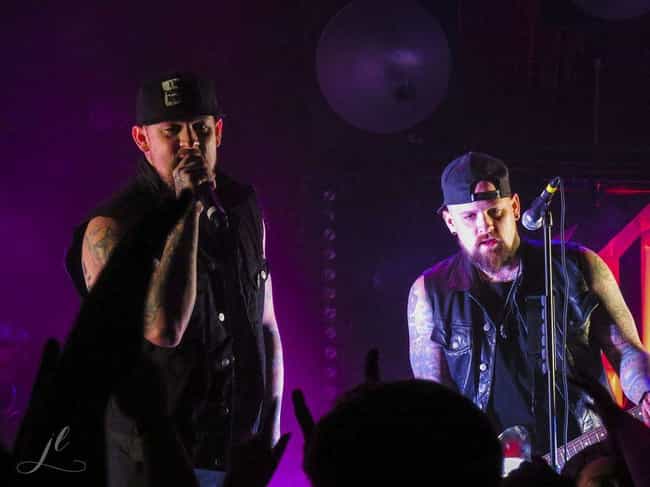 After three platinum records and a few awesome TRL appearances, Good Charlotte went on an indefinite hiatus in 2011. The band cited a number of reasons, but primarily, they said that they were tired of the less desirable corners of the industry, where everyone is trying to make a quick buck.
"I was done," Joel told GQ. "I limped off the field as an artist. It just started to feel like we were squeezing every last drop out of this thing — and the bad side to the music business took over. We were kids when we started this, and when you're a kid wanting to make it, you'll sign and do anything."
During their sabbatical, the Madden twins tried to lend a helping hand to young artists who hadn't yet discovered the music industry's pitfalls. "No one put their arm around us and said, 'Let me protect you, don't do that.' Everyone was pushing us and we had to learn the hard way. I got victimized at a young age, and then I became a victim, and have the scars to prove it," Joel continued.
Benji Married Cameron Diaz (And They're Adorable Together)
In 2015, Benji married Cameron Diaz after a whirlwind seven months of dating. That might seem fast to some, but Diaz admitted she "just knew" the rockstar was going to be her husband the second she met him. The couple was introduced by Benji's celeb sister-in-law Nicole Richie.
Madden and Diaz's wedding was uniquely intimate. The ceremony took place inside the living room of their Beverly Hills home, and the reception was in their backyard. For the most part, Diaz and Madden are relatively private about their relationship, aside from a few sweet words shared on Instagram. In a rare 2016 interview, Diaz made everyone's heart melt with her adoration for her rock star hubby.
"The first thing I said when I first met my husband was, 'He's hot.' How come I didn't know this before? We had never been in the same circle... You know, nothing matters now that I have my husband. Like, I don't even remember any of that," she told radio host Andy Cohen. "All of that is like, that's the thing, that's how I know he's my husband... No one compares. Everything else just like washes and slips away. You realize like, 'Oh this is like the real thing is. This is what real love is. This is what real commitment and devotion is. This is the person you build your life with.'"
Joel Became A Judge On 'The Voice Australia,' And His Brother Soon Followed Suit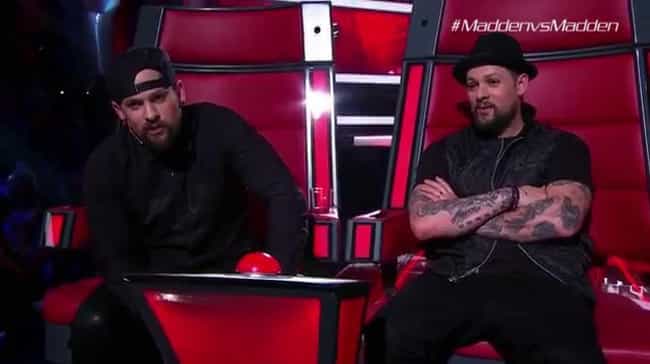 In 2012, shortly after Good Charlotte called it quits, The Voice Australia enlisted Joel to fill out its star-studded panel of judges.
"I didn't know what it would be like. I'd never done anything like it. I'd done some TV — TV has always been a part of our career — and the show was huge there," Joel told Rolling Stone. "I ended up becoming really good friends with everyone I worked with: Seal, Keith Urban, Kylie Minogue. Australia has been a place where we not only get to do TV, we get to discover bands before everyone else."
In 2015, Benji joined Joel on the singing competition. The brothers were once again working together, because two Maddens are always better than one. They also shared their music industry expertise on The Voice Kids Australia.
The Madden Brothers Landed A KFC Endorsement, Despite Their Vegetarian History
The Madden twins don't walk away from good opportunities, and their 2012 KFC ad campaign was too finger-licking good to pass up. Though the brothers were reported to be vegetarians since 2003, and created a line of vegetarian and vegan burritos for Denny's in 2009, they changed their tune when KFC came calling in 2012. Everyone has a weakness, and bacon sandwiches with fried chicken instead of bread can easily get the best of people.
The ad campaign, which encouraged Australian fast food lovers to write songs about what makes KFC and living in Australia "So Good," was met with a ton of criticism. Benji defended their decision, telling Faster Louder that he abandoned the veg lifestyle years ago for "dietary reasons," and that his father was a butcher.