Celebrity Trivia

Hey, So Whatever Happened To Lindsay Lohan?

4.7k views
15 items
Follow
What happened to Lindsay Lohan? Everyone knows about her troubled past, including multiple arrests for DUI, several failed stints in rehab, and stories about how difficult she was to work with on movie and television sets. But what about Lindsay Lohan today? Now that she is done with her tumultuous twenties, has she finally turned a corner and cleaned up her act?
The answer to that question is unfortunately not so simple. She did leave Hollywood for London in 2016, and has happily remained out of the paparazzi spotlight (and out of court). She is involved in several different promising business ventures — like the entirely relatable ambition of designing her own island off the coast of Dubai. But peppered in with the return of a promising young talent also come a few crazy Lindsay Lohan stories, including a social media tirade that hearkened the end of her engagement to a Russian business heir.
Check out all the positive and the negative things that Lindsay Lohan has been up to the past few years. Can she make a career comeback in the entertainment business? More importantly, does she even want to?
She's The Spokeswoman For Lawyer.com
If any celebrity knows what it's like to need a lawyer, it's Lindsay Lohan. She has certainly had her fair share of legal trouble over the years, including multiple DUIs. In March 2018, the Mean Girls star was hired to become the spokesperson for Lawyer. com, which is a service that connects clients with an attorney. "When Lawyer.com first reached out to me, I was confused and a little scared because I thought I was in trouble," Lohan admits. "But when they asked me to be their spokesperson, I was intrigued."
The actress also released the following press statement concerning her new gig: "I'm excited to work with Lawyer.com because I know how hard it is to find quality legal help, and this is a great opportunity to help people in need."
Lohan Defended Harvey Weinstein
During the fall of 2017, Harvey Weinstein became the most hated man in Hollywood. Every day, it seemed that a different actress was coming out to share their #MeToo experience of sexual assault at the hands of the disgraced film producer. Almost no one came to defend him publicly, except Lindsay Lohan.
Lohan said via her Instagram stories: "I feel very bad for Harvey Weinstein right now. I don't think it's right what's going on." She added, "He's never harmed me or did anything to me – we've done several movies together. I think everyone needs to stop – I think it's wrong. So stand up."
The Freaky Friday actress also offered up some advice to Weinstein's wife Georgina (who later filed for divorce) suggesting that she needs to "take a stand a be there for her husband." Lohan later deleted the pro-Weinstein messages.
She Is Designing Her Very Own Island Off The Coast Of Dubai
In January 2018, Lohan sat down for an interview with Wendy Williams. Lohan discussed her plans with the talk show host to design an island off the coast of Dubai. She plans to call the island, appropriately, Lohan Island.
"I'm discussing designing an island in Dubai," Lohan said. "I have a lot of little projects there because I like to keep busy. So, when I'm finished filming [British sitcom] Sick Note I can go back to Dubai, start the lipstick, discuss that and then design this island — Lohan Island."
She Met With The President Of Turkey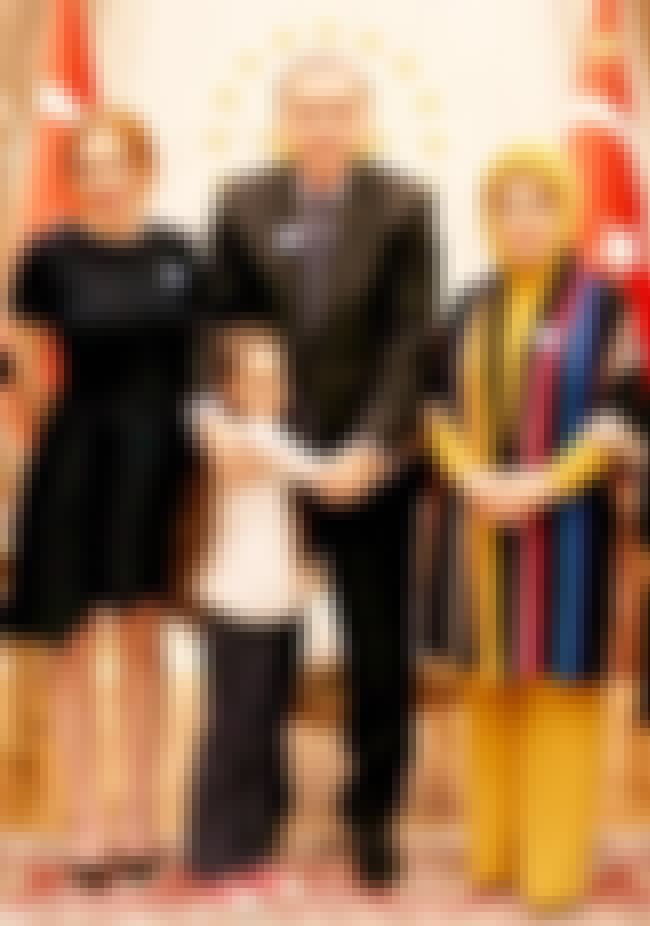 In January 2017, Lindsay Lohan met with the president of Turkey, Recep Tayyip Erdoğan, in Istanbul to discuss the struggle of Syrian refugees. Also in attendance were First Lady Emine Erdoğan, and Syrian refugee Bana Alabed.
Lohan wrote on her Instagram account: "What a dream it is for Mr. President Erdoğan and The First Lady to invite me to their home. Their efforts in helping Syrian Refugees is truly inspiring, #peace starts now."
The actress also added: "This is why I underlined the statement 'the world is bigger than five.' Five big nations made promises but they did not keep them. There are some who are afraid to come Turkey due to the disinformation about it but I feel very much at ease."