Sports
Whatever Happened To Vince McMahon?

Updated March 21, 2018
2.3k views
18 items
What has Vince McMahon been up to? The wrestling mogul-promoter-sports-executive-entrepreneur-actor has led a life that has been anything but quiet and reserved. In the last few years, however, he has dropped significantly from public view. With the announced reboot of the XFL in 2020, McMahon seems poised to make a return to the spotlight - but dark stories about his past, including assault allegations and questionable business ventures, continue to persist.
A few basic, fun facts about Vince McMahon: he was born in Pinehurst, NC, on August 24, 1945. Both his father and grandfather were also wrestling promoters. His father left the family when Vince was still an infant, but that didn't stop the younger McMahon from wanting to follow in his father's career footsteps. After graduating from college in 1968, Vince joined his dad's company, the World Wide Wrestling Federation, and the rest, as they say, is history.
Read on for more Vince McMahon stories, and see how this one-of-a-kind personality has been keeping himself busy over the last several years.
Always one to do whatever it takes to generate headlines, McMahon attempted to fake his death in 2007. "At approximately 11:07 p.m. ET last night, the WWE Chairman left the Wachovia Arena and stepped into his stretch limo, which almost instantly combusted before the eyes of millions watching Raw on TV," the WWE reported. It was - quelle surprise! - all a hoax. The violent end was meant to finish off the character McMahon portrays in the WWE, Mr. McMahon, and not the real McMahon himself.
He's Bringing Back The XFL, Where Players Can Worry About More Than Concussions
In 2000, McMahon launched the XFL, his own American football league that played by different rules and standards. Low ratings and flagging viewership forced him to shutter the XFL just one season later. But in early 2018, McMahon announced he's bringing back the franchise. "The new XFL will kick off in 2020 and quite frankly, we're going to give the game of football back to fans," McMahon said. "It's still football, but it's football re-imagined."
He's Already Ordering XFL Players To Stand For The National Anthem
McMahon has never been shy about espousing his conservative political views, and he's given millions of dollars to right-wing causes. It's not surprising, then, that along with his announcement heralding the XFL's return, he also stated all XFL players are required to stand for the national anthem.
"We want to entertain - that's what we do," he said. "There are not going to be any politics involved with this thing. We're not going to have any social issues involved." Shouldn't someone tell him that forcing your players to stand for the anthem is extremely political?
He Was Accused Of Sexual Harassment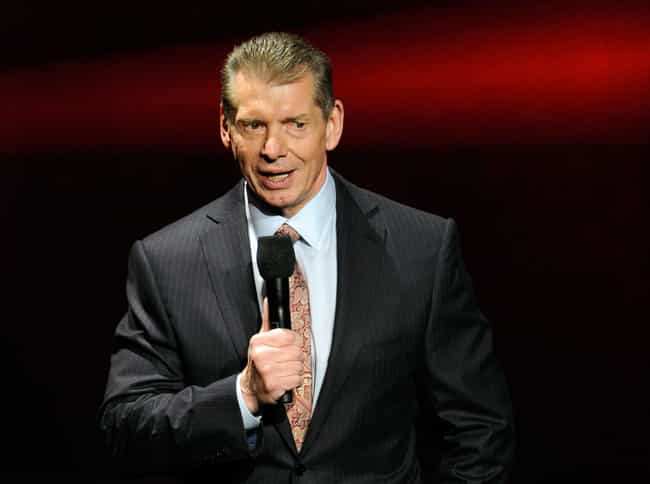 There have been at least two past occasions when McMahon was accused of sexual harassment. The first happened in the mid-1980s when the WWE's first female referee, Rita "Rita Marie" Chatterton, alleged that he raped her. The second incident reportedly happened in 2006, when a tanning salon employee accused him of groping her. No charges were filed in either case, and McMahon faced no consequences.