America
Inside Whittier, Alaska, The Town Where Everyone Lives In The Same Exact Building

Updated April 2, 2020
477.9k views
14 items
Whittier, Alaska is a town of some 220 people situated about 60 miles from Anchorage at the top of the Passage Canal. There are some pretty creepy stories about the state of Alaska but the town stands out for a number of reasons: its small size, its ravishing beauty, its remoteness and difficulty to access, and the fact that everyone in Whittier lives in one building. That's right; most of the 220 residents live in Begich Towers, a condominium-like complex that not only houses the town's residents, but most of the town's businesses and services as well. It is an entire community that lives under the same shared roof.
The area surrounding Whittier had never been a particularly populated place, so during the Second World War, the government thought it would make an ideal military base. Over the next few years, two of the town's only structures were built: the Buckner Building, which is now abandoned, and the Hodge Building, now known as Begich Towers. The military base became defunct in the 1960s and Whittier became a port for cruise ships.
Daily life in Whittier, Alaska, resembles life in other small American towns, but for the most part, living in a one-building community is a singular experience. Read on to learn what it's like to be a citizen in this one-of-a-kind town.
The 2020 Coronavirus Pandemic Closed The Town To Outside Visitors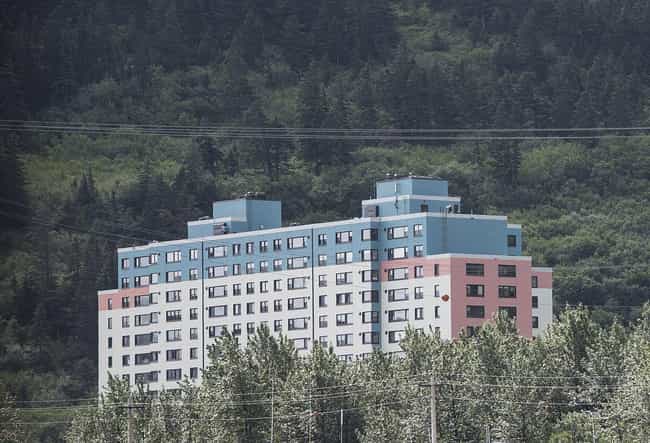 By late March 2020, the coronavirus pandemic sweeping the globe caused a US nationwide quarantine due to the highly contagious nature of the disease. For a town like Whittier, however, the threat of the virus was more daunting. To prevent a potential outbreak that could quickly and unwittingly infect residents , the city closed itself to any outside visitors, allowing in only "residents, their caregivers, and employees of essential businesses," according to the Anchorage Daily News.
In the wake of the pandemic, Whittier adopted strict restrictions such as "allowing only one family at a time inside the elevators or laundry room," and some residents even suggested closing down the town's only access to the outside world to prevent visitors from traveling to Whittier to seek recreational activity. Assistant city manager Annie Reeves said, "I think that's a big driver of the community's concern: We can't stop people from coming into our city."
Emphasizing the sense of community in this small town, however, residents began sharing photos of "halibut, full moons rising over snowy mountains, and a few shots of people from before social distancing, crowded together and smiling," in an attempt to brighten each other's day.
Some Residents Haven't Left Begich Towers In Years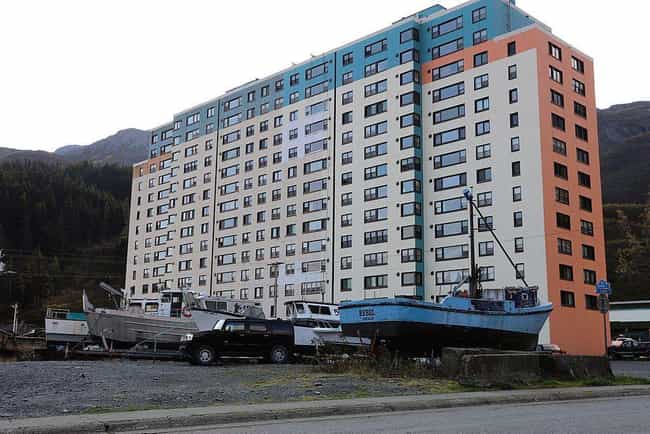 With all you could need under one roof, some residents haven't felt the urge to leave Begich Towers in weeks or, in some cases, years. Commenting on life in Whittier, teacher Erika Thompson said, "Some people love it because it can be really social, and some people love it because it can be reclusive.
For me it's just home. For the most part, you know everybody. It's a community under one roof. We have everything we need."
If You Need To Enter Or Leave Whittier After Hours, You're Out Of Luck
The Whittier tunnel is not open around the clock. If you try to use the tunnel after 11:00 at night or before 5:30 in the morning, you'll likely find it closed. People who missed the cutoff are often spotted sleeping in their cars at either end of the tunnel. There is, incidentally, always someone on duty should an emergency vehicle need to get through.
The average driver, however, has to wait until normal operating hours.
The City Is Only Accessible By Tunnel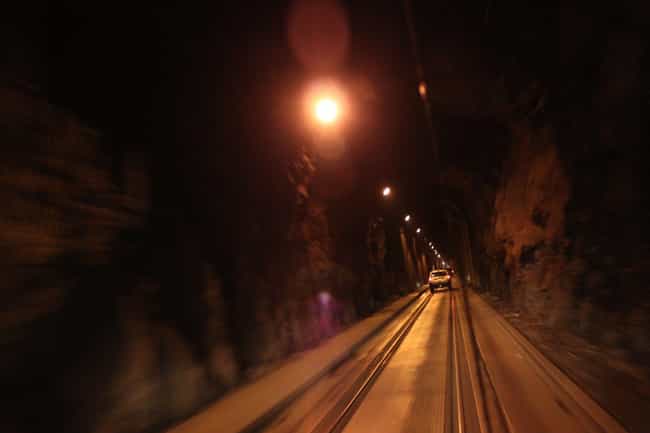 Whittier is not an easy town to breeze in and out of. A train tunnel was built in World War II but several years ago it was converted into a tunnel for cars. Before that, boat travel was really the only way to get in and out of Whittier. Now, however, cars can move freely in and out of town, with some exceptions.
Given that the tunnel only houses a single traffic lane, and the tunnel is 13,300 feet (the second-longest highway tunnel in North America), cars going the same direction are allowed through in 30-minute intervals. A red light alerts drivers on the opposite end to stop and wait until the interval is up before it's their turn to proceed.