Don't be fooled by all the films that portray medieval castle life as an embarrassment of riches. Living in medieval castles wasn't just about indulging in non-stop feasts, being entertained by jesters, and watching flamboyant jousts. Castle life, even for the upper class, would not have been all that glamorous. Dark and gloomy rooms, lit and heated by suffocatingly smoky fires, were par for the course.
While the upper class did indulge in some of the finer food and drink of the Middle Ages and were afforded a little more privacy than the serving class, there were still certainly very few creature comforts in medieval castle living. However, with such cramped and cold quarters, some castle dwellers did find comfort through chaste-as-heck medieval sex. Life during medieval times was no treat. 
Photo: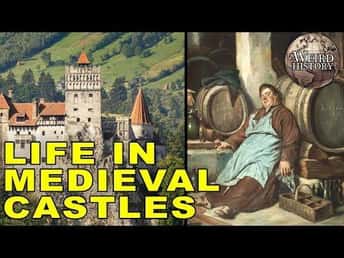 Photo: nicola.albertini / flickr / CC-BY-NC-ND 2.0

Prisoners Went To Dungeons And Were Often Tortured

Prisoners were often kept in the deepest, darkest depths of a medieval castle - and the conditions were often deplorable, as there were certainly no prisoner rights advocates in the Middle Ages. Prisoners were often held for political reasons and should the lord or lady of the castle deem it fit, the prisoner could be tortured.

Trigger warning: The next part is rather disturbing. There were a number of ways medieval people tortured their prisoners, but one that stands out was the act of inserting a rat into the person's body, allowing it to eat through a victim's intestines in order to make it's way out of the body.

One German researcher found that the torture method was not only meant to torment, but to also purify the soul. Many believed that the only way to purify the body of its sins was through pain.

So, you might want to think twice before you break the law in a medieval town. Unless you're into that pain for purification kind of thing.