Don't be fooled by all the films that portray medieval castle life as an embarrassment of riches. Living in medieval castles wasn't just about indulging in non-stop feasts, being entertained by jesters, and watching flamboyant jousts. Castle life, even for the upper class, would not have been all that glamorous. Dark and gloomy rooms, lit and heated by suffocatingly smoky fires, were par for the course.
While the upper class did indulge in some of the finer food and drink of the Middle Ages and were afforded a little more privacy than the serving class, there were still certainly very few creature comforts in medieval castle living. However, with such cramped and cold quarters, some castle dwellers did find comfort through chaste-as-heck medieval sex. Life during medieval times was no treat. 
Photo: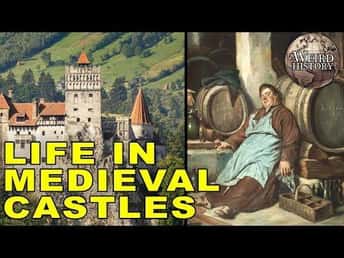 Photo: Unknown / Wikimedia Commons / Public Domain

Bathing Took Place In Wooden Tubs

Contrary to what many people believe about medieval times, people did enjoy taking baths, it just wasn't always easy to access clean water and a bathtub. Inside castles, there would often be a wooden bathtub that could be transported from room to room for the castle dwellers to bathe in. It wasn't exactly sanitary or even remotely private, but people were happy to be able to clean themselves from time to time.

It should be noted that medieval populations certainly didn't have the hang-ups about privacy and hygiene that we do today, but they would probably have preferred to not bathe in full view of their roommates. Not that there is anything wrong with that.