Life on the Oregon Trail was both incredibly boring and extremely dangerous. Pioneers had to exercise extreme caution and a lot of bravado to cross the 2,170 mile stretch of land starting in Missouri and ending in Oregon. Accidents and disease were just waiting around the corner, but a majority of the trip was just spent trudging along next to the wagon. To say daily life on the Oregon Trail was difficult is a vast understatement. It was hard work and required uprooting your entire family and deciding to venture West for new opportunities, but that didn't stop thousands of people from emigrating and making the long journey.
So what was daily life like on the Oregon Trail? It was dirty and cramped, but there also was a prevailing sense of enthusiasm and an adventurous spirit. These pioneers were making a trek into unknown territory and even though they knew the risks, they still decided to face the danger head on.
Photo: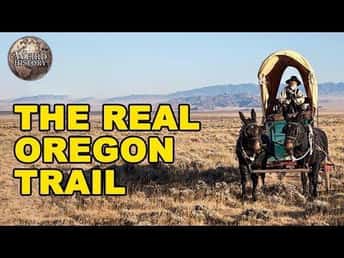 Photo: C. C. A. Christensen / Wikimedia Commons / Public Domain

Migrants Were At The Whim Of Weather, Natural Hazards, And Wild Animals

The Oregon Trail was an arduous path, but it was one of the safest means to travel westwards as long as migrants paid attention to all the potential natural hazards. The whole journey could take anywhere between five months to a year, crossing through the Great Plains, the Platte River, and the Rocky Mountains, each section having it's own perils and dangers. To minimize the possible dangers most expeditions and caravans left Independence, Missouri, at the end of Winter "with the coming of the first blades of grass." Leaving at the beginning of Spring made it less likely for travelers to experience terrible winter conditions, but it did present other problems.

Anyone on the Oregon Trail was required to cross the Northern Platte River in Wyoming. The river, at one of its most popular crossings, was 100 to 200 yards wide and 10 feet deep at its deepest point. Because of the time of year migrants were traveling, however, they would often reach the Platte River crossing in June, when Spring runoff was at its peak. There were ferries that would take people across the river, but they charged for every wagon and every count of livestock.

Many travelers couldn't afford the fee or felt they could cross without paying for the ferry. Though it worked sometimes, others weren't so lucky. Luzena Wilson and her party attempted to cross the river without a ferry, and though they took proper precautions, they couldn't escape the river's powerful current. Water poured into their wagon, sweeping away some of their provisions while their livestock drowned. "They went out of sight inch by inch," she wrote, "and the water rose over the moaning beasts. Without a struggle they disappeared beneath the surface. In a little while the broad South Platte swept on its way, sunny, sparkling, placid, without a ripple to mark where a lonely man parted with all his fortune."

Along the trail migrants would run into deer, elk, wolves, and bear, among other animals, some of the most unexpectedly dangerous, however, were the American bison. Bison, also mistakenly referred to as buffalo, travel in small bands across the Great Plains, but they tend to congregate into larger herds during the Spring and Fall. Those herds could come towards migrant camps quickly and unexpectedly, leaving little time to get out of their way. Sarah Byrd, though only a child when she and her family traveled the Oregon Trail, remembered the panic that arose at her camp when they saw bison in the distance. "It was dusk, an' we'd gone into camp, when, all at once, 'way off in the distance we see a big cloud o' dust," she said. "It cum near'r an' near'r, an' perty soon somebody yelled, 'It's buffalo -- looks like a million of 'em, an' they're comin' this way. Mebbe ther wuzn't a fuss then. Everbody wuz shoutin' to everbody else, an' givin' orders, an' rushin' 'round like crazy people. Some o' the men got out on horses, an' some way or 'nother, what with ther yellin' an' wavin' whatever they cud get hold of, they kept the buffalo from comin' thru the camp." Though a million bison was an exaggeration, the ground still shook as the hundreds of bison were steered away.