Entertainment
What to Expect When You're Expecting Movie Quotes

359 votes
183 voters
73.3k views
9 items
'What to Expect When You're Expecting' movie quotes are hilarious. They include the very best lines from this 2012 romantic comedy based on the wildly popular pregnancy book of the same name. 'What to Expect' features an all-star cast, including Cameron Diaz, Jennifer Lopez, Matthew Morrison, Elizabeth Banks, Anna Kendrick, Chace Crawford, Rodrigo Santoro and Dennis Quaid. See a favorite quote from 'What To Expect When You're Expecting'? Vote it up! And, if your personal favorite lines from the movie aren't listed, add them.
'What to Expect When You're Expecting' follows the journeys of five couples who are each dealing with impending parenthood. Several of the couples are pregnant, and one is in the process of adopting. Each couple deals with their own issues surrounding pregnancy. When one of the future fathers, Alex, decides he needs a little more info about the job, he joins up with the Dudes Group: a group of dads (Chris Rock, Thomas Lennon, Ben Falcone, Rob Huebel and Amir Talai) who've formed a special alliance. 'What to Expect' is directed by Kirk Jones ('Waking Ned Devine,' 'Nanny McPhee').
If you're looking for more excellent movie quotes, check out these pages for the most memorable lines from
'The Five-Year Engagement,'
'Dark Shadows,'
'LOL,'
'American Reunion,'
'This Means War,'
'The Lucky One,'
'The Vow,'
'Wanderlust,'
'The Hunger Games,'
'Friends With Benefits,'
'New Year's Eve,'
'Crazy, Stupid, Love'
and
'Bridesmaids.'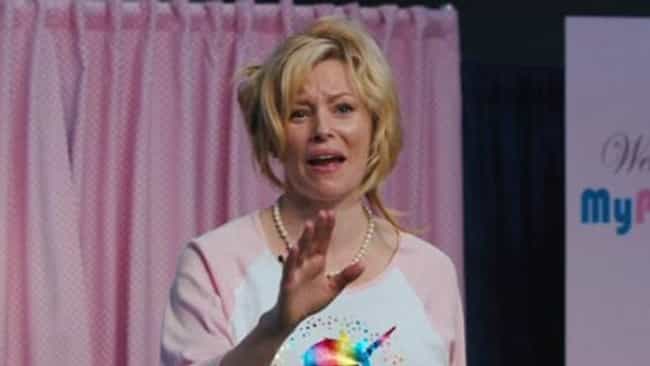 Wendy: "I just wanted the glow -- the one that they promise you on the cover of those magazines. Well, I'm calling it: Pregnancy sucks! Making a human being is really hard, I have no control over my body or my emotions. Gar-bear, I'm sorry, all I want to do is punch you in the face..."
Wendy (Elizabeth Banks) is the author of The Breast Choice boutique, and she's got some really strong opinions about motherhood. When she becomes pregnant, however, she begins to rethink some of her ideas. The hormones are raging out of control and "Gar-bear" ought to be careful...

Should this be higher or lower?

Wendy (looks at gorgeous pregnant woman): "Look at her, she's wearing six-inch heels..."
Janice: "She's like a magical pregnancy unicorn."
Oh, Mythical Pregnancy Unicorn, why must you torture normal pregnant women everywhere? There's always one: that incredible pregnant woman who manages to gain very little weight and look positively stunning (the 'glow') for nine months. Skyler (Brooklyn Decker) is such a creature. She'll sneeze during labor and push that little baby right out without any issues whatsoever, and then she'll immediately strap on her Louboutins and go about her merry way.

Should this be higher or lower?

Vic: "There's no such thing as ready. You just jump on a moving train and you try not to die."
This might just be the best line in 'What To Expect,' spoken by a dad who obviously knows. Parenting is tough, and there's no absolutely perfect manual to guide you through every problem/issue. Sometimes you just have to jump on and do your best to keep the ride smooth.
Should this be higher or lower?
Stuff Just Happens, Okay?

Alex: "You dropped your kid off a changing table?!"
Gabe: "Stuff just happens, okay? Last week, my kid ate a cigarette."
Craig: "I caught him playing in the dryer yesterday."
Patel: "I picked up the wrong baby from daycare."
Gabe: "I found my baby swimming in the toilet. No judging."
Welcome to the Dudes Group, Alex. First rule: No judging. These guys are serious about this rule, too. They take pride in their child care skills as fathers, but they make mistakes. Those mistakes? They stay in Dudes Group. Forever.
Should this be higher or lower?