Ancient Rome was at its apex from the second century BC through the second century AD. During the Pax Romana of the first and second centuries AD, Rome benefited from the expansion of its empire, with vast amounts of wealth and diverse cultural influences flooding into its borders. 
What was Ancient Rome like? It had a little bit of everything. The city of Rome was a bustling urban center full of commoners, animals, and politicians - all running into each other on crowded streets, in public buildings, and at any number of sporting events. Life in Ancient Rome was full of excitement, with plenty of opportunities for entertainment and spectacle contributing to the cosmopolitan atmosphere.
Living in Ancient Rome was not without challenges, however. The life of a Roman citizen depended on social and economic status. Poverty and noise were just two problems that prompted the government to regulate the difficult conditions within the city, with moderate levels of success.
To live in Ancient Rome was like living in any major city, full of pros and cons - but rarely with a dull moment.
Photo: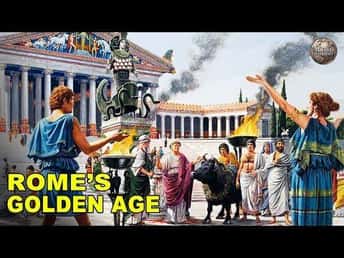 Photo: Italo Gismondi / Wikimedia Commons / CC BY-SA 3.0

The City Was Overpopulated, But Housing Was Also Extremely Limited

As early as the sixth century BC, Rome began taking census information to assess the numbers and needs of its population. While the Romans kept records on population, historians debate the accuracy of the data. The population of Rome itself is generally believed to have been in the hundreds of thousands during the first century BC, perhaps as high as 800,000 during the reign of Augustus (r. 27 BCE-14 AD). The population of the city continued to go up, hitting as many as 1 million residents during the second century AD.

The population was a mix of free men and women of varying degrees of wealth. High numbers of slaves contributed to the crowded conditions in Rome, where space became increasingly limited. The development of insulae, or tenements, was the result of a need to house the large population. Insulae contained numerous apartments alongside businesses and shops, with large numbers of people living in close confines. Insulae were several stories high, poorly built, and home to poor and moderately wealthy Romans alike. They were also vulnerable to fires, collapse, and the spread of disease.