Weird History
Medieval Peasants Designed Their Own Perfect Utopia, And It Was Still Super Depressing

Medieval peasants imagined a fantasy land where all their desires were fulfilled. It was called Cockaigne, which rhymes with Spain, and it was super depressing. The Land of Cockaigne is a simple place: the houses are made from fish pies, and roasted pigs walk around with knives in their backs for easy eating. Eggs grew legs so that peasants could indulge while lying on the ground, and animals pooped in baskets for easy clean up. In an imaginary world with endless possibilities, the medieval myth of Cockaigne focused on two things: food and laziness.
Cockaigne wasn't as bad as the rich Italians who made poor people fight over food. In fact, the stories include some fascinating insights into what the community cared about—the French peasants wanted quality wines, while the Italians wanted a mountain of Parmesan cheese. Still, Cockaigne is proof that life for medieval peasants was pretty bad, since their utopia was essentially a medieval version of the dystopia in Wall-E.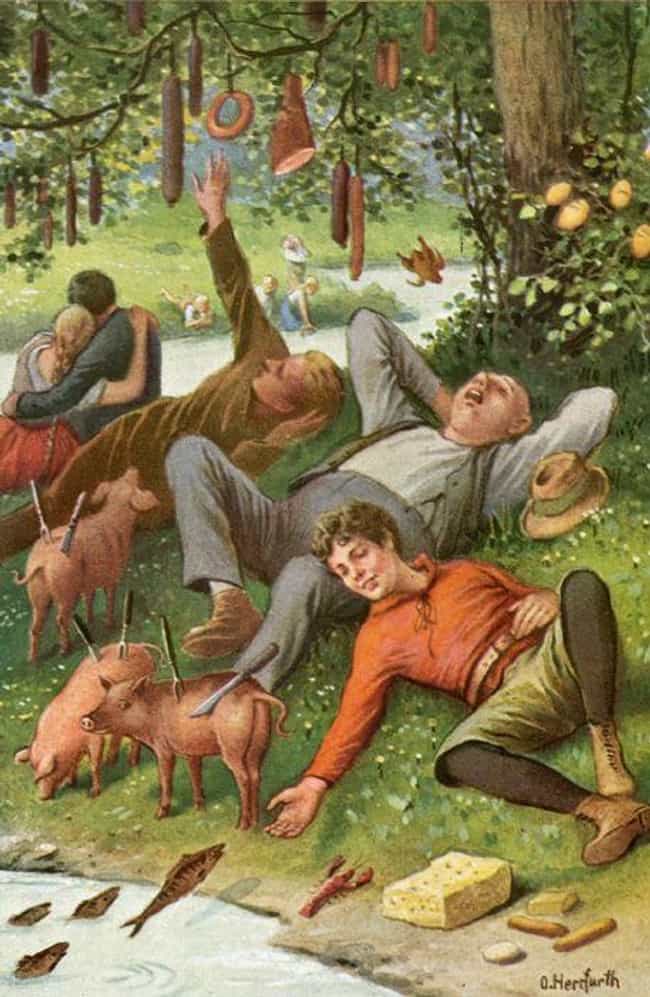 In This Fantasy World, Pigs Walk Around With Knives In Their Backs
In a fantasy land with endless possibilities, what medieval peasants really wanted was easy meat. Stories about Cockaigne were full of delectable animals, waiting and ready to be consumed. One of the most common sights in illustrations of Cockaigne were pre-roasted pigs walking around with knives in their backs. As scholar Herman Pliej explains, "If one feels like taking a bite, one can straightaway slice off a piece of meat and stick the knife back in again."
The idea of lying in the grass while cooked, ready-to-eat meat walked straight up to you to be eaten was clearly the height of luxury for medieval peasants.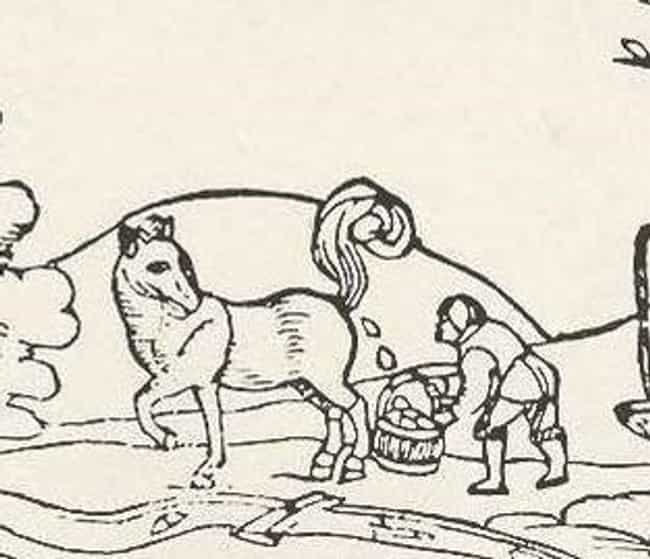 Cockaigne Was A Paradise Where Animals Pooped Right Into Baskets
Medieval peasants spent a lot of time shoveling manure. So, it's no surprise the magical land of Cockaigne found a solution to all that work. According to some versions of the story, like the 14th-century English poem "The Land of Cockagyne," the magical land simply didn't have any animals to produce manure. In addition to lacking wolves and snakes, Cockaigne also didn't contain most common farm animals.
Horse or gelding, cow or ox,
Never a sheep or goat or pig,
And so, of course, no dung to dig.
However, for peasants who would miss their farm animals too much, artist Erhard Schön came up with another solution in his 1530 drawing of Cockaigne—the horses, Schön surmised, would poop directly into baskets so no one had to shovel their manure.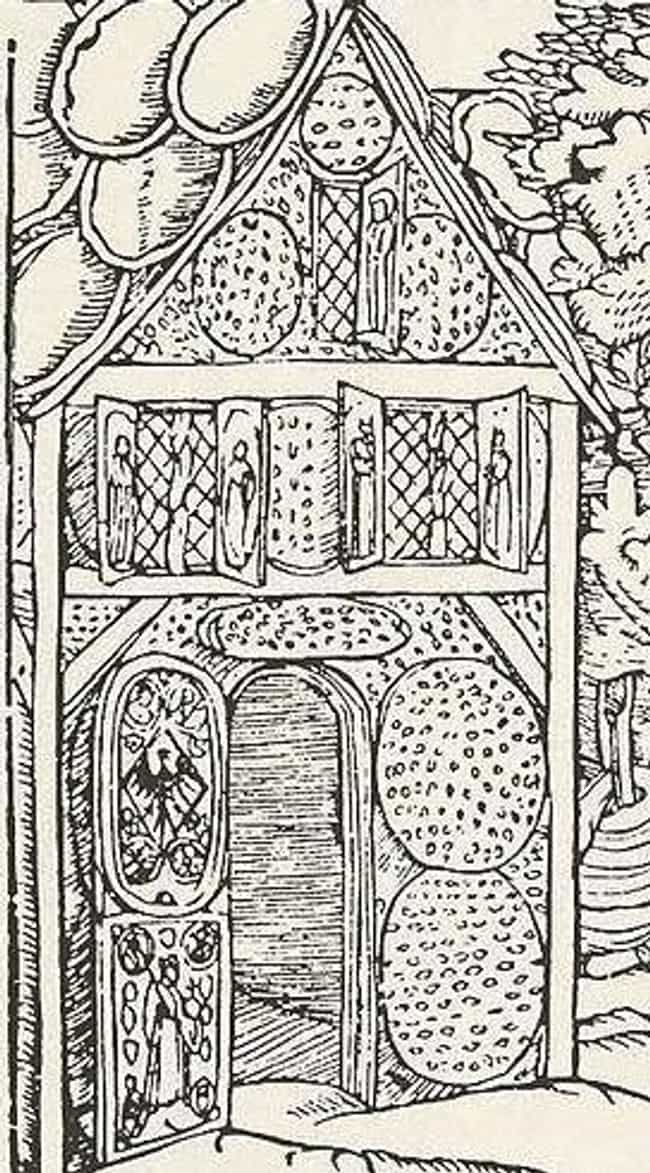 Medieval Peasants Thought Houses Made Of Fish Sounded Appetizing
Don't tell these guys about the house from Hansel and Gretel made of candy—it'll make their "house of fish" look pretty sad. According to the 14th-century English poem "The Land of Cockaygne," the walls of all the houses in the utopia are made of fish pies. If that doesn't sound very appetizing, look to the roofs, where "flour-cakes are the shingles."
One French version of the story included even stranger housing materials. The walls themselves are made of fish, while "the beams are made of sturgeons, the roofs of bacon, and the fences of sausage." In a fantasy world where houses could be made of literally any material, it's pretty depressing that medieval peasants picked fish.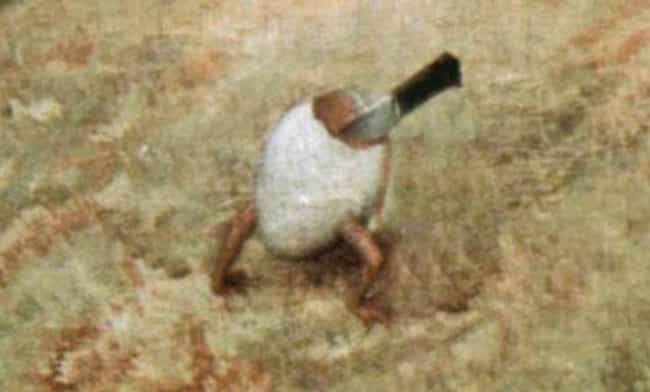 Even The Eggs Come With Legs And A Knife
If pigs walking around with knives in their backs doesn't sound appetizing, medieval peasants had another option. Cockaigne is such a paradise that hungry peasants never had to chase down their next meal. In fact, even the eggs in Cockaigne run right up to the lounging serfs, complete with a knife to make eating easy. Pieter Brueghel's famous painting of Cockaigne includes a depiction of the marvelous egg.
With their imaginary invention of food that comes straight to you, already cooked and ready to eat, these medieval peasants should probably get credit for inventing Postmates. But still, there's something slightly creepy about an egg with legs running around waiting to be consumed.