Music Festivals
People At Woodstock Describe What It Was Really Like

In the peace- and love-themed summer of '69, giant music festivals became a standard event for the younger generation to experience rock-and-roll, hallucinogens, and the predictable chaos from cramming thousands of intoxicated people into a relatively confined area. One of these festivals, the Woodstock Music and Arts Fair, would be cemented as one of the most famous music festivals in history.
Despite the many music festivals that came after it - and the many disasters that ensued - Woodstock was seen as a peaceful, decade-defining moment celebrating free love and music.
Held in a muddy field near the rural town of Bethel, NY, Woodstock was host to 500,000 people who braved traffic jams, shortages of essentials, lightning, and pouring rain to witness one of the strongest lineups of pop music groups ever assembled on one stage. Woodstock became an internationally legendary event, its cultural importance scrutinized long after it concluded. But what was Woodstock really like? How did the experience differ for each attendee, festival employee, musician, or even local resident? What was it like to hear Jimi Hendrix play "The Star Spangled Banner" on that final day?
Anything involving half a million people will invariably elicit a wide range of responses and memories, a fact that holds true for those who have described their own Woodstock experiences.
back to page 1
Official Security Was Cancelled And The Local Police Ignored The Rampant Drug Use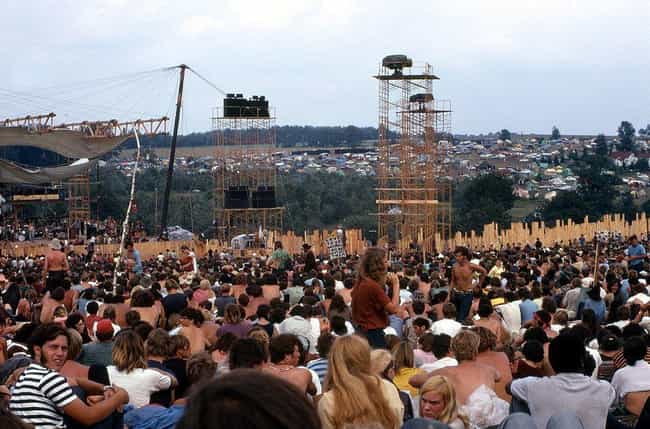 Security at Woodstock was supposed to be provided by off-duty New York City police officers, but only days before the concert, the NYPD deliberately reminded its employees that off-duty employment was prohibited. The only police presence was local forces from surrounding areas; they spent most of their time attempting to keep the access routes as orderly as possible. Arrests for drug possession were nonexistent; within the concert grounds itself, all sorts of narcotics were openly sold and traded, with LSD and marijuana being the most prevalent substances. Jim Phelan told the Fayetteville Observer:
"There was one stand selling LSD, one selling marijuana. They were having sales, offering two joints for the price of one, the police weren't interfering with it at all."
A massive cloud of marijuana smoke was perceptible for the three days and numerous "smoke camps" were erected where people hung out and shared cannabis with each other.
While Drugs Were Prevalent, Food And Toilets Were Scarce
Official concession stands were out of food by late Friday night. The concessionaire was an entity entitled "Food For Love," which was a last-minute hire after corporate entities like Nathan's Hot Dogs and Restaurant Associates declined. Food For Love was overwhelmed by demand and began charging $1 per hot dog, when a typical price in the real world was just 25 cents. With huge lines and long waits, ultimately some festival-goers decided to burn down the concession stands. The Hog Farm Collective famously began cooking and distributing various granola and grain-based foods, but that required frequently leaving your tent or blanket, something many were reluctant to do.
Jim Shelly's story was quite common. He spent all of Saturday night looking for food, only to discover it was completely sold out. On the way back to his blanket outpost, someone gave him some oranges, which is all he and his friend ate the entire weekend. In a New Republic story, Hendrik Hertzberg described the minimal toilet facilities:
"It took an hour to pick one's way through the crowd to the Port-O-Sans and wait in line. It could take another hour to get back, during which, with mounting anxiety, one would become convinced that one's friends were forever lost in the darkness."
There Was A Lot Of Sex And Nudity At Woodstock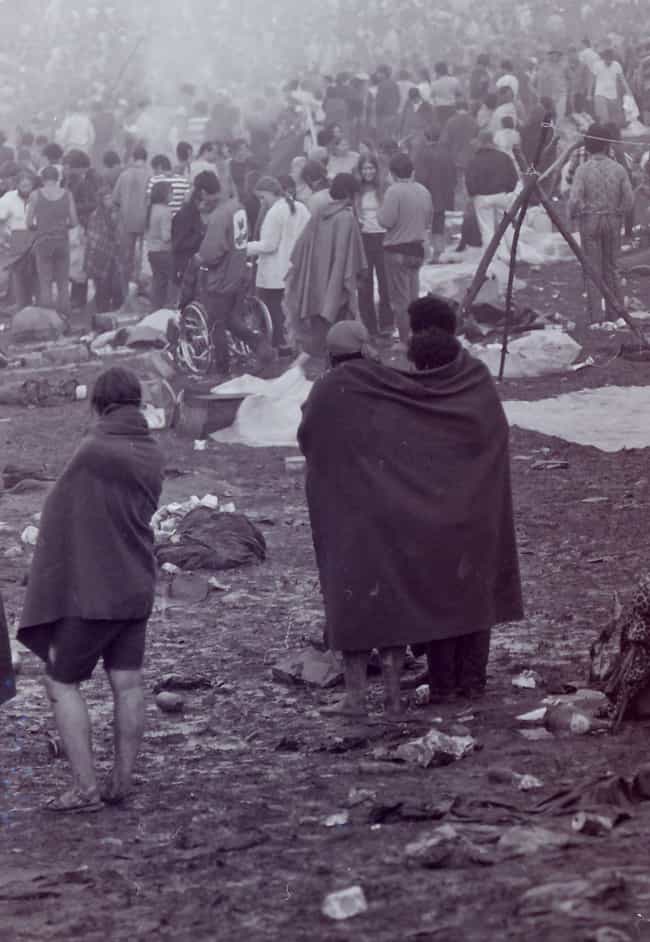 While some accounts say this aspect of the festival was exaggerated, many others said they were shocked at the lack of inhibition when it came to sex and nudity. Walter Mills was a 19-year-old recent high school graduate when he got to Woodstock, and told Newsday he couldn't believe what he was seeing:
There were all these people running around naked and swimming naked in this muddy water. I yelled over to my friend to hurry over, you're not going to believe this. I was 19, but I was still pretty naive. I remember looking out of our tent and there was this couple who just did it right there on the ground in front of us. I didn't know what to do. Later, she was still naked and came over and started talking to us. I think I needed a shovel to get my jaw off the ground.
This was not an isolated incident. Randy Holliday, 21, told the Fayetteville Observer that the nudity was practically natural in that environment: "It was like a small city nude at one time, it seemed very natural. The nudity was just a natural thing in that setting. There was a real kinship. You certainly felt like you were a part of something, I felt like it was a very sincere emotional bond with the generation at that time."
The Music Was Outstanding
One uniform aspect of Woodstock was the quality of the music. In a Huffington Post piece on the event 45 years later, Annie Birch recalled:
The acoustics were amazing; the sound went out, hit that hill full of people and bounced back to the camping area. I remember (yes, I really do) late Friday night listening to Arlo Guthrie's performance echoing off that natural amphitheater bowl.
The mere recounting of his favorite performances by attendee Glenn Weiser puts into perspective the remarkable musical talent present during the three days of Woodstock:
Musically, my favorite artists were The Who, Creedence Clearwater Revival, Carlos Santana, Janis Joplin, The Jefferson Airplane, and of course Jimi Hendrix, the undisputed heavyweight guitar champ of the time... The Who played their entire rock opera Tommy - an impressive feat of memorization. Creedence rocked with swaggering grooves, Santana charmed with Latin rhythms and Carlos's serpentine guitar lines, and The Airplane radiated raw exuberance. But these are only the standouts - I think it's safe to say that Woodstock had the greatest lineup of performers in the history of rock.
When you add Joe Cocker;,Alvin Lee; Crosby, Stills and Nash; Melanie; and The Grateful Dead - and that's still far from a complete setlist - the music alone at Woodstock made it a unique event.