Makeup Junkie
Your Taxes Are Paying For Sarah Huckabee's Makeup Artist

The Trump administration is in the news every single day for one scandal or another, for reasons as serious as colluding with Russia to as silly as what goes into Melania Trump's beauty routine. The latest Trump scandal sits somewhere in the middle, and has sparked a debate about taxpayer money and beauty in the White House.
It was recently discovered that Sarah Huckabee Sanders — the controversial White House press secretary — has makeup artist who is now on the White House payroll. So yes, there is such a thing as an official White House makeup artist. An official White House makeup artist paid by tax dollars, to be exact. And the American people are not necessarily here for it.
The Trump administration is using taxpayers' money to employee a makeup artist, who this makeup artist is, and whether or not the Obamas ever used taxpayer money to support their beauty and fashion habits.
The Trump White House Has A Full-Time MUA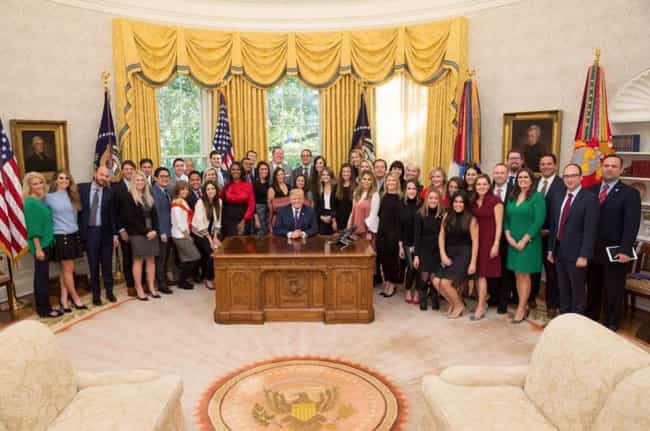 Katie Price is the White House's full-time makeup artist. Her employment status became public knowledge after a comment made in 2017 by Anthony Scaramucci about White House Press Secretary Sarah Huckabee Sanders's makeup, eluding to the fact that both Huckabee and Scaramucci had hired a professional makeup artist to help them get ready for on-camera appearances. Not long after the speculation started, the press uncovered the fact that Trump's administration has hired a makeup artist for Huckabee's many press appearances.
Katie Price Does The Hair And Makeup For White House Press Secretary Sarah Huckabee Sanders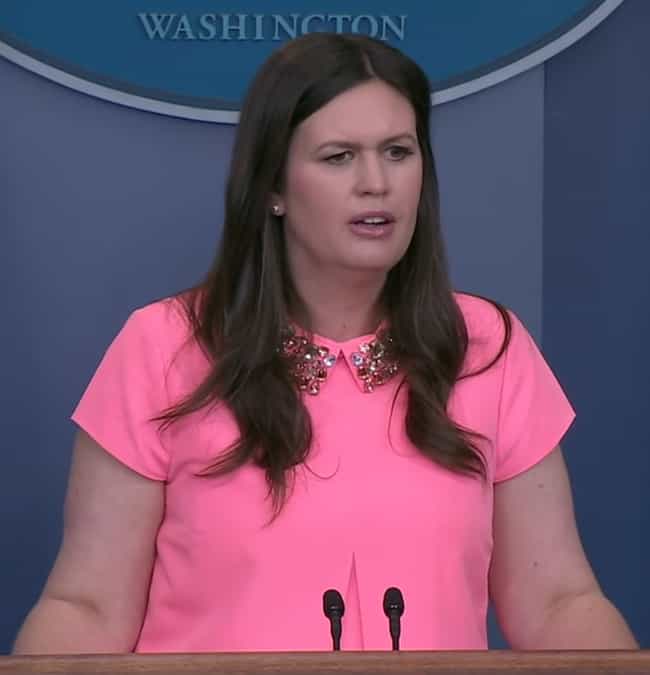 The full-time makeup artist staffed by the Trump White House is Katie Price, who has previously been a staff stylist for CNN and Russia Today (RT). She's considered a member of the communications team, but her role includes keeping government staffers camera-ready. She primarily works with Sarah Huckabee Sanders, the White House press secretary whose job is highly public and calls for multiple on-camera moments a day.
Price has also done the hair and makeup for Anthony Scaramucci and Kellyanne Conway, and apparently does not do hair and makeup for any member of the Trump family. If you're looking for more info on Katie Price, you might be out of luck — she recently deleted her company website and LinkedIn page!
Anthony Scaramucci Basically Got Katie Price The Job
The whole White-House-makeup-artist situation came to light when soon-to-be-staffer Anthony Scaramucci called out Sarah Huckabee Sanders on CNN in 2017 saying, "Sarah, if you're watching, I love the hair and makeup person that we had on Friday, so I'd like to continue to use the hair and makeup person." Viewers immediately thought he was referring to Huckabee's makeup, and were outraged that he was referring to her physical appearance in that way. But Scaramucci was actually referring to his own hair and makeup!
Yes, Katie Price did Anthony Scaramucci's hair and makeup, and he liked it. He clarified the mix-up with a Tweet stating, "For the record, I was referring to my hair and make up and the fact that I like the make up artist. I need all the help I can get! #humor"
Katie Price Is Only The Second Full-Time Makeup Artist In White House History
If you're thinking that it's normal for the White House to employ a makeup artist (after all, many of these people are seen on television daily), you're wrong. This is only the second time in American history that a hair and makeup person has been an official government staff member. The Obama administration did not have an on-call hair and makeup person, but the Bush administration did (and she was paid for by you, the American taxpayers, by the way). They employed a woman named Lois Cassano to tend to the appearances of President Bush, First Lady Laura Bush, and any other public-facing officials.