Unspeakable Times
True Details About Olympic Park Bomber Eric Rudolph

Updated September 30, 2019
1.9k views
13 items
"Eric Robert Rudolph, the most notorious American fugitive on the FBI's most-wanted list, has been captured and will face American justice," US Attorney General John Ashcroft shared with the public in 2003. Rudolph evaded capture for five years after being named the prime suspect in the Olympic Park bombing and three others that occurred in Atlanta and Birmingham between 1996 and 1998. Rudolph's first target was the 1996 Olympics in Atlanta. On July 27, he planted a device in a backpack in the heavily populated Centennial Olympic Park, which led to one woman's demise and over 100 other injuries.
Over the next two years, Eric Rudolph targeted a gay nightclub and two family planning clinics. His actions led to two additional lost lives and dozens of injuries. Rudolph escaped to the mountains of Western North Carolina, avoiding detection while the media blamed the 1996 Olympic Games bombing hero, Richard Jewell. The FBI and local police finally found Rudolph rifling through a trash can in Murphy, North Carolina, in May 2003.
Rudolph was radicalized by extremist religious and political groups. From a young age, he was exposed to communities opposed to abortion, homosexuality, and diversity. Through his dedication to these fanatical causes, as well as the support of those who espoused the same beliefs, Rudolph remained vindicated throughout his trial, and continues to share his views from behind bars.
Rudolph's anti-government attitude and the way those around him responded to his actions might provide insight into how the Olympic Park bombing in 1996, as well as three other attacks, came to pass.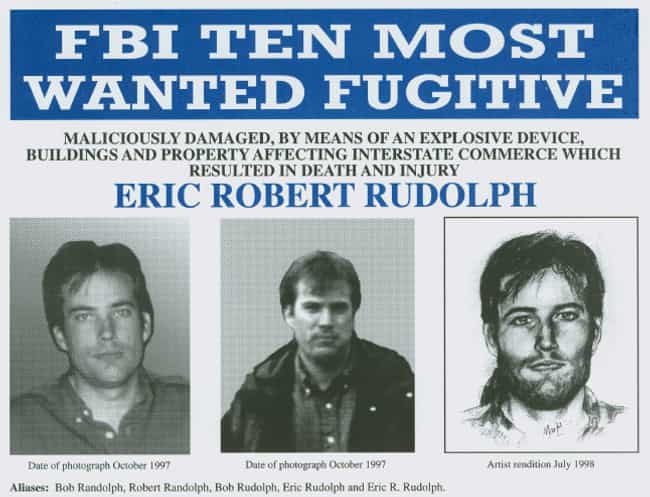 Rudolph's Family Lived Off The Grid In Western North Carolina, Where He Fled After The Bombings
When Rudolph lost his father to cancer in 1981, his mother Patricia moved the family from Homestead, Florida, to Topton, North Carolina. Rudolph was about 14 at the time, and his family found a home near the Nantahala National Forest. Their residence was mostly off the grid, and according to the former wife of his older brother Joel:
It was something to realize how self-sufficient they were, how they had a generator in case the electricity went out. They had a wood-burning stove that heated water inside a radiator. They had a distiller for their water that steamed the water so you wouldn't have to drink faucet water and its fluoride.
It's believed Rudolph developed his knowledge of survival and outdoors skills during this time. The Rudolphs moved to North Carolina to follow a family friend who found land for them, Tom Branham. In 1984, Branham was detained by federal agents for stockpiling dynamite, heavy arms, and other threatening devices under his house. The Rudolphs put their home up to cover the cost of Branham's bail, and his conviction was eventually overturned.
In 1998, after his fourth bombing at a family planning clinic in Birmingham, Alabama, Rudolph returned to the mountainous landscape he'd grown to know so well as a teenager. He survived by scouting caves and structures for camping and foraging for food at night.
He Spent Time With His Mother And Brother In A White Supremacist Christian Identity Compound
As a teen, Rudolph's mother uprooted him and his younger brother Jamie to Schell City, Missouri, where they spent time in a compound owned by the Church of Israel, a congregation affiliated with the Christian Identity movement. The Christian Identity movement originated in 19th-century England, and its proponents espouse white supremacist and anti-Semitic views. Followers believe Northern Europeans are the true descendants of the lost tribes of Israel, God's chosen people.
While the Church of Israel in Missouri does not officially align itself with Christian Identity groups, its views mirror the community. Pastor Dan Gayman attempted to defend the church's beliefs by telling an interviewer, "We teach that God is the creator of all races, that He created them separately and distinctly with their own unique talents and characteristics, and that every race has a purpose in God's plan." Gayman also shared his memories of the Rudolphs, telling the same interviewer, "They stayed very much to themselves while they were here. When they did attend services, they attended very sporadically and sat on the very far back pew and hardly talked to anybody."
Other people who were living in the compound at the time have countered the claim about the Rudolphs being loners. Gayman's estranged son and daughter, as well as Rudolph's brother Jamie, each recounted stories about Rudolph and Gayman developing a close bond, reminiscent of one between a father and son.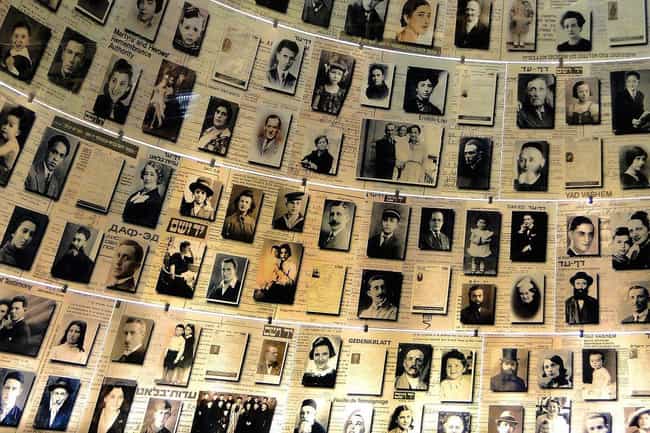 In 9th Grade, He Wrote An Essay Denying The Existence Of The Holocaust
As Rudolph got older, his views continued to develop. His former sister-in-law, Deborah Rudolph, shared details about his youth in an exclusive report compiled by the Southern Poverty Law Center. When Rudolph was a freshman in high school, he apparently wrote an essay denying the Holocaust, an act of allegiance to the anti-Semitic ideas perpetuated by Christian Identity. Deborah, who was married to Rudolph's brother Joel, explained how deep these views ran within the family, saying:
This was Eric's and Joel's and the whole family's deal. I mean they had it down to numbers. Okay, there were X amount of Jews before the Holocaust and then after the Holocaust there were this many Jews, so how the hell could Hitler have killed 6 million Jews?
She also described the reading material in the Rudolph home:
They had wall-to-wall bookshelves in the living room that were filled with books on philosophy and evolution, among other things. They subscribed to Thunderbolt magazine [edited by Marietta, Georgia, white supremacist minister Ed Fields]. And Eric would get High Times magazine and Soldier of Fortune. They couldn't pick up much TV.
Terror expert Brian Levin sees clear ties between the Rudolphs' opinions and Christian Identity. Levin studied Rudolph extensively, as well as groups like Christian Identity. He said in an interview:
These are people who have had dysfunctional and problematic families. They get the anesthetic of a religious movement that tolerates and justifies their flaws and failures and even glorifies them. They say, "You're not just a loner, you're a loner for a cause that's bigger than what other people understand."
His Older Brother Daniel Severed His Own Hand On Video And Sent It To The FBI After Rudolph Was Named A Suspect
During the height of the media scrutiny surrounding Eric Rudolph in 1998, his older brother Daniel decided to send a message to the FBI by slicing off his own hand with a circular saw on video. Daniel was living in South Carolina at the time, and the mutilation was seen as an act of protest against the manhunt underway for his brother.
Jim Rumchak, who was in charge of the FBI office in Charleston, South Carolina, at the time, was dismayed by Daniel's decision. He said, "I don't know what was in his mind. I have no idea why he would do what he did, and it's certainly unfortunate and regrettable. I don't see where our contacts with him would have forced him to have this kind of incident occur."
While he never stated his intentions explicitly, Daniel purportedly quoted a Bible verse in the video before running his hand through the saw. He was able to have it surgically reattached, and now lives with his mother, Patricia, in Florida.