Total Nerd
All About Florence Pugh, The Actress Who Is About To Be In Everything

Updated December 30, 2019
96.8k views
15 items
Florence Pugh first hit the scene in 2014, where she played the charismatic and ill-fated Abbie in The Falling. Since then, she's been in constant motion. In 2019, she starred in a Shakespeare adaptation and a wrestling flick back to back, which speaks to her incredible flexibility.
The variety of roles Pugh has performed suggests there may be a lot of things that you don't know about the young actor. The logic behind her rapid ascent becomes obvious after considering her theatrical early life and her huge, multi-talented family.
Pugh's most impressive attribute is her outspoken refusal to be molded, manipulated, coerced, or defined by anyone but herself. This gumption puts her in line with some of her mentors and contemporaries, the best British actresses of the modern era.
She's only just begun, and it's clear she's not going anywhere any time soon.
back to page 1
She Might Be The Villain In The 'Black Widow' Movie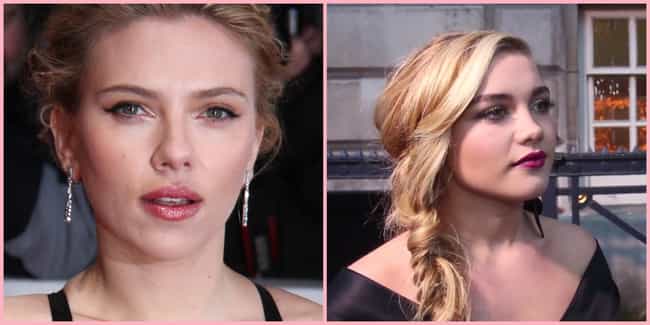 While details remain sparse, there have been whispers suggesting Pugh may be the second lead in the upcoming Marvel film Black Widow. The character is still unknown as of March 2019, but Pugh would be playing alongside Scarlett Johansson as the primary lead character.
Pugh has been on the table for the role since Fall 2018, and her knockout performance in Fighting With My Family confirmed she has the bravado and fighting chops for a superhero movie.
She Considers Emma Thompson Her Mentor
When filming King Lear, Pugh was utterly taken by Emma Thompson, who plays the role of her eldest sister, Goneril. Though the relationship between the two sisters is contentious in the original text, Pugh looked up to Thompson and was incredibly grateful for her guidance.
The movie was filmed during the initial fret of the Me Too movement in 2017. At the time, the film industry was chaotic and in need of leadership, so the "loud female wisdom" of a seasoned actress like Thompson was powerful and educational.
She Has Supportive Parents
Pugh has always been close to both her parents. She comes from a large, rambunctious family, which she describes as "like the Von Trapps, but not quite as pretty or perfect."
Her father is the owner of a chain of restaurants in Oxford, GB, and her mother is a professional dancer. Performance and business come naturally to the Pughs, and this is reflected in the professions of Pugh's four siblings who are all involved in film, television, or theatre.
Pugh's acting career began while she was still in school, and her obligations to her education hindered her as an artist. Her school pushed back when she told them she would be shooting The Falling while studying in sixth form, but her parents continued to support her ambitions.
Her Older Brother Appeared On 'Game Of Thrones'
At its core, Game Of Thrones is effectively a British talent showcase. Naturally, the Pugh dynasty is well-represented by Pugh's older brother, Sebastian Toby M. Pugh, who plays Trystane Martell.
Pugh has always idolized her brother, who began acting when he was 16. He was a helpful mentor as she first learned the breaks of the field. Pugh recalls, "I remember watching him for years so, by the time I stepped up, I kind of knew the harsh reality of how things worked."