Weird History
Frau Perchta Will Rip Out Your Organs And Replace Them With Garbage – Merry Christmas!

Updated April 5, 2018
3.1k views
10 items
Whether you're naughty or nice this year is up to you, but be warned that in addition to getting a stocking full of coal, if you're naughty you just might get disemboweled by Frau Perchta. If you thought Krampus was a scary holiday dude, folktales from Germany and Austria about this violent Christmas witch will make you squirm. In fact, humanity should be eternally grateful there isn't a Perchta-Krampus hybrid.
Like some other creepy fairy tales, Perchta's popularity was helped out by Jacob Grimm and although the exact origin of the Frau Perchta Christmas legend is unknown, it goes pretty far back in German-Austrian folklore. She was believed to be a goddess celebrated during the days between Christmas and Epiphany, until Christianity overturned the pagan beliefs thought to have created her. These days, Frau Perchta's just another scary Christmas creature. Similar to stories of Iceland's Yule Brothers or one of the worst moments in a Brothers Grimm fairy tale, it's believed Frau Perchta will do some pretty nasty things if you've been naughty that year. You may no longer believe in Santa, but you better watch out if Frau Perchta ever comes to town.
back to page 1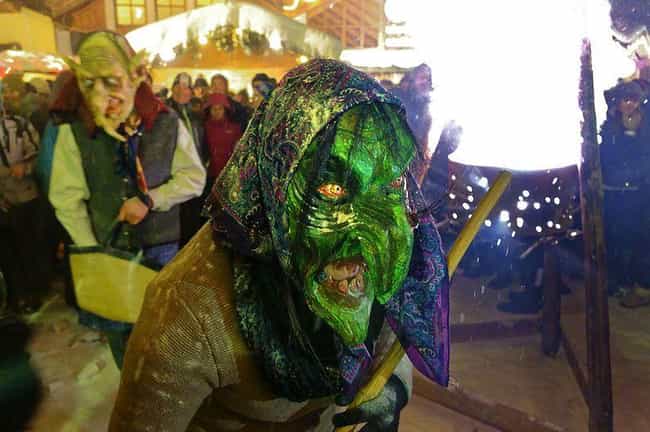 Stories Of Frau Perchta Go Way Back But She Was Popularized By One Of The Brothers Grimm
Jacob of the Brothers Grimm was very fond of folk tales and it was thanks to him that stories of Frau Perchta became popular. In 1835, he published a book called "Deutsche Mythologie" which examined German mythology and folklore in detail. Through his research, he discovered tales of Perchta had been around since at least the 10th century and he believed she was just as powerful as Berchtold, who led scores of ghostly huntsmen in what's called the "Wild Hunt." Grimm saw Perchta as both a deity and goddess related to other females that appear in German myths. Other scholars expanded on Grimm's ideas, adding more elements of horror, and eventually the legend of Frau Perchta grew more fearsome.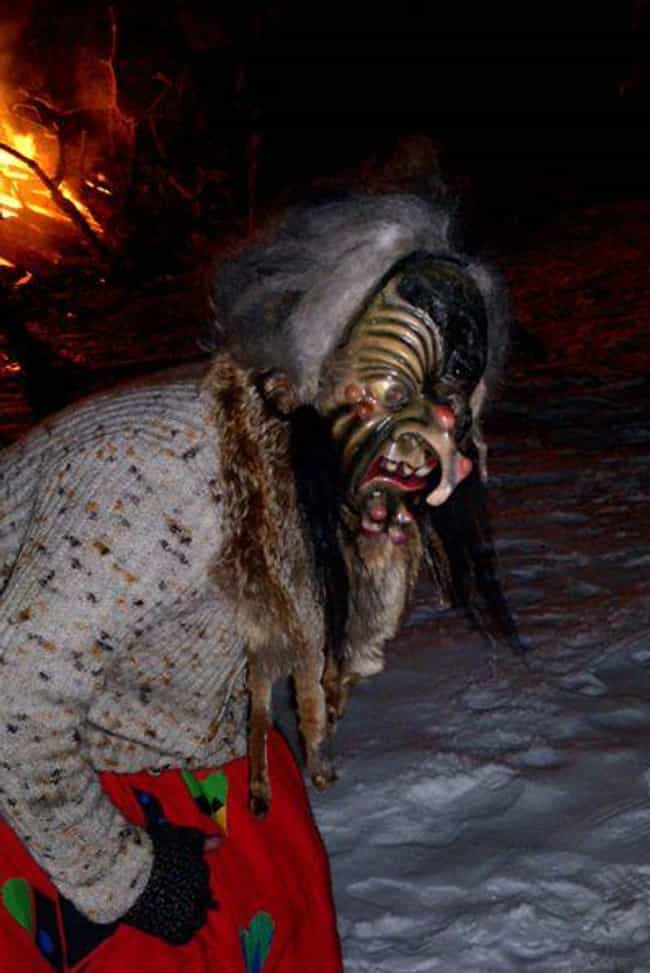 Frau Perchta Is Believed To Be A Leader Of The Wild Hunt, A Time When Spirits Ride Through The Sky
In addition to better introducing the world to Frau Perchta, Jacob Grimm circulated the idea of the "Wild Hunt" in which a group of supernatural beings such as ghosts, elves, or fairies participated in a hunt which took place across the skies. This concept appears to have been created by Grimm since it doesn't have any mention throughout history until he wrote about it. He believed Frau Perchta was the leader Berchtold's counterpart and helped guide the group in their quest. According to Grimm, the hunt always took place in the winter months which were already gloomy and dark, but should under no circumstances be witnessed by humans. It was said if one had the unfortunate chance to see a Wild Hunt take place, misfortune would follow such as a natural disaster, famine, or death.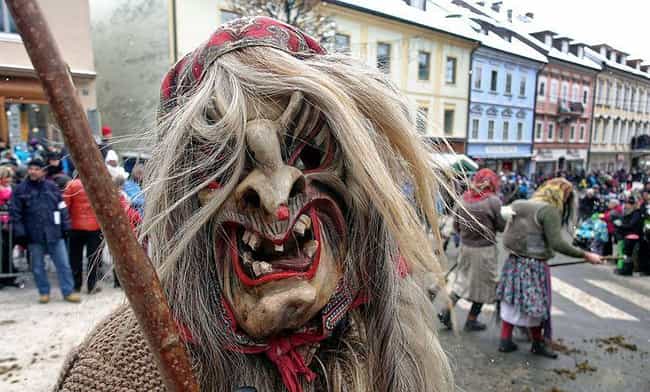 If She Doesn't Disembowel You First, Frau Perchta May Reward You With Silver And Good Fortune Instead
Unlike the terrifying Christmas figure Krampus, Frau Perchta isn't around just to take care of people who've been naughty. It's said the people who were kind and generous during the year would find a silver coin in their shoe on the morning of the Epiphany, courtesy of Frau Perchta. Back in her goddess days, she was often spotted walking with a spindle, so those who finished their spinning work before year's end were blessed with good luck. Shepherds who minded the sheep used to make the wool yarn were also indirectly involved with Perchta, and would leave her flax as an offering. This was believed to please her and the shepherd would be granted good fortune for the next year. So basically, she's a really, really extreme version of Santa Claus, who has no problem leaving coal for the bad kids but happily bestows gifts if you're good.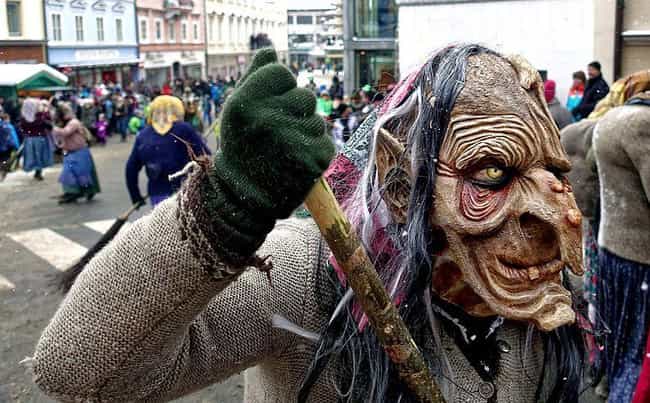 Frau Perchta Takes On New Dimensions In Different Countries Throughout Eastern Europe
Although Frau Perchta is believed to have originated in the folklore of Austria and Germany, people's beliefs and actions towards her vary in different countries. The people of Slovenia view Perchta as a goddess and celebrate her by making masks which they wear in parades. To them, Perchta lives in the lakes and mountains and makes snow in the winter. In Germany, she goes by several different names such as Kwaternik, Frau Berchte, or Frontastenweiber. People living in Austria perform ceremonies that include burning herbs or dressing in costume in order to welcome good spirits for the New Year and keep away the evil ones traveling with Perchta.