Weird History
The Life And Legacy Of Jim Thorpe

Who is Jim Thorpe? Many people have heard the name Jim Thorpe but don't know the extent of his athletic talent and cultural impact. James Francis Thorpe, considered one of the greatest athletes of all time, was the first Native American to win an Olympic gold medal. He lost his medals because he competed in semi-professional baseball briefly, but had them reinstated later in his life. Thorpe played professional football and had a role in creating the National Football League, participated in all-Native American basketball league play, and even dabbled in acting for a time.
Thorpe broke boundaries as a Native American and accomplished some of the highest athletic achievements at the time. Once his athletic career was over, he struggled to survive, giving in to vice as a forgotten hero. Jim Thorpe's death left him with a complex legacy played out as a clash between his heritage and historic conquests.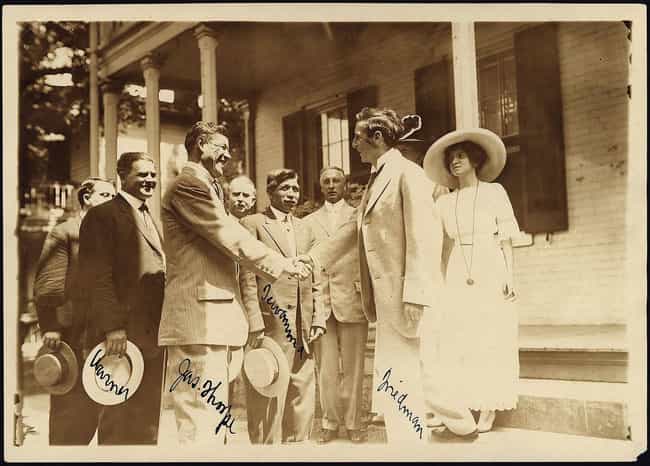 Jim Thorpe Was A Member Of The Sac And Fox Nation, And He Started Playing Baseball In Primary School
James Francis Thorpe was born in what is now Oklahoma in 1888 (some sources list it as 1887). At the time of his birth, Prague was in Indian Territory where Thorpe's father, Hiram, and his mother, Charlotte, lived in a small cabin. Hiram was of Irish, as well as Sac and Fox Native American descent while Charlotte was part Potawatomi and French.
When Thorpe was born, his mother reportedly gave him an additional name in accordance with Potawatomi custom. She called him Wathohuck, which means "bright path."
Thorpe had a twin brother Charles, and the two attended school at the Sac and Fox Indian Agency School in Oklahoma, much to the dismay of the former. Thorpe was restless, preferring "forest lore... to hunt and fish... to wait beside a runway and stalk a deer..." He eventually found baseball, however, making school somewhat more tolerable.
Charlie, whose Potawatomi name is unknown, suffered spinal meningitis and passed at 8 years old, prompting Thorpe to leave school. When Thorpe returned home, his father made plans to send him to an institution further from home - one that Thorpe couldn't run away from as easily - ultimately enrolling him at Haskell Indian Junior College in Lawrence, KS, in 1898.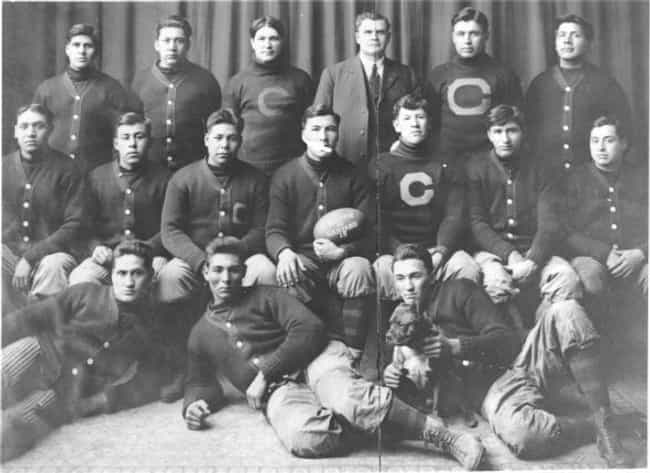 Thorpe Distinguished Himself As An All-American Athlete As A Teenager, Even After Dropping Out Of School For A Time
Haskell Indian Nations University, as it is now known, opened its doors in 1884 and was located about 300 miles from Thorpe's family home. When Hiram sent his son to Haskell, the institution was known for its discipline, and Thorpe had his hair cut very short, was dressed in a uniform, and told to follow the rules.
During his time at Haskell, Thorpe was said to be "very conscientious about his appearance. He was very proud of his uniform and took great pains to keep his brass buttons polished and his shoes, the first real pair he'd ever owned, shined." Thorpe underwent hours of instruction each day, as well as watched the football team from the sidelines, mimicking their movements and learning about the game.
When his father was hit in a hunting mishap, the future Olympian was said to have walked all the way home, leaving school against the wishes of his family and administrators. After a brief time at home where his father recovered, Thorpe headed for Texas where he worked as a ranch hand. He soon returned home, only to say a final goodbye to his mother, who succumbed to blood toxicity.
Thorpe and his older brother, George, looked after their siblings and worked the land he'd been allotted after his mother perished. He also attended Garden Grove public school near home where, on May 12, 1904, he was visited by a representative from Carlisle Indian Industrial School in Carlisle, PA. At the time, Carlisle was among the most successful non-reservation boarding schools for Native American children in the nation. It was also where coach Glenn "Pop" Warner was poised to build a football dynasty.
Thorpe arrived at Carlisle in June 1904, then attended for less than a year before he went to work doing odd jobs as a farm foreman, returning to school in 1907. Only 19 at the time and still somewhat small at 5'9½'' and less than 150 lbs, he had yet to impress Warner with his athletic ability. Thorpe recalled how he finally got the coach's attention:
Late one afternoon in the spring of 1907, I was among a group of tenderfoot football players crossing the upper track deck on our way to the lower field where we would play a twilight game with one of the scrub teams on campus. I happened to notice that some of the members of the varsity were practicing the high jump... After a while they had the bar at [5'9"] and none of them could jump over it... I had a pair of overalls on, a hickory shirt, and a pair of gymnasium shoes I had picked up in the gym that belonged to someone... The track athletes snickered as the bar was set for me. I cleared it on my first try and, laughing at the astonished group of athletes, went on down to the lower field for the game.
Word of Thorpe's jump got out and, when Warner saw Thorpe the next day, he told him, "Boy, you've just broken the school record!"
Thorpe was immediately given a track uniform and taken under Warner's wing. In addition to being on the track team, Thorpe played football for Warner, earning a spot on Walter Camp's All-American Team in 1911 and 1912.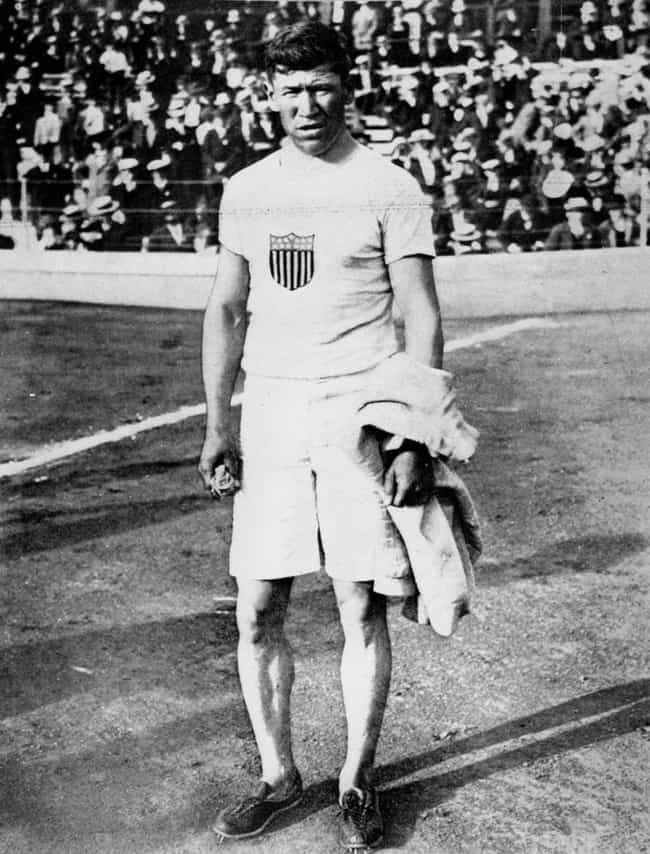 Thorpe Won Gold Medals For The Pentathlon And The Decathlon At The 1912 Olympics
Thorpe's talent put Coach Pop Warner in a difficult position. As coach of both the track and football teams at Carlisle, Warner struggled with putting Thorpe on the football field, leaving him exposed to possible fractures. Thorpe had broken nearly every track and field record at Carlisle, dominated at events like Penn Relays, and won multiple events at track meets against powerhouse schools like Syracuse. At the Middle Atlantic Association Meet, Thorpe competed in his specialties: "the 100-yard dash, the 120- and 220-yard hurdles, the broad and high jump... [and] could also throw the hammer and [shotput] with the best."
In anticipation of the 1912 Olympic games, three trials were held - one at Stanford, CA; another in Evanston, IL; and a third in Cambridge, MA. Thorpe competed at Cambridge, making the Olympic team in two individual events, as well as the pentathlon and the decathlon.
Once Thorpe got to Stockholm, Sweden, (there are contradictory reports as to whether or not Thorpe refused to train while aboard the SS Finland on his way to the games), the location of the 1912 Games, he placed fourth in the running high jump, seventh in the running long jump, but dominated during the multi-events. Despite a slow start during the decathlon, Thorpe won the high jump and 110-meter hurdles. He placed at the top in all of the other events, including the javelin, an event he'd only been participating in for a few months. By the time the decathlon was over, Thorpe had earned 688 points more than his closest competitor, Hugo Wieslander from Sweden.
Thorpe also scored a nearly perfect performance in the pentathlon with seven points.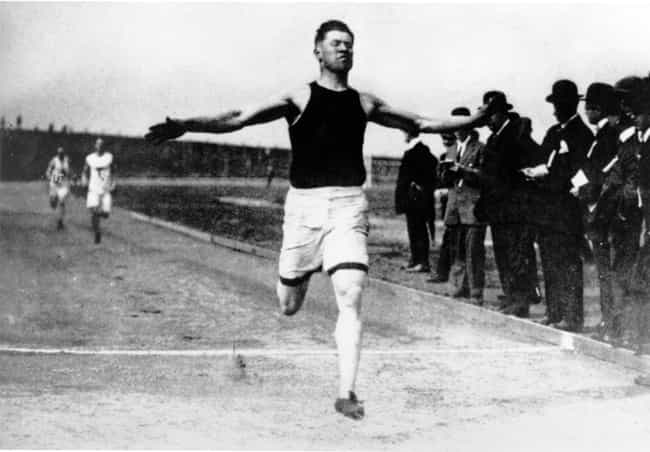 He May Have Been Called The 'Greatest Athlete In The World' By The King Of Sweden
When Thorpe was presented with his gold medal for the pentathlon, King Gustav of Sweden did the honors, placing a laurel wreath on the champion's head. King Gustav, once again, presented Thorpe with his wreath and medal during the ceremony for the decathlon, this time reportedly telling Thorpe, "Sir, you're the greatest athlete in the world!"
Thorpe simply replied, "Thanks, King."
After the Olympics, Thorpe and his teammate, Lewis Tewanima, visited several European cities to participate in exhibition events. Both of Native American heritage, Thorpe and Tewanima had competed together at Carlisle, where the latter distinguished himself as a distance runner. Tewanima was a Hopi Indian who also participated in the 1908 Olympics and, when Thorpe and Tewanima returned to the United States, they were honored with a tickertape parade in New York City.
Thorpe embraced the attention, telling reporters, "The fact that I was able to represent America in such a great thing as an Olympic meet will always be one of the things to which I shall point with pride in my life." Tewanima was much more hesitant to speak in a public forum, prompting Thorpe to assert, "And I believe that everything I say I voice the sentiments of my teammate, Tewanima, here."