Fort Knox Is So Mysterious And Heavily Guarded, Only One US President Has Ever Been Inside

Melissa Sartore
Updated February 12, 2021
754.6k views
12 items
Located in Kentucky, Fort Knox is a United States Army base which houses most of the US's gold reserves. One of the most secure and inaccessible places in the world, the facility once held the Declaration of Independence and Bill of Rights. 
Only one president has ever been inside - and the US Mint remains largely mum on the contents of the vault - making Fort Knox a hotbed for conspiracy theories. Many question the amount of gold that supposedly exists in the vault, and wonder what else hides within the building's walls. So, what's really inside Fort Knox? The public may never know.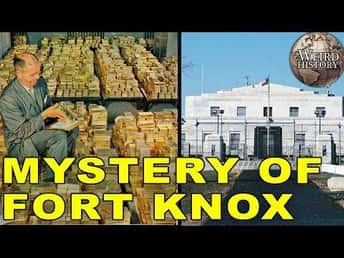 Photo: Jurii / WikiMedia Commons / CC BY-SA 3.0

Some Pretty Crazy Conspiracy Theories Exist About Fort Knox

Because there remains so little information about the contents of the gold vault, a lot of theories crop up regarding what's really inside Fort Knox. Many conspiracy theorists - like the Gold Anti-Trust Action Committee (GATA) - believe the gold doesn't really exist, there isn't as much as the government claims, or the government has sold it off for years. Others claim the gold is actually just tungsten bricks painted to look like the precious metal.

But theories exist regarding other possible contents of the vault - like the body of Jimmy Hoffa. Of course, strange things have been stored in the vault, like morphine and opium during the early '90s.