Weird History
John Wayne Was America's Favorite Cinematic Soldier, But He Didn't Serve In WWII

John Wayne was one of the biggest movie stars of the 20th century, thanks in large part to his appearances in WWII-themed movies, such as Back to Bataan (1945), Sands of Iwo Jima (1949), and Flying Leathernecks (1951). However, unlike other Hollywood stars who served in WWII, Wayne didn't engage in military service.
As a hero of both patriotic and Western flicks, Wayne was the personification of masculinity, fortitude, and commitment to his country on-screen. However, he lacked real-life military experience. Despite reports that he wanted to serve and may have tried to enlist, Wayne apparently never saw active service, but this never stopped him from portraying a convincing soldier in many films.
Wayne capitalized on that success throughout his career, but his rise to fame during WWII was much more complicated than merely patriotic duty. His reasons for not participating in military service are as much a part of his Hollywood legacy as his cinematic roles.
back to page 1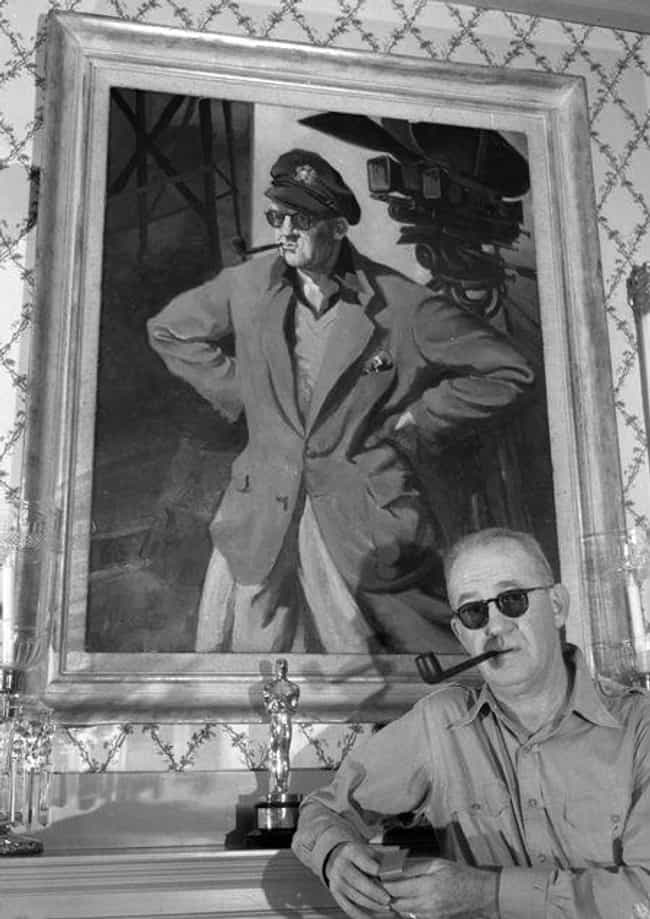 John Ford Encouraged Wayne To Enlist
During WWII, director John Ford served as a member of the United States Naval Reserve, ultimately gathering a team of Hollywood filmmakers to produce documentaries for the Office of Strategic Services (OSS). Ford's OSS unit documented trans-Atlantic convoys to Europe, the strike on Pearl Harbor, and the Battle of Midway.
As an active participant in the WWII effort, Ford encouraged Wayne to serve his patriotic duty. Wayne did express interest in joining Ford's Field Photographic Unit in 1942, sending a letter that read:
Have you any suggestions on how I should get in? Can you get me assigned to your outfit, and if you could, would you want me? How about the Marines? You have Army and Navy men under you. Have you any Marines or how about a Seabee or what would you suggest or would you? No, I'm not drunk. I just hate to ask for favors, but for Christ sake, you can suggest can't you? No kidding, coach who'll I see?
Despite these sentiments, Wayne never ended up joining the conflict, a fact that left his friend Ford disappointed. Wayne always claimed there was one more movie he needed to make, pushing service back each time. Moreover, Wayne was said to have felt shame about his decision, but those loaded feelings didn't stop the two men from making patriotic movies together.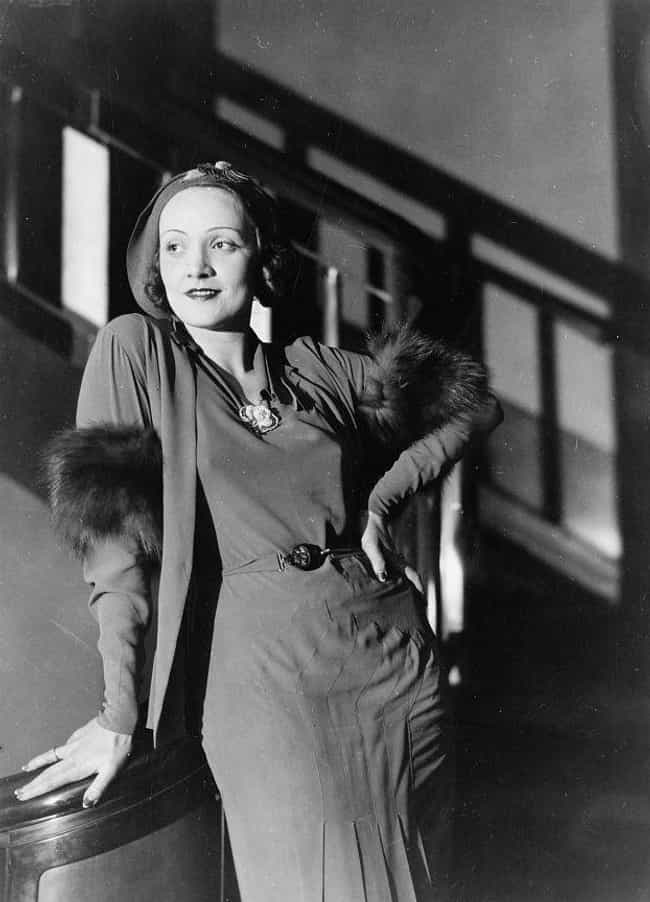 An Affair With Marlene Dietrich May Have Influenced Wayne's Decision Not To Serve
John Wayne and Marlene Dietrich made several movies together during the early 1940s, including Seven Sinners (1940), The Spoilers (1942), and Pittsburgh (1942). The two began a fairly public affair in 1940 while on the set of Seven Sinners. Dietrich allegedly asked Wayne about the time, then lifted her skirt to reveal a watch attached to her garter. Things quickly got more intimate from there.
According to Marc Eliot's book, American Titan: Searching for John Wayne, the actor was afraid of losing Dietrich if he left for the conflict. He was madly in love with her and reportedly enjoyed a passionate relationship that provided more affection than he received in his marriage.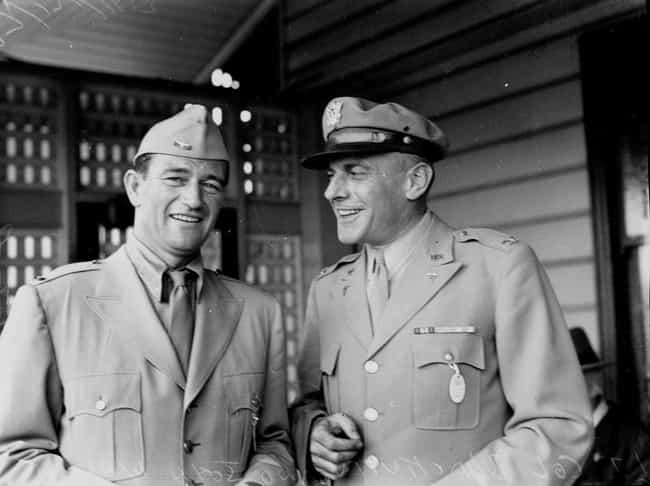 With Other Actors Serving Overseas, Wayne Could Get Bigger Roles
Lots of Hollywood's leading men scrambled to enlist after the United States officially entered WWII. Henry Fonda signed up, and Jimmy Stewart followed suit. During the year after Pearl Harbor, roughly 2,700 actors, directors, and other filmmaking professionals in Hollywood left their jobs behind to participate in WWII.
Some stars did so quietly, and others made spectacles out of their new patriotic roles, but John Wayne did neither. Instead, he accepted a hardship deferment. A family man with four children, Wayne was granted an exemption, which could have also been influenced by his football injuries and inner-ear problems he experienced after filming 1942's Reap the Wild Wind.
Wayne did his part by completing the Selective Service questionnaire; the government granted him the deferment though he did not make such a request. With so many stars in the Hollywood film industry on active duty, Wayne was able to take on more roles and dominate the big screen.
Before so many actors went off to participate, Wayne remained relatively unknown for his portrayals of soldiers and military heroes. During WWII, however, Hollywood needed rugged men to feature on screen, and Wayne became poised to capitalize on that need.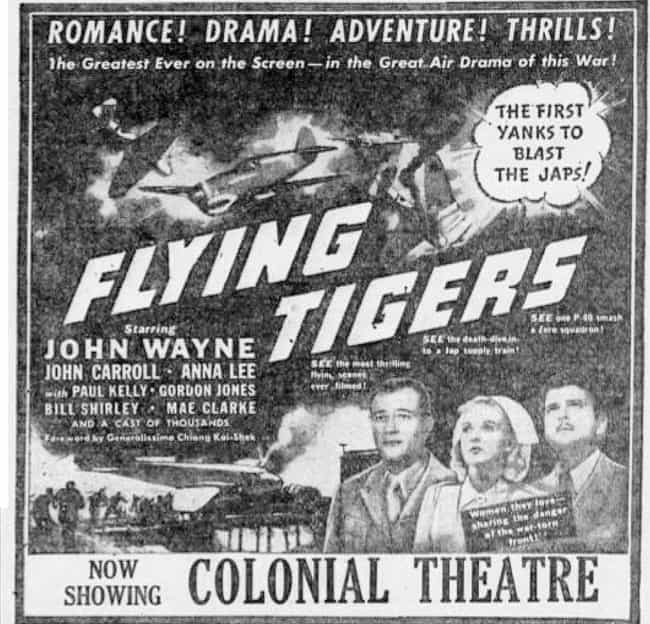 The Government Determined Hollywood Had A Different Job To Do During WWII
Soon after Pearl Harbor, the US government enlisted Hollywood to support the effort. Actors who received deferments were part of the propaganda campaign that Hollywood took part in to boost public morale. In 1942, President Franklin Roosevelt called movie theaters a "necessary and beneficial part of the [military] effort," and Hollywood answered that call.
Roosevelt created the Office of War Information and the Bureau of Motion Pictures in the summer of 1942. The agency intended to keep the public informed about the effort and endorse service to the cause.
Contributions during WWII included cartoons and documentary films demonizing enemies and rallying patriotic fervor. John Wayne movies made during the conflict, such as Flying Tigers and The Fighting Seabees, entertained audiences with tales of triumphant victories, while films like A Lady Takes a Chance and In Old Oklahoma helped viewers escape reality through tales of romance and quintessential American ideals.