Money
Here Are The Most Outrageously Expensive Things 2 Chainz Experiences On His Wild Viceland Show

924 votes
192 voters
12.9k views
16 items
List Rules Vote up the most insanely overpriced items.
On Viceland's Most Expensivest, rapper 2 Chainz samples hilarious and outrageously expensive stuff, and if you haven't been watching the show, you're missing one of the most underrated docuseries on TV. The show takes 2 Chainz, his famous friends, and his adorable French bulldog, Trappy, to some of the most exclusive shops, restaurants, and retailers in the world. These are places that peddle everyday items at ludicrous prices.
Most Expensivest, which started out as a web series on GQ.com (originally titled Most Expensivest Sh*t), then moved to Viceland, is an illuminating yet sort of horrifying insight into how the 1% live and shop. It features Viceland's brand of satirical editing boosted by 2 Chainz's discerning eye for the luxurious as well as the absurd.
Does a gold-dusted burger actually taste good? Do Total Dissolved Solids turn water into liquid gold? And how much is too much to spend on your dog's birthday cake? These are some of the wildest items on 2 Chainz's Most Expensivest.
back to page 1
 Canine Birthday Cake - $15,000
Although $15,000 might sound like an outrageous amount of money to spend on a birthday cake for a human being, let alone your pet pooch, 2 Chainz's beloved French bulldog, Trappy (celebrating his third birthday), deserves the finer things in life. "Trappy got to have the bling," 2 Chainz says.
Buddy Valastro, aka "The Cake Boss," makes the celebratory dessert, with all the usual ingredients you would find in a vanilla cake, plus bone-in rib eye steak, peanut butter, and bacon.
The video doesn't show Trappy's reaction to the cake, however, perhaps because 2 Chainz says on the show he's worried the dessert might not sit well in the dog's stomach.
Is this outrageous?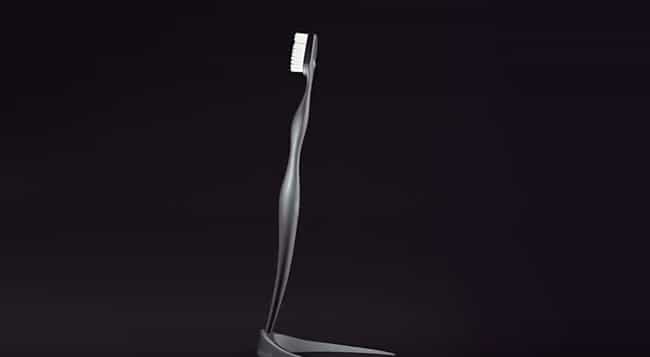 This German-made toothbrush puts your $5.99 one to shame. It boasts titanium plating and a detachable bristle head and is supposed to fight bacteria to prevent cavities. While $4,000 might seem like a ridiculous amount to spend on one toothbrush, Reinast, the company behind the product, designed it to be the only one you'll ever need to buy.
But as Dr. Debra Glassman explains to 2 Chainz after giving him an oral check-up, people who use the toothbrush do have to change the bristles periodically, which is an added expense.
Skeptical at the price (he guessed it would cost $99), 2 Chainz tries the toothbrush and is still not impressed. "Tastes like titanium," he says.

Is this outrageous?
Ice Cream Sundae - $1,000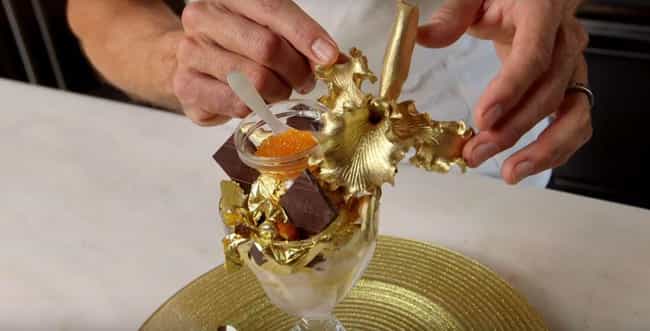 Along with gold-flaked burgers, Serendipity 3 has another shiny item on its menu: a $1,000 ice-cream sundae. The ice cream is made with Tahitian vanilla fused with Madagascan vanilla, topped with expensive chocolate, fruit soaked in sugar water for a month, and an edible gold flower. The final addition is "the world's only dessert caviar, salt-free caviar, infused with passion fruit and Armagnac."
The Golden Opulence Sundae is served in a French Baccarat crystal glass, which the customer gets to take home. Suffice to say, 2 Chainz was impressed with the creation's extravagant look. He said, "This should have a frame around it. I feel like this is a piece of art. I feel like this is eating art."

Is this outrageous?
Gold-Coated Popcorn - $5 Per Kernel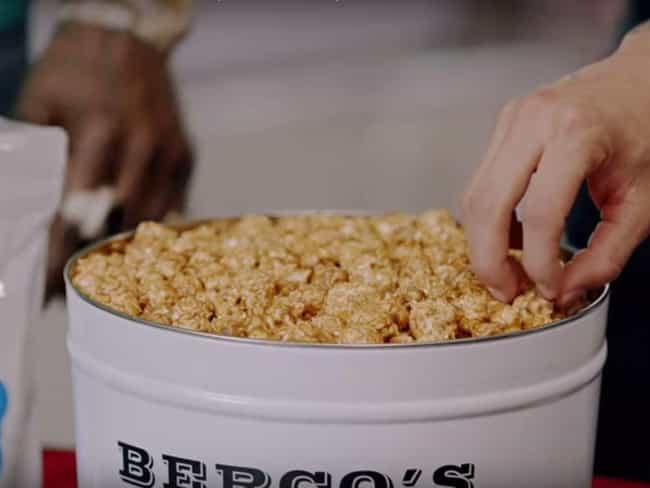 The world's most expensive popcorn is made by bespoke treat company Berco's Popcorn. The company's top-of-the-range products use rarified ingredients like organic sugar, Nielsen-Massey Bourbon Vanilla, and Danish Laeso salt, which costs $29 per kilo (about $13 per pound). Each piece of Berco's Billion Dollar Popcorn is coated in 23-carat edible gold, which costs $125 to $150 per gram.
A single kernel of Billion Dollar Popcorn is $5. An eight-ounce bag costs $25, and a one-gallon tub will set you back $250.
After sampling several kernels from a tub, 2 Chainz finds an unexpected side benefit of the gold coating: "It leaves gold on your fingers. Matches the ring set." He also says he thinks the gold makes his skin "shine and glisten."

Is this outrageous?