Music
Behind The Scenes Of How Woodstock '99 Went Off The Rails

Updated September 11, 2019
27.8k views
18 items
The 30th anniversary celebration of the Woodstock music festival took place in Rome, NY, from July 22-25, 1999. But what was originally conceived as a modern homage to the landmark hippie-fueled musical lovefest of the 1960s ended up mutating into a disaster marked by aggression and mayhem. By the end, Woodstock '99 was being referred to as "The Woodstock '99 Riots."
What caused Woodstock '99 to become such a low point in music history? The major culprits were oppressive summer heat, jacked-up prices, violent party crashers, and a lack of logistical oversight. When more than 220,000 people arrived to Oneida County that weekend, no one - especially the festival's organizers - were prepared for what was about to happen.
There's also the music. While there was a diverse lineup - ranging from classic artists like James Brown and Willie Nelson to electronic acts like Fatboy Slim - much of the media pointed fingers at emerging nu-metal acts like Korn, Limp Bizkit, and Kid Rock for riling up an already aggressive horde of concertgoers. By the final night, thousands of attendees were rioting, erecting huge fires, and tearing stages apart.
By the end of the weekend, there was extensive havoc, mounds of trash and refuse, thousands of injuries and assaults, and even two lives lost from heat exhaustion. This list digs deep into how Woodstock '99 veered so off course.
MTV's Kurt Loder Described The Atmosphere As Being 'Like A Concentration Camp'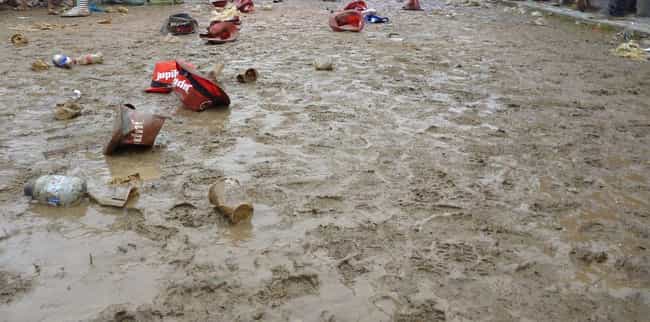 MTV was on site for the weekend, covering the musical performances and broadcasting live on television. Veteran anchor Kurt Loder went to Rome, NY, as part of the effort, and he was shocked by what transpired:
It was dangerous to be around. The whole scene was scary. There were just waves of hatred bouncing around the place. It was like a concentration camp. To get in, you get frisked to make sure you're not bringing in any water or food that would prevent you from buying from their outrageously priced booths. You wallow around in garbage and human waste. There was a palpable mood of anger.
Jewel, who performed Sunday, confirmed what she described as a "definite feeling of unrest." She went on to explain her disappointment with the corporatization of the festival, as well as the audience's disappointment that organizers did not preserve the ethos of the original Woodstock. Jeff Cornell, who worked for the MTV Radio Network, wrote a piece for Variety about working Woodstock '99. When MTV decided to abandon ship at the height of the rioting, he saw at least 10 bonfires and one production tower blaze in the distance as he fled with his colleagues.
More Than 220,000 People Descended On The Town Of Rome, NY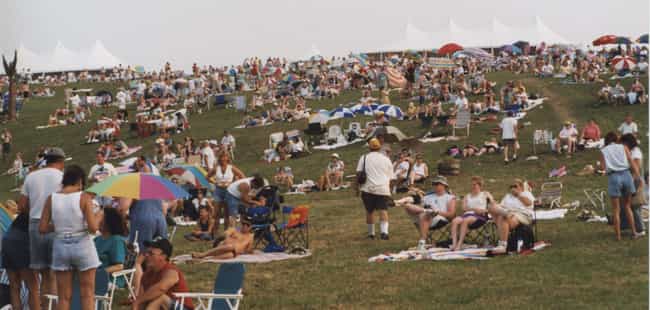 Festival planners anticipated a crowd of 250,000 people for Woodstock '99, in addition to the thousands of employees and security guards hired for the weekend. Organizers were ecstatic about the estimated attendance, boasting in a press conference on Saturday morning that Rome had momentarily become the third-most populous city in New York after New York City and Buffalo.
Some of the performers were in awe of the sea of people before them. Art Alexakis, the leader singer of Everclear, shared his feelings with Interview magazine:
When we walked out, the crowd was as far as I could see. The sound of 200,000 people singing your song back to you, well, I can't even tell you what it sounds like, man.
However, the people behind the scenes overestimated their ability to handle a crowd this size, and the costs - from the $157 entrance fee to the overpriced water and food - caused many people to sneak into the festival with fake passes. In the aftermath of the festival, some journalists suggested the crowd swelled to more than 400,000 people.
The Festival Took Place In Late July On The Scorching Hot Tarmacs Of An Air Force Base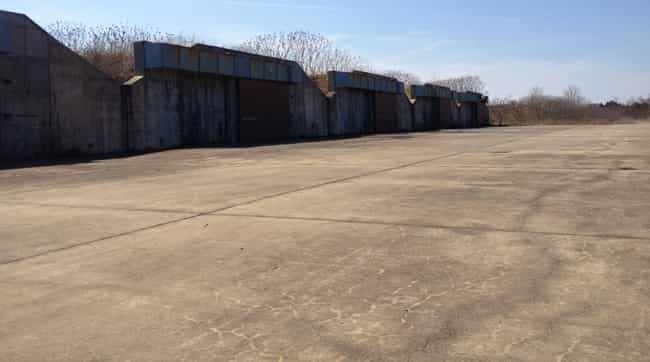 About 1,100 acres of land were rented from Griffiss Air Force Base, where the festival was held. Constructed in the 1940s, the base was used for military aircraft maintenance. Woodstock 1999 took place on a massive runway where visitors had to travel a mile and a half between the two main stages. Rolling Stone journalist Rob Sheffield described the vibe:
It was a few miles of asphalt surrounded by barbed wire. There were a few patches of grass. But, for instance, if you were looking for some grass to lie down on, you're not going to lie under a tree or on a hillside. You're not going to see any flowers. It was a place that was designed to house jet fighters.
The Offspring's lead guitarist was not impressed with Griffiss, either: "We played this festival in Nuremberg, at an old [Third Reich] park, so I've played a venue that was literally built by Hitler that was more hospitable than that Air Force base was."
Temperatures soared that weekend, with reports of 118-degree heat on the tarmac; without shade or shelter, attendees were exposed to the elements. Though controlled substances and alcohol were not permitted, they were still used rampantly, leading to serious dehydration problems for imbibers.
Bottled Water Was $4 A Pop, While Free Water Sources Were Sparse
More than 220,000 people experienced Woodstock 1999 with neither protection from the heat nor affordable access to water. Water bottles were sold for $4 each, and the water spigots fans could use for free were scattered great distances from the stages. Once attendees reached the spigots, they were forced to wait in long lines. Journalists watched security guards take water from people entering the festival, which they deemed contraband.
As the days progressed, the patience of those in attendance waned. At the campgrounds where thousands of people were packed together, the spigots were kept on, mixing with the waste overflowing from the portable toilets. By Saturday, enraged crowds began wiping out these free sources of water, turning the grounds in a giant mud pit.