READ
20 Interesting Facts You May Not Know About Woody Allen

Love him or hate him, Woody Allen is the kind of director who comes along maybe once in a generation. He's been making movies since the '60s, including classic films like Manhattan, Hannah and her Sisters, Annie Hall, and Crimes & Misdemeanors. Not even his much talked-about split from Mia Farrow and the abuse accusations that followed haven't managed to slow him down. He remains a film legend, one who will be talked about for years and years to come.
It's time to take a look behind those stylish black-rim glasses and figure out what makes Allen tick. There are so many facts about Woody Allen that simply aren't widely known. For instance, did you know that he's not a big reader? That his idea for Annie Hall was initially completely different? Or that he used to be a big fan of magic tricks?
There's more where that came from. This list collects lesser-known Woody Allen facts, some of which are likely to surprise you. Because just taking a quick look at Allen's life isn't enough to understand the man behind the camera. That's what this Woody Allen trivia does, so read on and vote up
the most fascinating facts
.
1
Allen Has Never Sent an Email

Besides still using his typewriter, Allen admitted to

THR

that he never sent an e-mail. He doesn't own a computer. "I'm not good technically. I have a cellphone, but it's very limited. I know this: I can make calls, and my assistant put all my jazz records on it," he said.
2
Annie Hall Was Supposed to Be Very, Very Different

While

Annie Hall

is now considered one of the most influential romantic comedies of all time, and is generally considered his best film, Allen didn't initially plan to make a relationship flick. His purpose was to explore the main character's life, not necessarily focus on one particular relationship. The movie was originally called

Anhedonia

- the scientific term for someone who cannot feel pleasure. In edited, however, Allen whittled down the focus of the film.

3
He Never Re-Watches His Movies

Here's a weird bit of trivia: Allen never re-watches his movies once they're released. "So I've never been satisfied or even pleased with a film that I've done. I make them, I'm finished, I've never looked at one after. I made my first film in 1968, and I've never seen it since. I just cringe when I see them," he confessed.
Hence, if you have your little tradition of re-watching
Annie Hall
, you've almost certainly seen it more times than Allen himself. Kudos.
4
He Doesn't Pay Attention to What Others Say About Him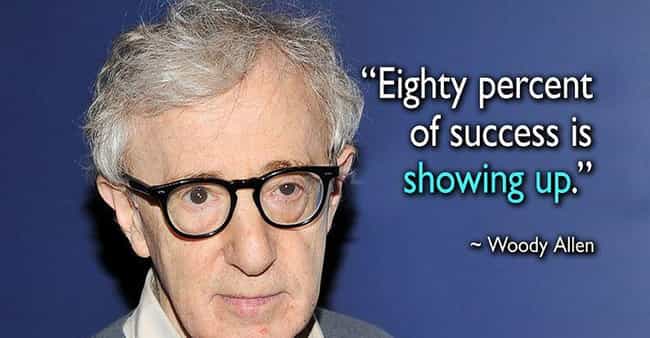 Unlike many public figures who actively seek out opinions regarding themselves, Allen has insisted that he's not the type to read the comments. Or anything else, for that matter.
"I never, ever, ever read anything about myself. Not my interviews, not stories about me. I never, ever read any criticism of my films. I scrupulously have avoided any self-preoccupation. When I first started, that was not the case. [But now I] just pay attention to the work and don't read about how great I am or what a fool I am," he said.