Natural Disasters
The Worst California Wildfires in History

Updated February 12, 2020
10.6k views
20 items
California wildfires have been among the most destructive in American history, and with the state in the teeth of a prolonged drought, they're only getting more numerous and more dangerous. Every fire season, from late summer until fall, seems to bring more blazes, more acres destroyed, and more money spent battling them. Things are getting so bad that the very idea of "fire season" is becoming an anachronism.
But wildfires aren't a new phenomenon, with massive blazes going back to the founding of the state, including maybe the worst ever in terms of acres burned, the Santiago Canyon Fire, taking place in 1889. Since then, advances in firefighting technology and tactics have made fires easier to contain, but often at terrible costs in lives, such as during several fires in the '50s and '60s. The deadliest fires often happen because of a combination of large fires, scorching hot weather, changes in wind direction, and the terrain the fire is spreading into.
Even with the hot, dry weather, and numerous warnings to not start fires in vulnerable areas, fires break out. Sometimes it's an act of nature, such as a lightning strike causing forest fires - but other times it's arson or carelessness. These incidents are harshly prosecuted, with the arsonist behind one of the most deadly fires in California history receiving the death penalty.
Here are the worst fires in California history, ranked first by number of lives lost, then by acres.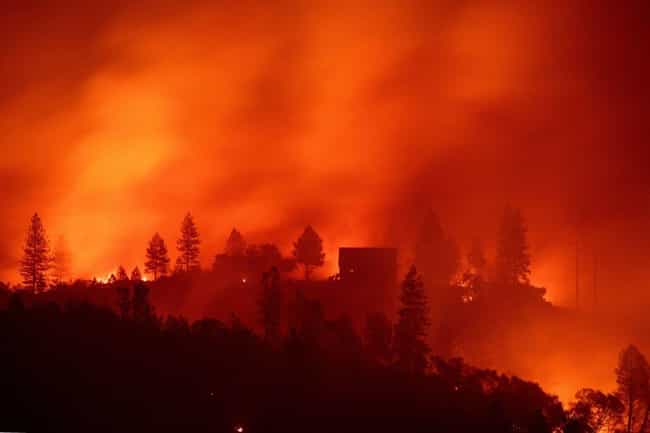 Date: November 2018
Cause: Weather
Acreage burned: 153,000
Deaths: 88
Starting on November 7, 2018 the Camp Fire in northern California (approx. 180 miles north of San Francisco) consumed 151,000 acres by November 26 after 17 days of battling to contain it. The town of Paradise was completely devastated, forcing 27,000 people out of their homes with only short notice and destroying over 14,000 structures. As search efforts continued, the Camp fire reached a death toll of 88 (with over 200 unaccounted for as of Nov. 28), making it the deadliest single fire in California's history. All the while, however, two other fires raged in southern California.
The Hill fire in the Santa Rosa Valley consumed over 4,000 acres, in addition to the Woolsey fire in Los Angeles and Ventura counties—which consumed over 95,000 acres and over 400 structures (including numerous celebrity homes in Malibu). Between the Hill and Woolsey fires, over 250,000 people were forced to evacuate their homes. Three deaths were also reported in the Woolsey fire. Making matters worse, the Santa Ana winds caused the Woolsey fire to spread the length of a football field in just seconds. Strong winds were also a major factor in the Camp fire.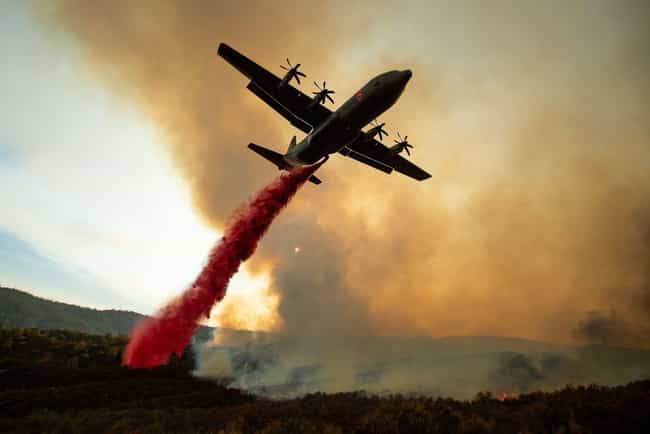 Date: started July 27, 2018
Cause: low humidity and record triple-digit temperatures
Acreage burned: 290,692
Deaths: 0
Even though the Mendocino Complex Fire – comprised of two neighboring fires, the Ranch Fire and River Fire – hasn't produced any casualties, it has earned the unfortunate title of California's largest wildfire. The acreage burned is roughly 454 square miles–nearly the size of Los Angeles.
"It is extremely fast, extremely aggressive, extremely dangerous," Scott McLean, a deputy chief with Cal Fire told Los Angeles Times. "Look how big it got, just in a matter of days... Look how fast this Mendocino Complex went up in ranking. That doesn't happen. That just doesn't happen."
McLean is talking about the massive droughts California has suffered since 2012. The dry conditions combined with large areas of brittle brush and record-high temperatures made the area primed for massive wildfires.
The fires led to evacuations in Mendocino, Lake, and Colusa counties. There has not been much damage (and fortunately, no deaths), since a majority of the massive fire is in remote areas.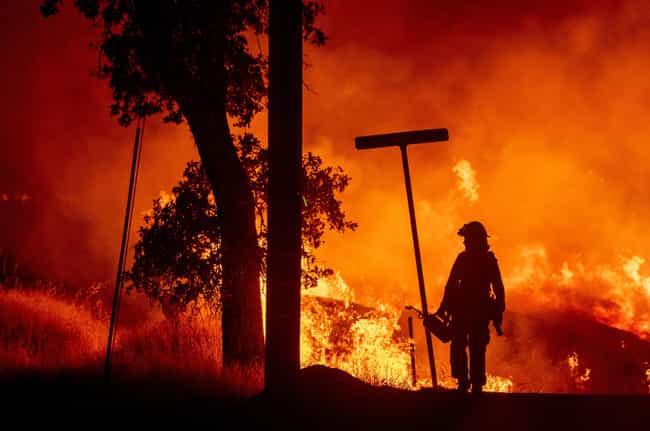 Date: started July 23, 2018
Cause: A trailer's tire blew out. When the rim of the wheel hit the pavement, the friction shot sparks in brush.
Acreage burned: 145,000 acres
Deaths: 7
The Carr Fires started on July 23, 2018, and firefighters and emergency officials fought to contain the deadly flames for days after. The fires destroyed 1,000 homes and damaged over 300 buildings since its start. A dozen historic buildings crumbled due to the wildfires. Roughly 5,000 homes in Redding, CA, were threatened by the blaze, according to California's Department of Forestry and Fire Protection. As the fire progressed, the high winds produced a "firenado," a vortex created by a fire's high heat.
Three firefighters died while combating the flames. At least three more Marin County firefighters were injured while working to contain the fires. Braden Varney perished after his bulldozer slid down a ravine as he worked to create a firebreak. The two other names have not been released. Melody Bledsoe (70) and her two great-grandchildren, James (5) and Emily Roberts (4) perished in the fires.
Date: December 2017
Cause: unknown
Acreage burned: 45,500
Deaths: unknown
The Thomas Fire began near Santa Paula on December 5, 2017. It quickly blazed out of control, forcing 27,000 people to evacuate. It became the fifth-largest fire in modern California history.
Ventura County Fire Chief Mark Lorenzen had some grim words about the fire: "The prospects for containment are not good... Really, Mother Nature's going to decide when we have the ability to put it out."
A combination of strong wind and thick, dry bush allowed this fire to rage through 282,000 acres. To put in perspective, that much land is tens of thousands times larger than all of New York City. Roughly 5,000 people had to evacuate to avoid the flames that over 6,900 firefighters struggled to contain.
By January 2018, firefighters lost containment of the fire as it migrated to the Bear Heaven area. The rocky terrain made it impossible for firefighters to access the fire, so water drops were made via helicopter on January 3, 2018. Due to the continued displacement and destruction caused by the Thomas Fire, President Donald Trump declared the fire a major natural disaster and ordered federal assistance for fire victims.