Living
The Worst Dressed at the 2016 Emmy Awards

2k votes
258 voters
20.7k views
28 items
List Rules Vote up the most egregiously abominable outfits from the 2016 Emmy Awards.
If there's one word to succinctly sum up Emmys fashion, it's "woof." There were some monstrously repugnant outfits at the 68th annual Emmys. It's like the celebrities on this Emmys worst dressed list didn't even care they were attending an awards show buzzing with a malicious hive of paparazzi and egregiously depraved gossip writers whose bread and butter lies in sh*tting all over someone for wearing something bizarre, hideous, or avant-garde.
These Emmys fashion fails fall into two distinct categories: people who couldn't care less they're on national television, and people trying way too hard to impress friends, fans, and rando viewers. Scientists are currently correlating Emmy attendees level of fame with his or her dgaf attitude or questionable decision-making process while getting dressed for the 2016 ceremony. While you await the results, put on your cringe glasses and check out this Emmys 2016 worst dressed list.
To paraphrase Tim Gunn, award shows are so easy for men. All you have to do is pick a suit that gives you a good silhouette. But for some reason, guys try to get crafty with their Emmy awards fashion. There's no need to dress like an extra in an Outkast video; just pick a black suit and call it a day. But without those fashion dum-dums, we wouldn't have the worst fashion at the 2016 Emmys would we? Perhaps more to the point, if you're attending a ceremony as absurd as the Emmys - millionaires giving each other gold statues for staring in corporate product - you might as well dress the part.
Vote on the worst dressed celebrities from the 2016 Emmys, and if you think we came down on a millionaire little too hard – tell us in the comments.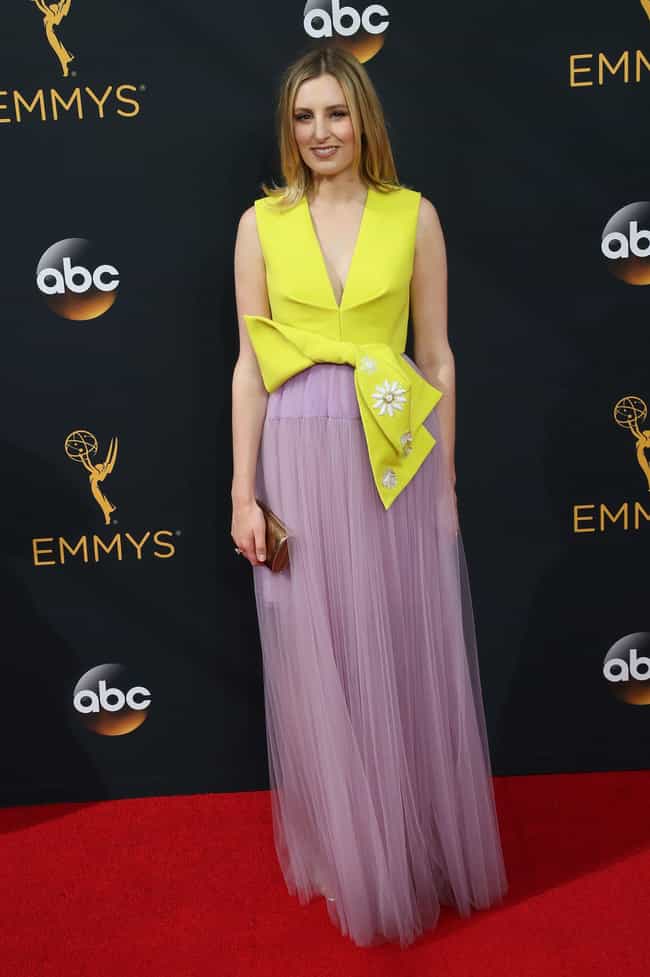 Did '80s prom dresses even look good in the '80s? And why is Laura Carmichael wearing an origami life vest over her Tim-Burton-stop-motion-corpse dress?

Agree or disagree?
see more on Laura Carmichael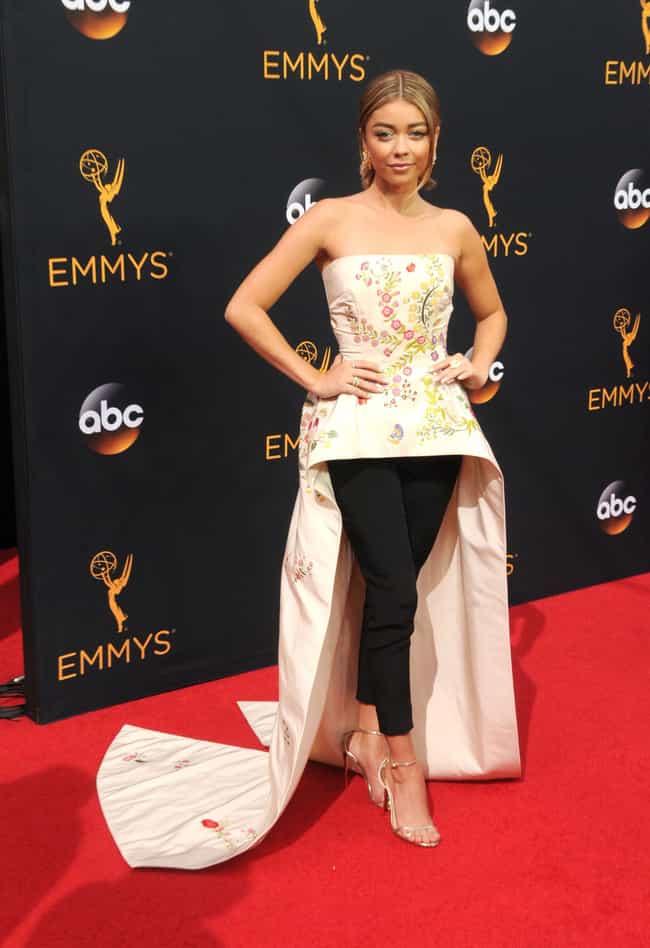 What's happening here? Did someone mistake a cutaway diagram from a Dickensian dressmaker's handbook as instructions for a cutting edge garment? Did the tailor not have time to finish the piece, and thus improvised with some tight black pantaloons? Also, who is Sara Hyland?

Agree or disagree?
see more on Sarah Hyland
"You see Kaitlin, it's like a black and white cookie, but a dress." - Anonymous visionary behind the short-lived Oreo fashion line.

Agree or disagree?
see more on Kaitlin Doubleday
When you don't want to get off the couch but do want to get free drinks at an award show, grab the carpet from the back of VW shaggin' wagon and throw it over your shoulders. Dust for weed nuggets.

Agree or disagree?
see more on Amy Poehler