Natural Disasters
The Worst Floods In California's History

Natural disasters in California are commonplace. California has seen earthquakes and mudslides cause widespread death and destruction, but flooding has also been a major issue over the years. Despite the state's reputation for being dry and devoid of rainfall, unprecedented downpours have led to some of the worst floods in California's history.
Unusual changes in climate are usually responsible for flooding in California. Floods have swept away people, homes, businesses, towns, and bridges with the overflow from rivers and broken levees. The places in the state most likely to be hit include areas where melting snow from nearby mountains combines with saturated plains and valleys to exert destructive power. Below, you'll find a list of the worst California floods of all time.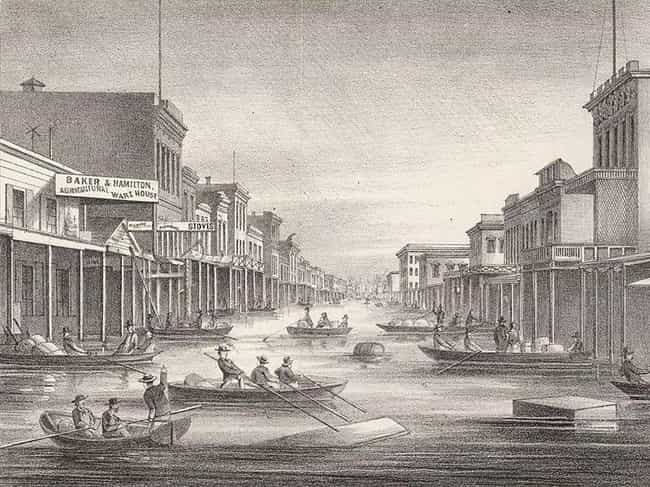 Date: December 1861 and January 1862
Location: San Francisco and throughout the state's coast
Casualties: No official data, but likely thousands.
Cost: $10,000,000
Songs were written about the devastating Great Flood that nearly bankrupted California and destroyed one fourth of the taxable land in the state at that time. An atmospheric river, a stream of moisture that can create a series of storms, led to heavy precipitation throughout December that eventually led to flooding across the state.
San Francisco received over a year's worth of rain, with 24 to 37 inches during the floods. Lakes and streams actually formed in Los Angeles and in the desert. The Santa Ana River flooded enough to created a four mile long inland lake.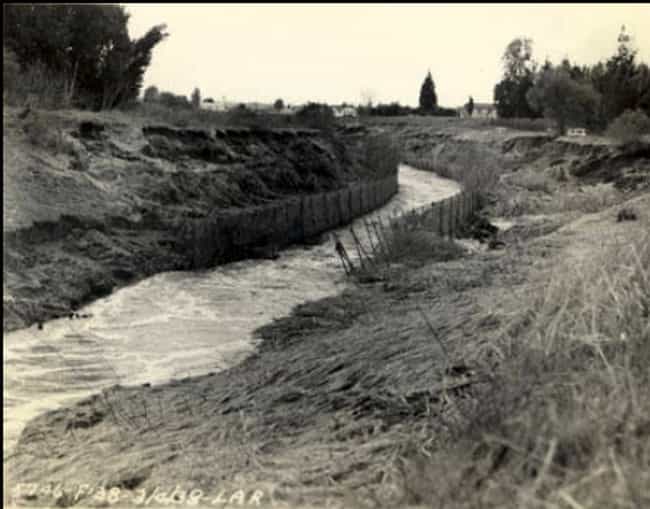 Date: March 1938
Location: Los Angeles, Orange, and Riverside counties
Casualties: Hundreds
Cost: $70 million
Two storm systems hit Southern California with unprecedented rainfall for several days, eventually overflowing the Los Angeles River. This led to a bridge collapse in Universal City, which contributed greatly to the flood's overall death toll. Official numbers remain unknown, but there were over 100 casualties. In addition to this, over 5,000 houses were destroyed in the disaster.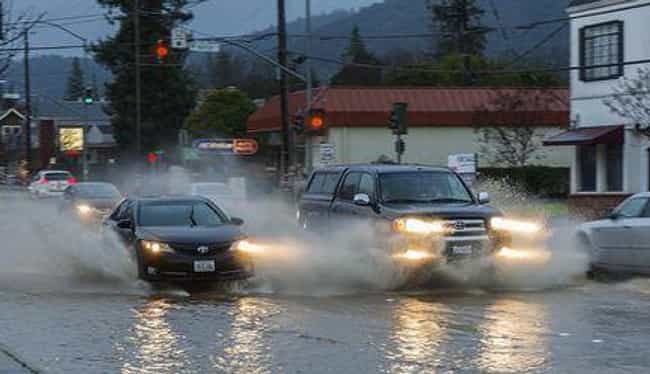 Date: January 18, 1969
Location: Statewide
Casualties: 47
Cost: $300 million
Several snow and rainstorms fell over several days in January, leading to an unusual amount of precipitation. Seven inches of rain hit Riverside Country and more than 42 inches struck down on Lake Arrowhead, a community in the San Bernardino Mountains. The rainfall caused damage throughout the state. The Whitewater River broke through its storm control levees, resulting in many homes being flooded. A bridge over the Santa Ana River was destroyed by the water. February brought no relief, with a combined 20 to 30 inches over the two months.
Date: September 25, 1939
Location: Long Beach
Casualties: 45 to 50
Cost: $2 million
A tropical storm touched land in Southern California in September 1939, bringing with it high winds There were also giant waves and 5.24 inches of rainfall over the course of 24 hours. Rughly 45 to 50 people died on land due to the flooding.