Graveyard Shift

Here's Why Mommy Dead And Dearest Is The Most Disturbing Documentary Ever Made

The documentary Mommy Dead and Dearest tells the story of Clauddine "Dee Dee" Blanchard, a seemingly friendly woman, who suffered from Munchausen Syndrome by proxy (MSBP) and manipulated her young daughter into believing that she was terminally ill. Her daughter, Gypsy Rose Blanchard, would ultimately conspire with her online boyfriend to murder Dee Dee in an effort to stop the torture her mother inflicted and live her life as a free young woman.
Dee Dee was not well liked by her family; in fact, her own father flushed her ashes down the toilet and said that she had gotten "what she deserved." This documentary tells the true story of the atrocities Dee Dee committed, making it the most frustrating and sad documentary since Dear Zachary.
Dee Dee Suffered From Munchhausen By Proxy And Abused Her Daughter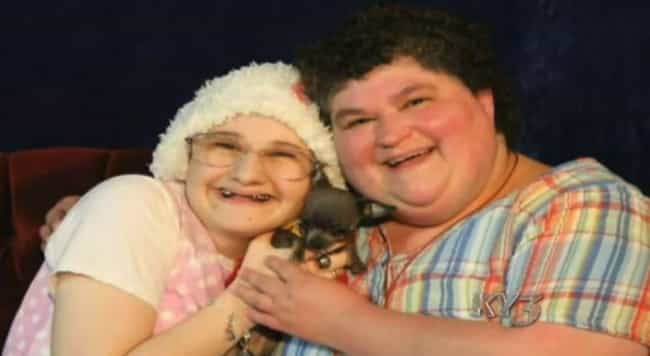 While never formally diagnosed, the details surrounding the case suggest that Dee Dee suffered from Munchausen syndrome by proxy (MSBP). MSBP is when a caregiver, usually to a child or elderly person, makes up, exaggerates, or makes existing health conditions worse for the person receiving care in order to get attention and sympathy from others.
Her daughter, Gypsy Rose Blanchard, was the victim of this condition.
It started when she was just a baby, with an alleged sleep apnea issue, and quickly snowballed out of control. The laundry list of what Dee Dee put Gypsy through is enough to make your stomach turn. She shaved Gypsy's head to make it seem like she had cancer, made her take seizure medication that caused her teeth to rot out, had a feeding tube inserted when it was not needed, and forced her to use a wheelchair from a very early age, even though Gypsy was perfectly capable of walking. Gypsy wasn't educated past second grade, and Dee Dee often claimed that the young woman had brain damage.
At some point, Gypsy realized that she didn't need the wheelchair and thought that she might not be sick, but it was easier to avoid Dee Dee's wrath and just continue the charade than to challenge her mother.
A Disturbing Facebook Posts Lead Friends And Police To Dee Dee's Dead Body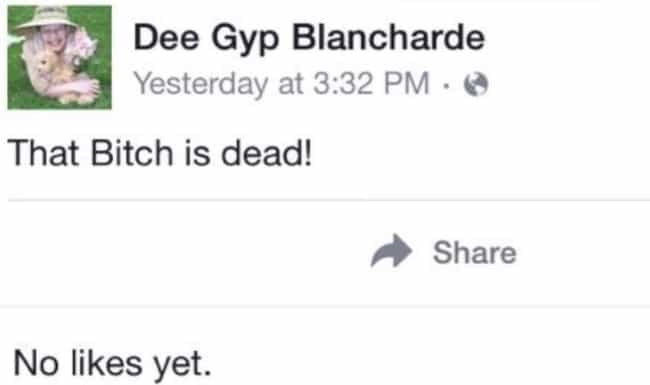 On the morning of June 14, 2015, a post appeared on Dee Dee's Facebook page stating, "That B*tch is dead!" Friends were extremely worried about the post and tried to contact Dee Dee and Gypsy. A few hours later, another Facebook post appeared, declaring ""I f*cken SLASHED THAT FAT PIG AND RAPED HER SWEET INNOCENT DAUGHTER…HER SCREAM WAS SOOOO F*CKEN LOUD LOL."
Alarmed friends and neighbors gathered at the home and called the police. Several hours later, after securing a search warrant, the police entered the home to find Dee Dee Blanchard's bloody body in her bedroom. Gypsy was nowhere to be found, with her wheelchair and a wealth of questions left behind.
Gypsy Killed Her Mother With The Help Of Her Troubled Online Boyfriend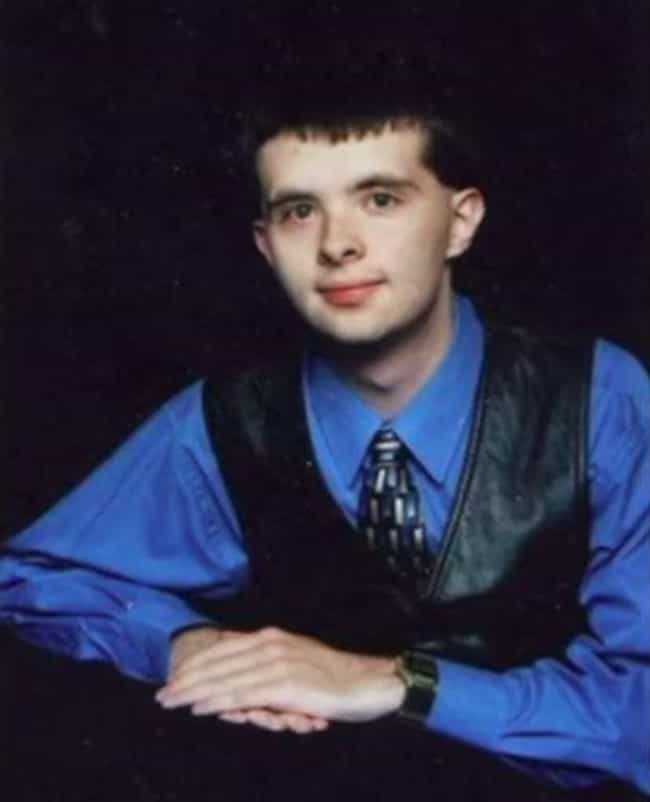 Gypsy met Nicholas Godejohn on a Christian dating website two years prior to the murder, and it was a troubled match from the start. Godejohn, who was six years older and living in Wisconsin, was a far cry from an altar boy. In fact, he had been arrested for an incident involving masturbation at a fast food restaurant a few years prior.
While Gypsy's relationship with Godejohn was transformative - Dee Dee did not let Gypsy socialize, let alone date - it was a match made in toxic heaven. Godejohn took advantage of Gypsy's vulnerable state and hastily moved their relationship into a sexual realm. The two were quickly involved in cosplaying and creating sexual fantasies, many of them involving BDSM.
Gypsy Arranged For Godejohn To Sneak In And Murder Her Mother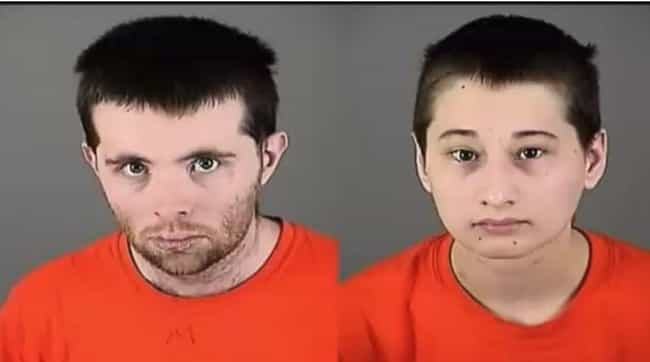 Gypsy and Godejohn arranged for him to sneak into the home after Dee Dee had gone to bed. Gypsy let him into the home and hid in the bathroom while he stabbed her mother to death in the next room. Gypsy stayed in the bathroom, listening to her mother scream out for help.
The couple hopped a bus from Gypsy Rose's Missouri home to Wisconsin. Shortly after, the police located the two based on the IP address of the Facebook posts from Dee Dee's account.