True Stories

Who Is the Worst Person of the Week? (March 28-April 3)

641 votes
428 voters
4.6k views
8 items
List Rules Vote up the people who lowered the bar the most this week
Editor's Note: Voting has been closed.
Worst Person of the Week believes some things are just wrong - and that no amount of spin, excuse, or justification can make them right. Groping and pepper-spraying a woman? Wrong. Hijacking a plane, even if you did it for love? Wrong. Biting flight attendants because they want you to stop doing yoga on a plane? Wrong.
Sadly, all of these people and more made this week's list of awful, terrible people. Naturally, Donald Trump's menagerie of bizarre comments about abortion and nuking Europe get him on the list. And the Lakers player who narced on his teammate stepping out on his girlfriend is here too. And the Louisiana state rep who passionately believes kids should be taught the planet is 6,000 years old. They're all here. Because some things are just wrong.
As always, vote up the people who were the dumbest and worst this week - and don't be shy, because you can vote for everyone.
What Happened: Pae is an elderly Korean man who forced a Honolulu-Tokyo flight to turn around because he refused to stop doing yoga in the aisle, then attacked passengers and flight crew members.
The Details: While long oceanic flights can do strange things to anyone, the case of a 72-year-old retired farmer Hyongtae Pae goes above and beyond. According to the complaint against him, Pae refused to return to his seat during meal service. Instead he stayed in the aisle performing yoga poses. That's when things got ugly.
Pae's wife asked him to sit down, prompting him to shove her. When several Marines on the flight intervened, he began "biting and head-butting" them. Finally, while screaming "There is no God," Pae had to be held down by passengers and was forcibly put into his seat, with his hands and feet restrained. The flight turned around, stranding dozens of travelers. Pae claimed he hadn't slept in a week and was placed on suicide watch in Honolulu.

Agree or disagree?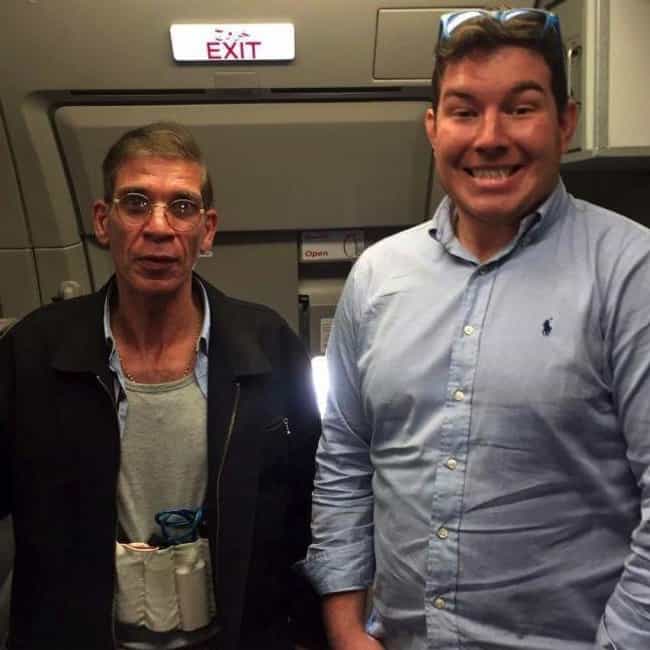 What Happened: Mustafa hijacked an EgyptAir flight and took over 60 people hostage while demanding the plane land in Cyprus. Except the bomb vest he was wearing was fake, and he pulled the whole stunt to see his ex-wife.
The Details: Worst Person of the Week has a clear anti-hijacking stance. And normally, taking people hostage by threatening to blow them into atoms is nothing to laugh about. Mustafa, though, isn't so much a terrorist as a love-struck idiot, putting on a fake bomb, holding the entire manifest for ransom, and demanding asylum - all in a bid to get to get to Cyprus to win his ex back.
Mustafa apparently wanted to deliver a message to her in person, and had an envelope that contained a letter. But to do so, he took the plane hostage, and once it landed in Cyrpus, demanded police leave so he could release the women and children first. Finally, after a six hour standoff, and with no more hostages to release, Mustafa was taken into custody peacefully.
A bonus goes to Ben Innes, the English traveler who
took a selfie
with the bewildered faux bomber as the crisis dragged on and shared it on WhatsApp. Because, hey, if you're being held hostage, might as well grab a selfie.
Agree or disagree?
Two Jackasses at a Wisconsin Trump Rally
What Happened: Janesville, WI, police are investigating an incident involving two different men, one of whom allegedly grabbed the breasts of a 15-year-old girl protesting at a Trump rally, and the other who pepper sprayed her when she fought back.
The Details: According to both police accounts and video taken at the protest, one of the men in the crowd, a middle aged man with a mustache, was arguing with the girl and groped her. The girl shouted back "You were touching my breast! You f----- touched my chest" and then shoved him. A younger man in a ubiquitous red "Make America Great Again" hat then pepper sprayed her in the face. As she staggered out of the crowd, others screamed at her, calling her a "goddamn communist n----- lover." Whatever that is.
Police are
currently looking
for the pepper sprayer, but have already spoken to the alleged groper. The investigation is ongoing, and no charges have been filed yet.
Agree or disagree?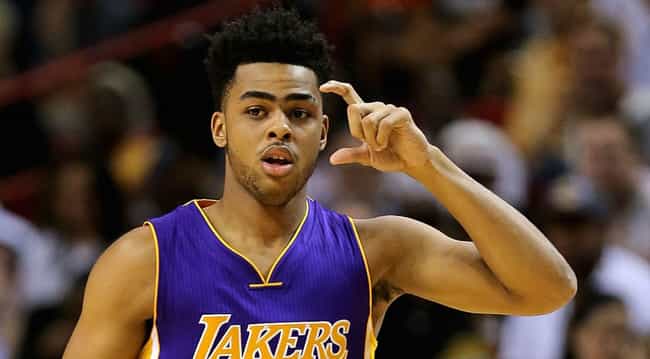 What Happened: The Los Angeles Lakers rookie secretly took video of teammate Nick Young bragging about cheating on his fiance, then leaked it to a celebrity gossip website.
The Details: If there's one code that's even more inviolable than guy code, it's locker room code. Violate that, and you're in a world of hurt. And so it goes for Russell, who secretly recorded Young answering his questions about women while they were in a hotel room on the road, which ended with Young talking about hooking up with a girl at a club.
Young happens to be engaged to Australian rapper Iggy Azalea. So when the video hit social media after Russell sent it to celeb gossip site
Fameolous
, the Internet collectively lost its mind. The Lakers, who are already in the midst of a dismal season, rallied around Young, and have reportedly frozen Russell out, refusing to speak to him or interact with him outside of game situations.
Also Ranked
#47 on The Top Current NBA Players
#19 on The Best Point Guards Currently in the NBA
#38 on The Greatest Lakers of All Time
#13 on Who Will Win MVP Of The 2019 NBA Finals?

Agree or disagree?
see more on D'Angelo Russell