Living
The Worst Wedding Dresses In Romantic Comedy History

Updated January 10, 2020
1.5k votes
210 voters
3.5k views
16 items
List Rules Vote up the wedding dresses that make you say "I don't."
Here comes the film bride, all dressed in... a horrible white dress. Romantic comedies usually end with the key couple living happily ever after, because it's romantic tragedy unless we see gorgeous actors hate at first sight before falling in love, go on last-minute chases through airports, and walk down a petal-strewn aisle, or at least kiss on top of a building.
When the bride says yes to the guy or gal, she's also saying yes to wearing a dress that will be a key costume choice. Her gown might be purposely tacky, with excess lace, an unflattering cut, or an unfortunate pairing with boots. And sometimes costume designers create gowns they hope will grace the cover of a bridal magazine and make audiences drool. Intentionally or not, some of these dresses are best banished to the back of a moth-ridden closet.
Some viewers might disagree with the worst rom-com wedding dress choices here. Look closely before you defend a gown, however. Uma Thurman's dress in The Accidental Tourist, for example, is fine until you notice the belt. And poofy short sleeves never looked beautifully bridal, even in the '80s.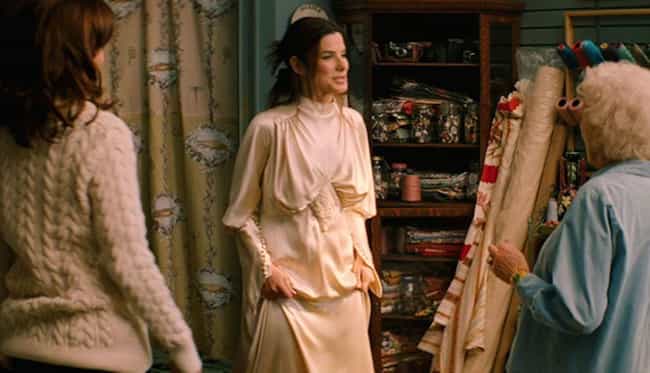 The Proposal is a 2009 American romantic comedy film set in Sitka, Alaska. Directed by Anne Fletcher and written by Peter Chiarelli, the film features Sandra Bullock and Ryan Reynolds in the leading roles, with Betty White, Mary Steenburgen, and Craig T. Nelson in supporting roles. The film was produced by Mandeville Films and released on June 19, 2009, in North America by Touchstone Pictures. The plot centers on a Canadian woman, Margaret Tate, who learns that she may face deportation charges because of her expired visa. Determined to retain her position as executive chief, Tate convinces her assistant, Andrew Paxton, to temporarily act as her fiancé. Initially planning on resuming their ...more on Wikipedia
Actors: Sandra Bullock, Ryan Reynolds, Betty White, Malin Åkerman, Mary Steenburgen, + more
Released: 2009
Directed by: Anne Fletcher

Is this hideous?
Betsy Hopper's Dress In 'Betsy's Wedding'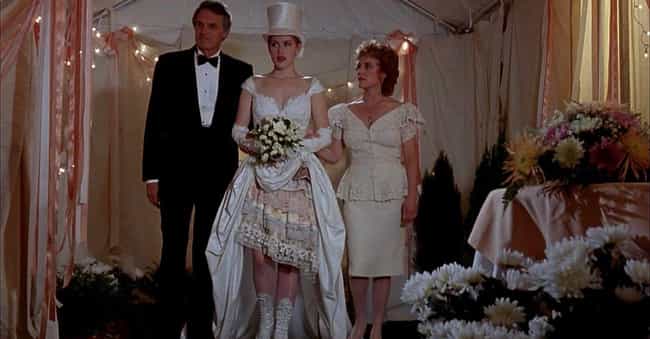 Betsy's Wedding is a 1990 American romantic-comedy film written, directed by and starring Alan Alda. It co-stars Molly Ringwald, Ally Sheedy, Madeline Kahn, Joey Bishop, Joe Pesci, Anthony LaPaglia, Burt Young and Catherine O'Hara. ...more on Wikipedia
Actors: Samuel L. Jackson, Joe Pesci, Molly Ringwald, Alan Alda, Catherine O'Hara, + more
Released: 1990
Directed by: Alan Alda

Is this hideous?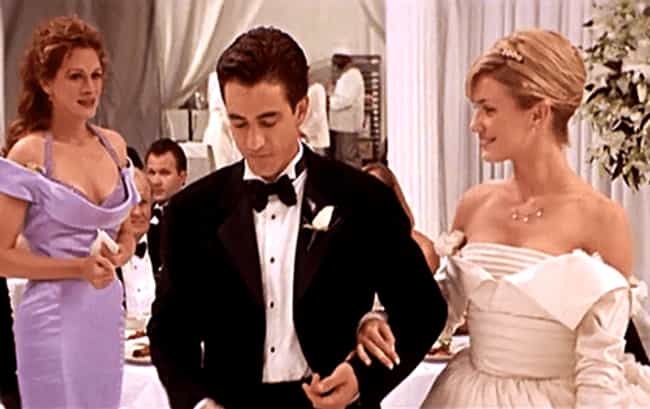 My Best Friend's Wedding is a 1997 American romantic comedy film directed by P.J. Hogan. When a woman's long-time friend (Dermot Mulroney) reveals he's engaged, she (Julia Roberts) realizes she loves him herself and sets out to get him, with only days before the wedding. ...more on Wikipedia
Actors: Julia Roberts, Dermot Mulroney, Rupert Everett, Cameron Diaz, Paul Giamatti, + more
Released: 1997
Directed by: P. J. Hogan

Is this hideous?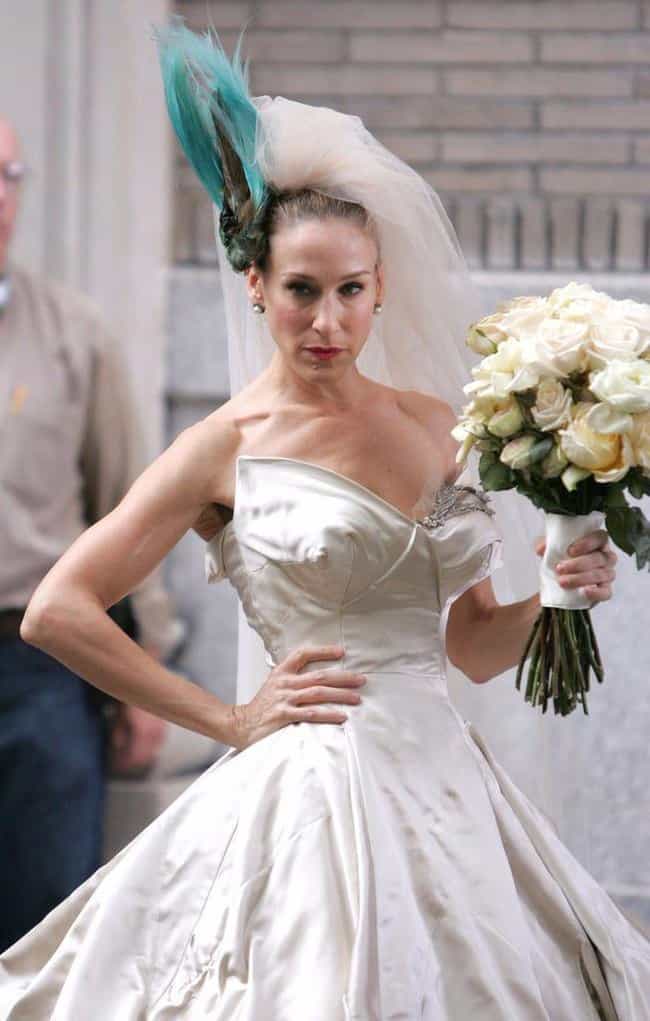 This film is a 2008 American blue romantic comedy film written and directed by Michael Patrick King, and a film adaptation of the HBO comedy series of the same name about four female friends: Carrie Bradshaw, Samantha Jones, Charlotte York Goldenblatt, and Miranda Hobbes, dealing with their lives as single women in New York City. The series often portrayed frank discussions about romance. The world premiere took place at Leicester Square, London, on May 15, 2008, and premiered on May 28, 2008, in the United Kingdom and May 30, 2008, in the United States. ...more on Wikipedia
Actors: Sarah Jessica Parker, Jennifer Hudson, Kim Cattrall, Candice Bergen, Kristin Davis, + more
Released: 2008
Directed by: Michael Patrick King

Is this hideous?