World History
The Worst Wildfires in History

As climate change continues to alter world weather patterns, humanity has been forced to deal with ever worsening natural disasters. From fires in California to Indonesia, more and more places are experiencing extreme droughts that are creating the perfect conditions for devastating wildfires. There have been many people killed in wildfires throughout history due to burns, smoke inhalation, and other factors. Despite advances in firefighting technology, fire containment remains an issue today.
The history of wildfires is as fascinating as it is grim. They are a powerful force of nature, and the worst wildfires in history were devastating enough to have lasting effects on both the local environment and the world at large. Countless lives have been lost to fires over the years, and millions of acres of land have been burned to the ground by uncontrolled flames. We live on a planet built for fire, so we are going to have to learn how to minimize damages and prevent as many wildfire deaths as possible. The only way to learn is to look at the deadliest wildfires in history and see what went wrong. Browse this list to learn more about fires around the world.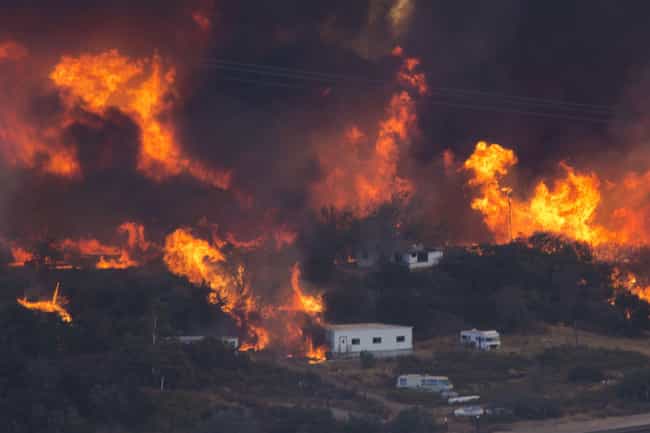 2018 California Wildfires
Date: Started July 23, 2018
Location: All over California–the city of Redding and Riverside County experienced the most damage
Acres Burned: 300,000+
Casualties: 8 and counting
Record-high temperatures combined with dry vegetation led to 17 active fires across the Golden State. The Carr fire is the most ruinous of the wildfires, and experts say it's the seventh most destructive fire in California history–and it's still growing. Firefighters from 16 states joined the containment efforts, making the total amount of firefighting personnel 12,000.
Police charged Brandon N. McGlover with arson. Authorities believe he started the Cranston Fire and several other small fires.
Over 103,000 acres of land burned at and around Redding. The Ferguson Fire scorched 57,846 acres. In addition, the Mendocino Complex Fire has already burned tens of thousands of acres, but an exact calculation has not been made. Experts estimate fires destroyed 300,000 total acres across the state.
The Carr Fire destroyed 657 homes in and around Redding. The Mendocino Complex Fire burned down six homes. Officials shut down the southern section of Yosemite Park due to the Ferguson Fire.
Six people, including three rescue workers, perished in the Carr Fire. Two died in the Ferguson Fire.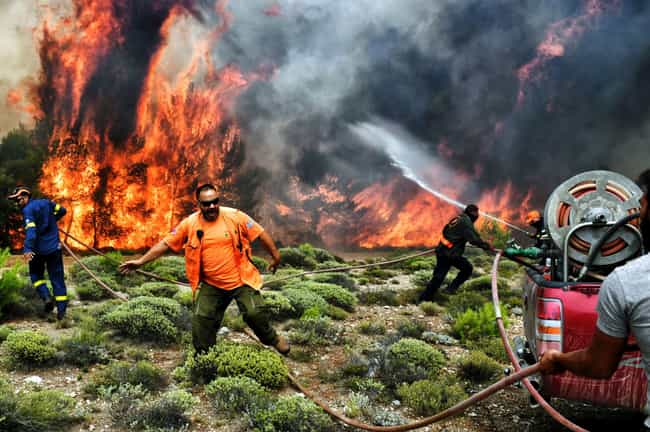 Date: Late July 2018, starting July 23
Location: Athens, Greece
Acres Burned: 3,100 acres
Casualties: 81 and counting
A lethal combination of record-high temperatures, dry conditions, and high winds resulted in wildfires emergency officials were unable to adequately contain. At least 81 people died in the disaster. Roughly 187 people – 20 who are children – were injured while trying to escape from the deadly flames. One hundred people are missing.
In Mati, rescue workers discovered 26 charred corpses in a resort village. People reportedly attempted to escape the fires by jumping into the sea. On July 24, firefighters were still battling 18 forest fires. Nearly 600 firefighters combated the flames. Cyprus and Spain offered aid after Italy requested help through the European Union.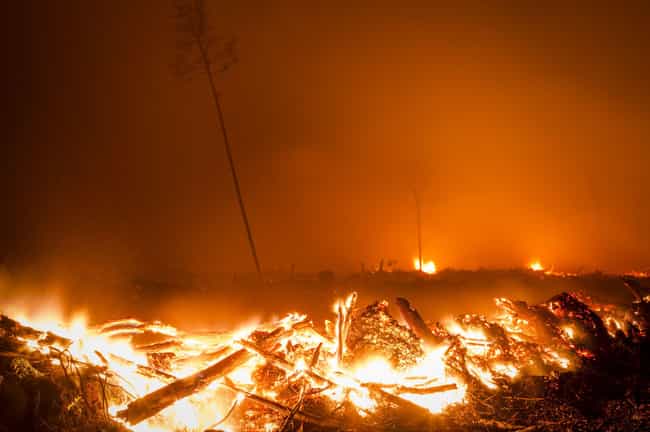 1997 Indonesian Forest Fires
Date: September 1997 - June 1998
Location: Indonesia
Acres Burned: 19,768,430
Casualties: 100,000
The Indonesian forest fires of the late 90s are quite possibly the most severe fires in several hundred years, so big they had a global impact. Smoke and gases released by the burning of Indonesia's rainforests and carbon-heavy peat bogs created a massive cloud of pollutants that spread across South Asia, affecting countries throughout the region. The haze hovering over Asia had severe affects on both people's health and the region's economy, forcing many leaders to confront Indonesia over the factors that led to the fires.
Many different factors attributed to this historic wildfire season, both natural and human-induced. A particularly severe dry season left much of the area in drought, exacerbating the fires and allowing them to spread more quickly. However, the fires were likely started by irresponsible human practices. It was common for Indonesians to use fire as a way of clearing forests for agricultural purposes, but the drought made it harder to control these planned burns. In the end, it is estimated 100,000 people lost their lives due to complications related to smoke inhalation.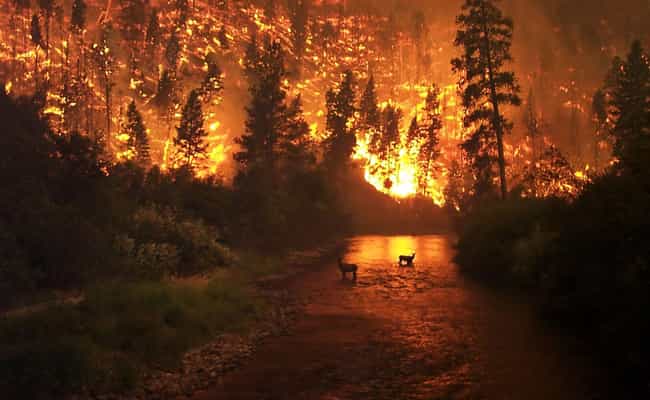 Date: May 1987
Location: China, Soviet Union
Acres Burned: 18,000,000
Casualties: Over 200
The border to between China and the former Soviet Union was once marked by land charred to the bone by one of history's largest wildfires. It would be the biggest fire to hit China in at least 300 years, burning millions of acres of forest and devastating the country's timber reserves.
Both affected countries took different approaches to handling the fire. The Soviets did little stop the fire on their side, as the remote wilderness had no real significance to the massive nation's economy. China, on the other hand, chose to fight the fire, sending two armies of men to try and control the burning of their most precious timber resources. The results of these two different efforts were clear; 15 million acres would burn in the Soviet Union while only three million acres of forest were destroyed in China.