Entertainment
12 WTF Moments from the Season 7 Premiere of The Walking Dead

List Rules Vote up the moments from Season 7's premiere that you can't believe happened.
Don't let these SPOILERS ruin this episode for you. Come back when you have watched The Walking Dead's Season 7 premiere and possibly had a good long cry or found that damn axe.
How you doing? You okay, buddy? The craziest things that happened in The Walking Dead's Season 7 premiere started with the death of Abraham and was quickly followed by Glenn's equally brutal death. Seriously, WTF? Some pretty insane moments from the Season 7 premiere of The Walking Dead.
Walking Dead comic book fans already know Negan makes the Governor look like a sweetheart. He takes his code seriously, and he's brutal. He's got the leather jacket, he's got the baseball bat named after his wife, and he tells jokes while he bashes in the heads of our favorite characters. He's also going to be the most hated character on TV this year and may hold that title for some time.
Jeffrey Dean Morgan is already laughing so your hate is wasted on the veteran actor who's been Edward Blake in Watchmen, Denny Duquette on Grey's Anatomy, and Sam and Dean's pop on Supernatural. Seriously, save it. Morgan lives for this sh*t.
Watching Glenn and Abraham get beaten to death was one of the most insane moments in the premiere of The Walking Dead. It also made us scream, cry, vomit, do several shots, and run around in circles yelling "Why, Walking Dead writer's room, why?!" At this point, fans weren't willing to say goodbye to ANY of these characters, much less lose TWO of them in one fell swoop. Well, several swoops.
But Glenn?! Not Glenn! We knew Glenn died in #100 of the comics. We saw him fake die in the summer of 2015. But this? With his dying murmur saying, "Maggie, I will find you." Abraham also died in the comics, but watching it happen onscreen? We are not okay. Far from okay.
Showrunner Scott Gimple tweeted out on the day of the premiere, "2nite, we at The Walking Dead program present a season's start that we've spent literal & figurative blood, sweat, and tears on. Do watch." Well, Scott. It rained in LA, and that should be a sign that you should not mess with the story gods. Be afraid, Gimple. Be very afraid.
Did those wild Walking Dead scenes in Season 7 make up for that cheap trick of a cliffhanger at the end of Season 6? We'll let you know once we come out of the fetal position and learn how to feel again.
Which completely nutball Season 7 premiere Walking Dead moment will haunt you for a long time to come? Vote it up. Well, once your hands stop shaking.
Maggie, we'll find you. Swear.
Negan Kills Abraham and, Man, Do We Hate Negan's Guts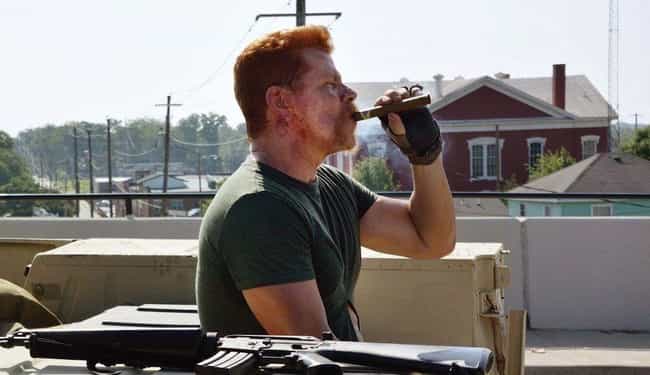 Showrunner Scott Gimple said that the Season 7 premiere deaths would have meaning and purpose. Look, most of us guessed it was Abraham and possibly another character, mostly Glenn. Still, being right has never felt so awful.
Glenn Died All Over Again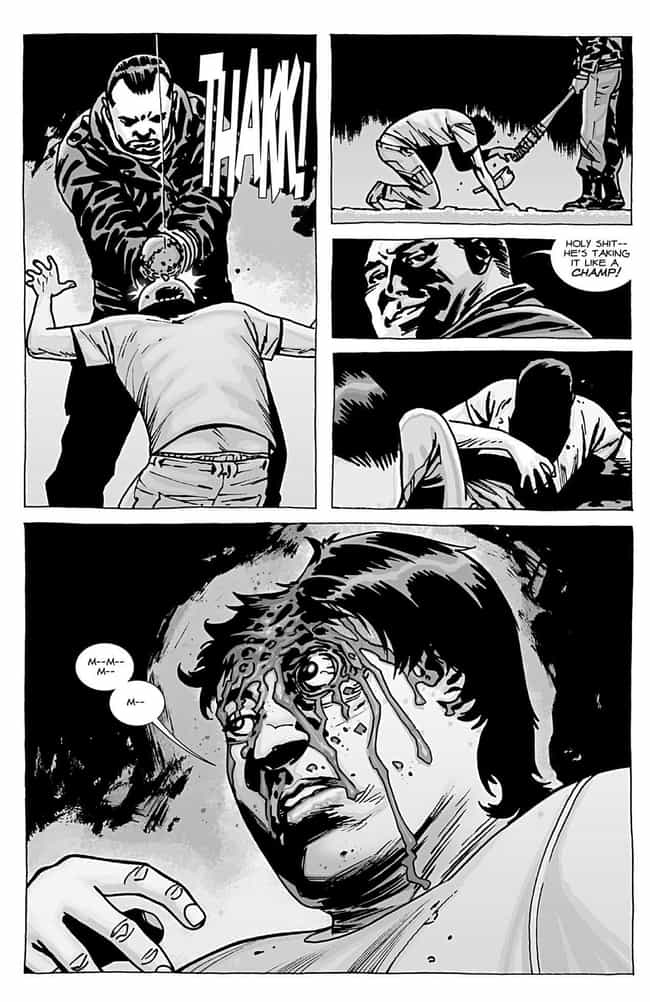 They actually recreated the death of Glenn in the #100 edition of comics after Glenn's cheap, dead-but-not-dead demise in the summer of 2015. At the end of the first half hour of the Season 7 premiere, we had to relive that death once again, bulging eyeball and all. WTF?! On one hand, well done, Greg Nicotero and team. On the other, what the f*ck?!
The Scene We Cannot Bring Ourselves to Deal with Yet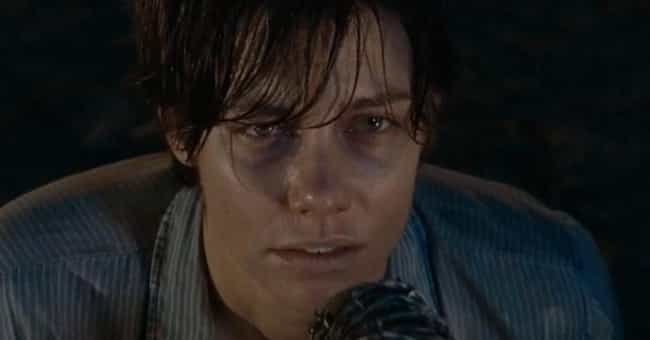 Maggie, "I need to do this, please." Aaron, "We need to help you. Please let us." Rick, "He's our family, too." Us: "That's a nope for a while."