Weird History
WWI Soldiers Describe What It Was Like To Go 'Over The Top' In Trench Warfare

Updated November 8, 2019
7.2k views
11 items
Life in the trenches during WWI was miserable. Projectiles flew overhead, rain drenched the men, and the rotting stench of human remains carried in the air. But the trenches were paradise compared to going over the top. In WWI, troops dug into trenches in France, Belgium, Italy, and Turkey, creating a perilous "No Man's Land" separating the two sides. Anyone who entered was ripped to shreds by enemy fire and barbed wire. Officers ordered their troops to go "over the top" and rush the enemy lines through barbed wire, blasting artillery shells, and a hail of enemy fire armed with only standard-issue gear.
Just as photos from the WWI trenches capture the destruction, the men who fought left detailed accounts of what it was like to receive their orders and go "over the top." They witnessed comrades left on the battlefield to perish as trench warfare took its human toll. Nine million servicemen lost their lives in the conflict, but it's hard to fully grasp the extent of the loss and destruction without hearing from the men who survived to tell their vivid stories.
'In The Years That Have Passed That Man's Pleadings Have Haunted Me'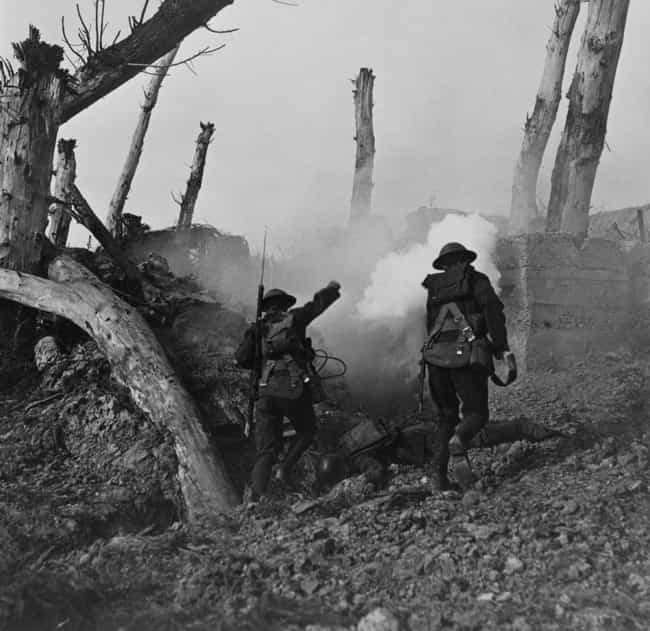 Edward Glendinning was just 17 years old when he enlisted. He spent years serving in France as a private and then as an acting corporal. In September 1915, Glendinning and his infantry battalion went over the top, capturing a German trench before an attack forced them to withdraw across No Man's Land:
[A]s we withdrew over the ground that had been captured that day the sight was incredible. It was just like a flock of sheep lying asleep in a field and it became evident that the regimental stretcher bearers, who at one time had been bandsmen, had been unable to cope with such a huge number of casualties.

Quite a number of the men were still alive, and they were crying out and begging for water. They plucked at our legs as we went by. One hefty chap did grab me by - round both legs and held me, and I was going to take the cork out of my hot water bottle - out of my bottle - out of my water bottle to give him a drink, and I was immediately prodded on by - behind by someone saying, "get on, get on, we're going to lose touch with the column in front. We shall get lost."

In the years that have passed that man's pleadings have haunted me.
'I Was Just Alone In An Isle Of Fire And Smoke And Stink'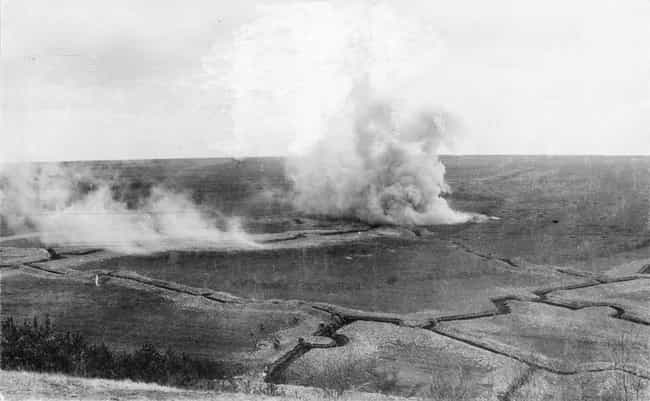 When an unnamed WWI veteran went over the top, his commanding officer was met with unexpected German fire: "At half past seven, mister Morris pulled out his revolver, blew his whistle and said 'over.' And as he said it, a bullet hit him straight between the eyes and [ended] him."
In spite of the sudden loss of life, the veteran said, "I went over, with all the other boys. But the barbed wire that was supposed to have been demolished, had only been cut in places... There were supposed to be no Germans at all there in that front line. We had annihilated them according to the theory."
Instead, the Germans "wound up their guns on automatic affairs and fired at these breaches in the wire. And, of course, they just mowed us down. And it seemed to me eventually, I was just one man left. I couldn't see anybody at all. All I could see was men lying [deceased], men screaming, men on the barbed wire with the bowels hanging down, shrieking. And I thought, what can I do? It was eerie. I was just alone in an isle of fire and smoke and stink."
'It Was Like Pie Meat For The Germans, Near Everyone Was Getting Fast In The Barbed Wire'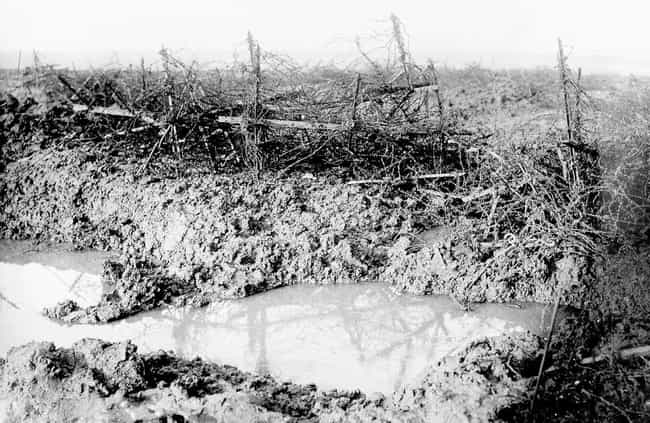 Private Alex Thompson of the British Army's 2nd King's Own Scottish Borderers had newly arrived at the Ypres front, but he was immediately thrust into a counterattack to reclaim a small, manmade hillock taken by German forces. He recalled, "Then we got the order, 'Over the top and charge!' So we were over the top, fixed bayonets and charged. We advanced maybe 5 or 10 yards, some of them never got that length. They were [ended] going over the trench. That was your training you see, to just keep going, making for the German trenches."
The men were easy targets for the Germans: "It was like pie meat for the Germans, near everyone was getting fast in the barbed wire. There was Germans at that side, Germans there... Germans all over the place... They were just cutting us like cutting hay."
'There Were Men Falling Back Into The Trench'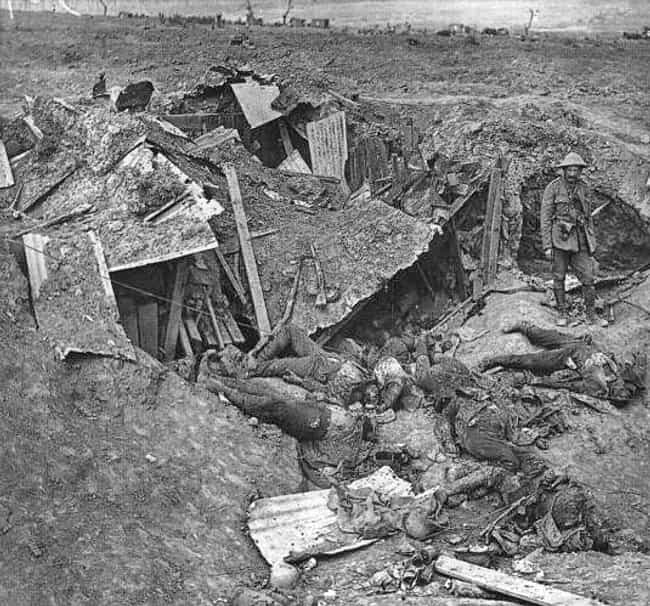 After days of sitting undernourished in Turkey's sweltering summer heat, the Hood Battalion of the Royal Naval Division prepared for their turn at Gallipoli. Joe Murray waited for the whistle, but when it blew, Murray barely made it one step. He recalled, "There were men falling back into the trench or on the parapet. There was [destruction] all over the place."
The smell of rotting flesh permeated the air, and despite the impending danger, Private Thomas Baker of the Royal Marines couldn't ignore it. "Three lines of bodies as far as you could see to the left, as far as you could see to the right," he said. "The [remains] were black - a terrible sight. The stench was indescribable and you live with that stench. The smell of [human remains] - you never get it out of your system."