Entertainment
The Greatest Pro Wrestling Catchphrases of the '90s

5.9k votes
834 voters
22.9k views
22 items
List Rules Vote up the best pro-wrestler catchphrases.
The '90s provided one of the hottest periods in pro wrestling and television as a whole. Every Monday night would showcase top-level wrestlers talking trash and ending promos with their signature catchphrases. These character quotes would generally help build up excitement for the in-ring action, sell tickets to live shows, and make millions in merchandise sales. Many wrestlers from WWE, WCW, and ECW became household names due to simple slogans, witty one-liners, or mat-based mission statements. What are your favorite WWE catchphrases of all time? Be sure to vote up your favorites!
So let's sing-a-long with The Rock and decide which pro wrestling catchphrases, wrestling quotes, and wrestling slogans conquered the '90s.
back to page 1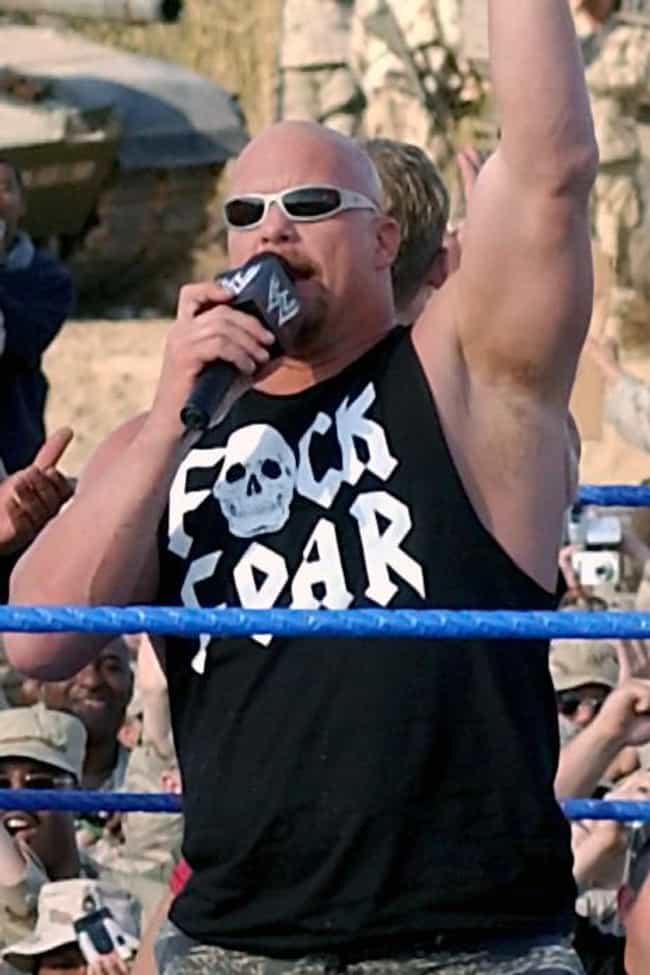 Arguably the catchphrase that launched the Attitude Era in the '90s, Stone Cold Steve Austin made his mark and made millions in t-shirt sales with "Austin 3:16." The catchphrase is so potent that it was barely uttered again by Austin at all after his post-match promo at the 1996 King of the Ring. While "Austin 3:16" would be expressed through t-shirts and signs, Austin verbally signs off his promos with a one-liner providing the bottom line.
Because he said so.

Is this one of the best?
see more on Stone Cold Steve Austin
The Most Electrifying Man in Sports Entertainment in the '90s and one of the highest grossing movie stars of today ended nearly every promo with this catchphrase. The tilting of the head to tongue-lash the "L's" in "smells" has been a sing-a-long favorite for fans starting back as early as Wrestlemania 14 and carrying on to when Dwayne Johnson makes the occasional return to WWE. Whatever the Rock is cooking, it usually smells like good times for the audience.
Is this one of the best?
see more on Dwayne Johnson
Ric Flair's charisma is such that he took something that isn't even a word and turned it into one of the most lasting catchphrases in wrestling. Every Flair promo, babyface or heel, would be fired up and energized with loud, long or short, bursts of "WOOOOO!" The catchphrase is so grounded into modern wrestling that fans scream "WOOOOO!" whenever a chop strikes an opponent's chest, even if Flair isn't wrestling in the match!
Is this one of the best?
see more on Ric Flair
During Austin's late-90s babyface run, and subsequent runs after that, he would invite the audience to weigh in on his next hell-raising antic. This call-and-response phrase would emit a loud, unified "HELL YEAH!" that would reach all the way to the rafters. This isn't just a catchphrase, it's the '90s pro wrestling version of the game Marco Polo.

Is this one of the best?
see more on Stone Cold Steve Austin