Total Nerd 23 Things You Didn't Know About Psylocke

752 votes
267 voters
25.9k views
23 items
List Rules Vote up the most fascinating facts about the X-Men mutant Psylocke.
Even if you're not a huge X-Men fan, you recognize Psylocke in X-Men: Apocalypse. After all, Olivia Munn is front and center as the comic book character. But just who is Psylocke? A lot of different things actually, she's kind of the David Bowie of X-Men. The Psylocke trivia on this list isn't just going to take you back to her origins as a British charter pilot, it's also going to delve into that weird era of the '90s where every hero and villain was being killed and reinvented with reckless abandon. Before you do anything else with your life, these are some things you should know about Psylocke
Even more than most comic characters, Psylocke has gone through so many different iterations and retcons that it can be hard to keep up with who she is and what she can do. Aside from being split into multiple people and repeatedly having her powers changed, she's been around since the late '70s, so there's a lot of Psylocke facts to cover. If you want to get to know Psylocke a little better, check out this list of things you have to know about your new favorite X-Men character.
Vote up the most fascinating facts about the mutant Psylocke, and if you're a real Betsy Braddock fan, share your favorite tidbit about Psylocke in the comments.
She Can Travel Between Worlds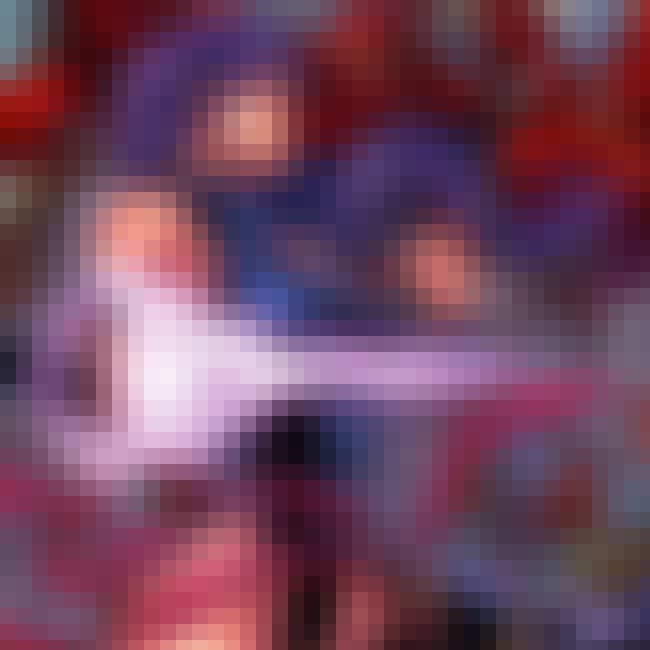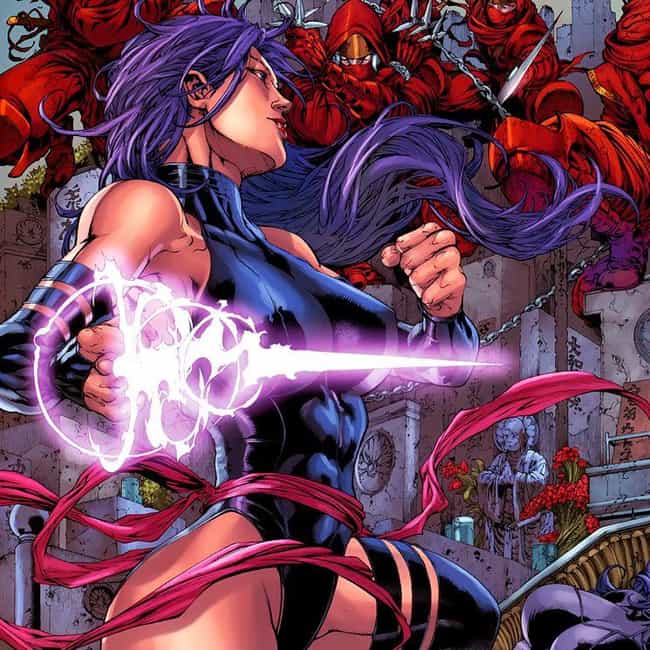 In the offshoot comic
Exiles
, Psylocke does some inter-dimensional traveling and runs into an alternate version of the Slaymaster, the baddie who blinded her back when she was Captain Britain. This meeting angers Slaymaster so much that he starts jumping worlds and killing every version of Psylocke he can find. Psylocke finally tracks him to her universe (616) where she finishes Slaymaster once and for all.


Is this interesting?
She Had a Long Romantic Relationship with Angel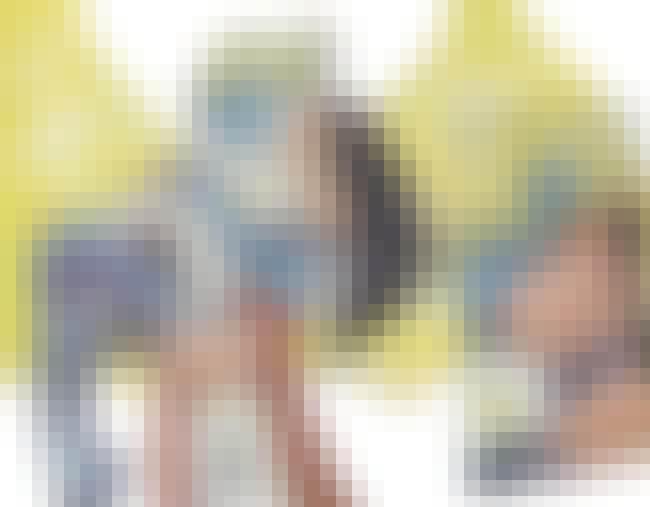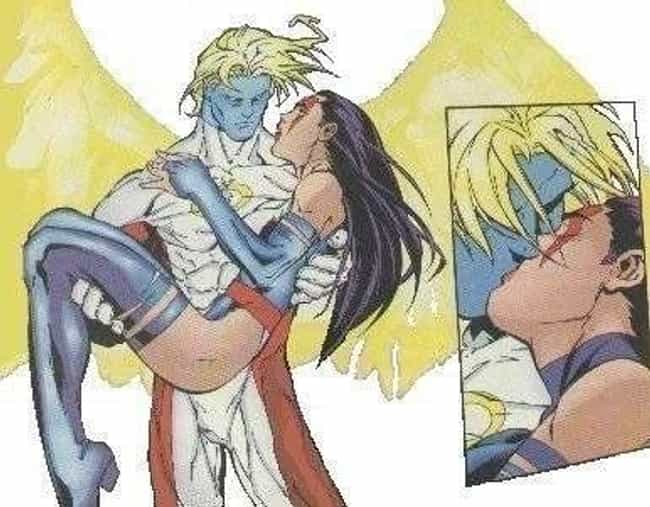 Beginning in
Uncanny X-Force
#17, when Elizabeth is infiltrating a Hellfire Club party, she starts a slow burning ~thing~ with Warren Worthington that lasts for years and years.


Is this interesting?
She Has Purple Hair Thanks to Alan Moore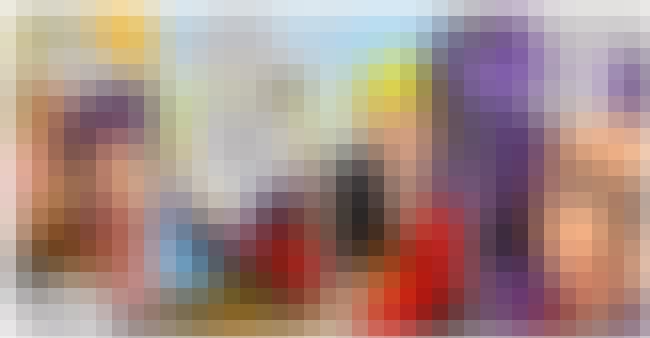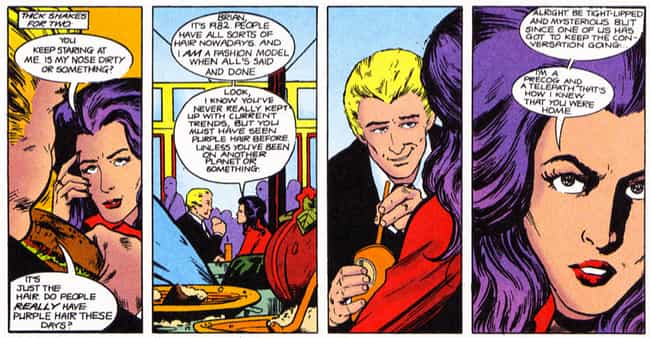 While he was still writing mainstream comics,
Watchmen
mastermind Alan Moore wrote Psylocke (as Elizabeth Braddock) into
Daredevils
, a UK comic. He established her now-standard purple hair, and he made her a member of S.T.R.I.K.E.

Is this interesting?
She Was Fired from Xavier's School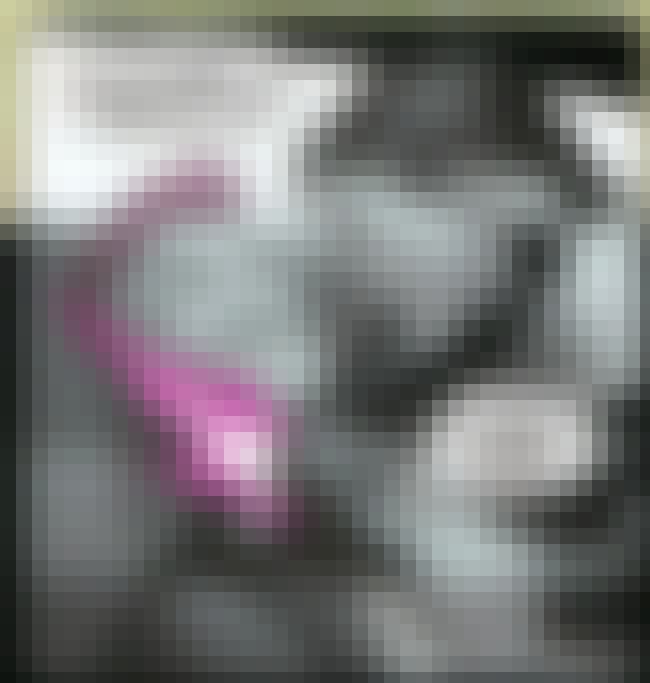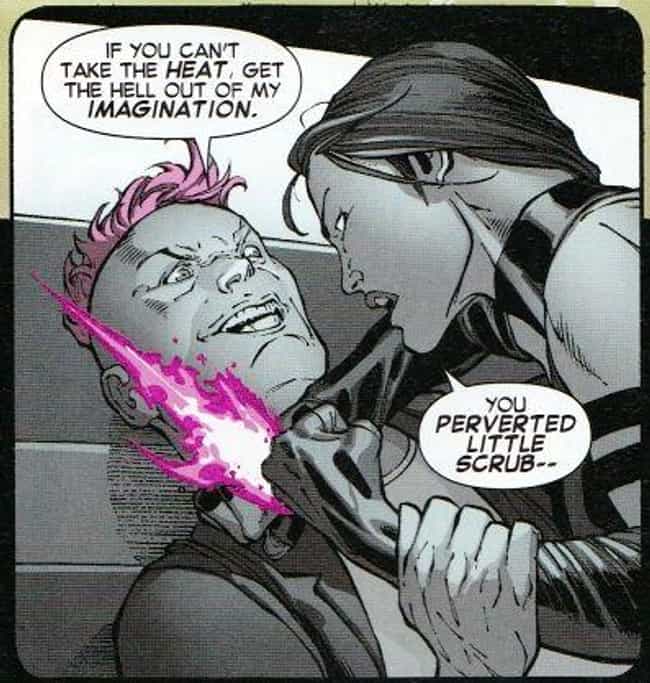 In the second series of Uncanny X-Force, Psylocke is fired from her teaching position at the Xavier School by Wolverine (of all people) for attacking the rebellious young telepath Quentin Quire. It turns out that this is no big deal because Psylocke immediately teams up with Storm to go solve a mystery in Los Angeles. Seriously.

Is this interesting?