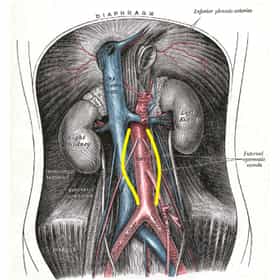 Abdominal aortic aneurysm
Abdominal aortic aneurysm, also known as a triple-a, is a localized enlargement of the abdominal aorta such that the diameter is greater than 3 cm or more than 50% larger than normal. They usually cause no symptoms except when ruptured. Occasionally there may be abdominal, back or leg pain. Large aneurysms can sometimes be felt by pushing on the abdomen. Rupture may result in pain in the abdomen or back, low blood pressure or a brief loss of consciousness. AAA...
... more on Wikipedia
Abdominal aortic aneurysm is ranked on...