90 total votes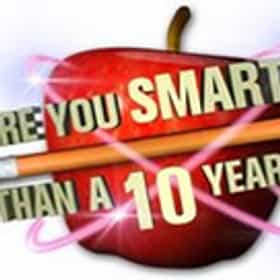 Are You Smarter than a 10 Year Old?
Are You Smarter than a/Your 10 Year Old? is a British quiz show which aired on Sky1. There were two editions, one broadcast weekly in primetime, hosted by Noel Edmonds and a daily version, originally hosted by Dick and Dom, but later hosted by Damian Williams. The show welcomes adult contestants, who attempt to answer ten questions taken from primary school textbooks, two from each school year from ages 6 to 10. Each correct answer increases the amount of money the player banks; a maximum cash prize of £250,000 in primetime and £50,000 in daytime can be won. The show was recorded usually through the summer holiday months of July and at the beginning of August at the Elstree ... more on Wikipedia
Are You Smarter than a 10 Year Old? is ranked on...