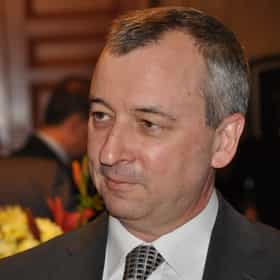 Georgi Pirinski, Jr.
Georgi Pirinski is a Bulgarian politician of the Bulgarian Communist Party and after 1990 of the Bulgarian Socialist Party. Born in New York City, U.S. in the emigrant family of Communist functionary Georgi Pirinski, Sr., he has roots from Pirin Macedonia. His mother Pauline was born in New York City and was a member of the Young Communist League at the City College of New York. She was a professor of English at Sofia University. His father found refuge in the U.S. after he participated in the unsuccessful Communist uprising against the Bulgarian regime in 1923 and was expelled from the U.S. as an undesirable alien about 1951. While a convinced communist, Pirinski did show some flashes ... more on Wikipedia
Georgi Pirinski, Jr. is ranked on...