2,980 total votes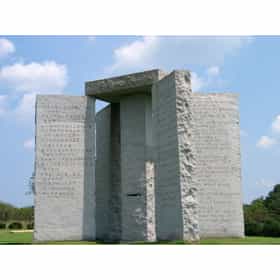 Georgia Guidestones
The Georgia Guidestones is a granite monument erected in 1980 in Elbert County, Georgia, in the United States. A set of ten guidelines is inscribed on the structure in eight modern languages, and a shorter message is inscribed at the top of the structure in four ancient language scripts: Babylonian, Classical Greek, Sanskrit, and Egyptian hieroglyphs. The monument stands at the highest point in Elbert County, about 90 miles east of Atlanta, 45 miles from Athen...
... more on Wikipedia
Georgia Guidestones is ranked on...