394 total votes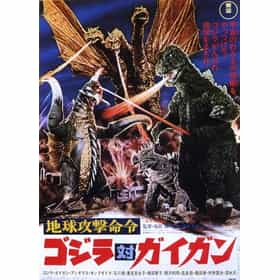 Godzilla vs. Gigan
Godzilla vs. Gigan, released in Japan as Chikyū Kogeki Meirei: Gojira tai Gigan, is a 1972 Japanese Kaiju film produced by Toho. Directed by Jun Fukuda with special effects by Teruyoshi Nakano, the film starred Hiroshi Ishikawa, Yuriko Hishimi and Minoru Takashima. The twelfth film of the Godzilla series, this film featured the return of Godzilla's greatest foe King Ghidorah. Producer Tomoyuki Tanaka was displeased with the previous film, Godzilla vs. Hedorah,...
... more on Wikipedia
Godzilla vs. Gigan is ranked on...