22,262 total votes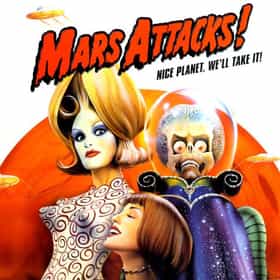 Mars Attacks!
Mars Attacks! is a 1996 American comic science fiction film directed by Tim Burton and written by Jonathan Gems. Based on the cult trading card series of the same name, the film features an ensemble cast consisting of Jack Nicholson, Glenn Close, Annette Bening, Pierce Brosnan, Danny DeVito, Martin Short, Sarah Jessica Parker, Michael J. Fox, Rod Steiger, Tom Jones, Lukas Haas, Natalie Portman, Jim Brown, Lisa Marie Smith, and Sylvia Sidney. The film is a parody of science fiction B movies with elements of black comedy and political satire. Alex Cox had tried to make a Mars Attacks! film in the 1980s before Burton and Gems began development in 1993. When Gems turned in his first draft ... more on Wikipedia
lists about Mars Attacks!
Mars Attacks! is ranked on...